What's the Difference?
As the Town's Director of Economic Development, I learned that every community claims to have the best schools, wonderful parks, beautiful neighborhoods, and so on. Pick up any economic development magazine, or attend a development related conference, and what you see and hear is a chorus of, "We are the best, we have it all." This competitive reality soon led me to explore the ways in which Collierville is truly unique. What are corporations, real estate developers, retailers, and restaurateurs seeking as they pursue expansion and relocation options here?
As site selection consultant John Boyd states, the five key drivers guiding the headquarters search are: Talent, Access, Lifestyle, Incentives, and Operating Costs. "Finalist cities in our head office searches need to demonstrate that our clients will retain their key management and technical staff in the initial move and enjoy an advantageous recruiting position in the years ahead," Boyd says. "All head offices demand superior educational facilities, an accommodating housing market, state-of-the-art healthcare, and a cultural and recreational bill of fare," he adds.  
The Collierville School System has been consistently rated as one of the top school systems in the region, recently rated by Niche as the #2 Best School District in Tennessee. This success is a testament to our children, their families, our school system, and the importance our community places on education. 
Part of this success is because we initiate a STEM curriculum — Science, Technology, Engineering, Mathematics — as early as kindergarten! STEM creates an elevated educational path for our students to be fully prepared for future employment, educational, and lifestyle opportunities. Additionally, our vocational programming has deep connections with Landers Auto Group, Wilson Hospitality, and Marriott (just to name a few), which all provide meaningful experiences for our students. The educational quality and depth at the Collierville School System offers corporations a tremendous recruitment and retention tool.
In 2014, The Demand Institute reported that from 2000-2014, Collierville enjoyed a 38% increase in median home prices. Our housing market is diverse, from multi-family options in the Schilling Farms area to new custom homes and everything in between. After all, two regional home builders have established their new headquarters in Collierville. Maybe Magnolia Homes and Regency Homebuilders are on to something!
Baptist Memorial Hospital-Collierville has been providing quality healthcare to our citizens for 20 years. I cannot imagine living in a community that did not have access to highly-rated healthcare services. BMH-Collierville has radiology and MRI services, inpatient and outpatient surgery/rehabilitation, diagnostic testing, a sleep disorder center, a women's center, and a 24-hour full-service emergency room. Additionally, Baptist's Reynolds Hospice House and Kemmons Wilson Family Center for Good Grief are both considered models for specialty care around the nation. BlueCross BlueShield of Tennessee and Aetna have recognized BMH-Collierville for their expertise in hip, knee, and joint replacement. That's what I call state-of-the-art healthcare. 
We often talk about Collierville being at "the crossroads of tradition and innovation." From the 18 miles of trails connecting over 1000 acres of parkland to a Jack Nicklaus and Arnold Palmer designed golf course, from a quiet dining experience on the Town Square to unique culinary experiences along the Houston Levee corridor, Collierville offers a variety of cultural and recreational experiences to satisfy just about everyone. At the end of the day, when promoting our assets in the highly competitive world of economic development, Collierville certainly has a depth and breadth of key differentiators.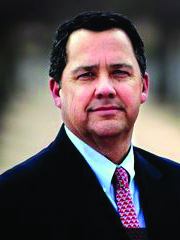 John D. Duncan
Director of Economic Development
500 Poplar View Parkway
Collierville, TN 38017
901-457-2200 General
901-457-2213 Direct
901-457-9325 Cell
www.AccessCollierville.com