What a Concept
Whether you call it benchmarking or "stealing shamelessly," it is a practice of an organization to compare key components of their operation to another similar organization. For example, Henry Ford studied slaughterhouses to help him develop an efficient assembly line, and Steve Jobs copied the builders of his childhood home to inspire simple design. Organizations, including The Town of Collierville, must be open to accepting new and different ideas and be willing to implement what they have learned to improve their own product and performance. The Town's Economic Development office uses benchmarking not to compare demographics and growth metrics but to analyze and understand how similar power suburbs manage growth, attract development, and elevate their status as a premier community.  Here are a few of the suburban markets we track and benchmark: 
Scottsdale, Arizona:  
As a child, my family lived in "the Valley of the Sun," Scottsdale, Arizona, from 1963 to the early '70's. In 1960, Scottsdale had a population of 10,000.  By the time we departed for Detroit, Michigan in the early 1970's, Scottsdale's population was almost 70,000. Today, believe it or not, Scottsdale has over 200,000 citizens. In spite of this tremendous growth, Scottsdale is still a desirable location not only to live, but to visit.  It is a clean, organized, and well-managed suburb of Phoenix. One of the aspects of Scottsdale that impresses and interests me has been their ability to maintain the small town feel, especially in and around Old Town Scottsdale. In Old Town Scottsdale (OTS), they have weekly art walks with businesses and galleries displaying local works. Collierville has a relatively new event, Arts in the Alley, which is similar in many ways, bringing local artists and residents to the Town Square for a unique experience. Additionally, OTS organizes trolley rides in and around the district, where the dynamic history of the area is shared. Scottsdale successfully blends tradition with innovation.
Overland Park, Kansas:  
My wife, Melanie, is from the Kansas City, Kansas area, so I have spent quite a bit of time in Overland Park. Overland Park (OP) has doubled in size since 1980, from 82,000 to over 175,000 today. Sprint, YRC Worldwide, Ferrellgas, and Black & Veatch claim OP as their corporate home. The demographics of the area are very similar to those here in Collierville. One of the best things about OP is their convention center. The Overland Park Convention Center (OPCC) sits on 26 acres of prime real estate and hosts over 300 events annually. The OPCC has a ballroom, trade show space, and also provides a variety of theater, classroom, and banquet access as well. Convention centers are good for the local economy, with hotels, restaurants, and other related services benefiting greatly. Memphis lacks adequate convention space.  As we grow our corporate footprint, in an area that is easily accessible and playing on our status as a "regional hub," I envision that Collierville will have its own "CCC" someday, or possibly a boutique convention space. It would certainly be good for our economy.
Carmel, Indiana:  
From 38,000 in 2000 to close to 80,000 today, Carmel is the premier suburb of Indianapolis and Indiana in general. Home to Geico and Liberty Mutual, Carmel boosts one of the nicest community parks in America, with the $55,000,000 Carmel Clay Parks & Recreation Center offering a water park, lazy river, climbing walls, fitness center, and concert venue. With this tremendous growth came many challenges, especially related to traffic flow. However, creative problem solving led to the formation of a series of 125 "roundabouts," and Carmel is now affectionately known as the "Roundabout Capital of the US." This creative solution solved the problem, as citizens are now firm believers in this traffic congestion antidote.
Chesterfield, Missouri:  
I spent 8th grade through my sophomore year at Southern Methodist University in the St. Louis area. I lived in the town of Ballwin, which borders Chesterfield. Chesterfield, a power suburb that sits approximately 25 miles from downtown St. Louis, is similar to Collierville. You can draw parallels between the two as it relates to land use, distance from the urban core, school system, affluence, infrastructure, corporate presence, and growth. Just as we have a handful of corporate headquarters with 200-300 employees, Chesterfield has a similar amount in the 400-500 range. Both St. Louis and Memphis have been challenged with out-migration, with many citizens landing in Chesterfield and Collierville. One of the things that I think St. Louis and Chesterfield has done well is work together. There are a variety of economic development agencies in the St. Louis area that have embraced Chesterfield, looking for ways to collaborate. Similarly, Collierville continues to strengthen relationships with the Memphis Chamber of Commerce, EDGE, and both city and county governments. We have recently been asked to participate in a revitalized regional economic development initiative called the Regional Economic Alliance, or REA. Taking a cue from STL and Chesterfield, we are all in this economic pursuit together!
When it comes to corporate expansion and relocation success, sometimes what you glean from others just might be the difference maker.  Copy that!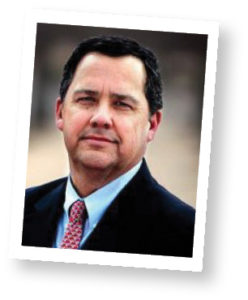 John D. Duncan
Director of Economic Development
500 Poplar View Parkway
Collierville, TN 38017
901-457-2200 General
901-457-2213 Direct
901-457-9325 Cell
www.AccessCollierville.com