UNTUCKit Opens in Germantown
National retailer UNTUCKit opened a new –– and its second Tennessee –– location this week in The Shops of Saddle Creek in Germantown. It occupies a 1600 square-foot retail space between Southern Avenue Company and Michael Kors. UNTUCKit is one of many new-to-the-area stores in Saddle Creek, such as Altar'd State, which opened earlier this year. 
A New York-based company, UNTUCKit provides men's button down shirts that are specifically created to look neat and put together without being tucked in. They provide a variety of colors and fabrics, ranging from traditional to casual looks. The Germantown location will also sell the brand's polo shirts, t-shirts, sweatshirts, sports coats and pants. Their women's wear can be purchased online and shipped to the store for pickup for free.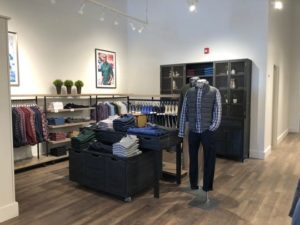 The retailer started out as an online brand, but since 2015, has opened 80 stores around the United States. Previously, the closest UNTUCKit location was just outside Nashville. 
Chris Riccobono, the founder of UNTUCKit, believes that The Shops of Saddle Creek is a good location for the new brick-and-mortar location. "We like to open stores where our customers are, so after seeing so many people from the Memphis area were shopping with us online, we wanted to give them the chance to experience the brand in a new way," Riccobono told The Commercial Appeal. 
Later this month, this new Germantown location will be a stop along UNTUCKit's monogram tour. This event will be an opportunity to create a one-of-a-kind shirt with your initials, or icons exclusive to your city. No word yet on specific dates or what Memphis icons UNTUCKit will provide, but Tour Collierville will keep you updated.