Turkey Ball: CHS Baseball Organizes Thanksgiving Food Drive
The Collierville High School [CHS] Baseball team is doing its part to make sure families have a meal this Thanksgiving! The CHS Boosters [outreach committee] actively organize events for the team to share the Dragon spirit with others in the community, including this year's first Thanksgiving Meal Kit Food Drive.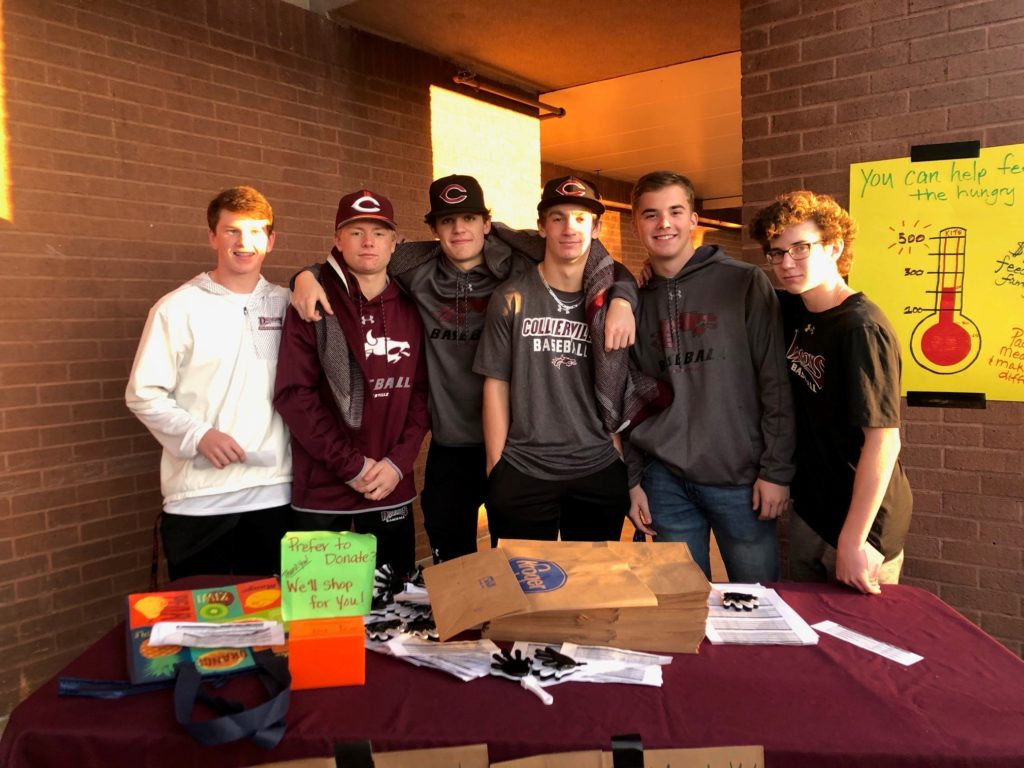 CHS Booster, Heather Lipke, says that there are life lessons to be learned when groups like the CHS Baseball team get together to do good works for others. "The overall goal was to activate a group of wonderful young men to be a part of something bigger than themselves," shares Lipke. "In general, we're very fortunate in this community, yet we're closer than we may know to families struggling. At a minimum, we knew that as a baseball community we could impact about 50 families if we each created a kit to donate. However, we didn't want it to stop there so we invited the Collierville community to join in! You can see from some of the Facebook comments that there was a lot of appreciation for the event."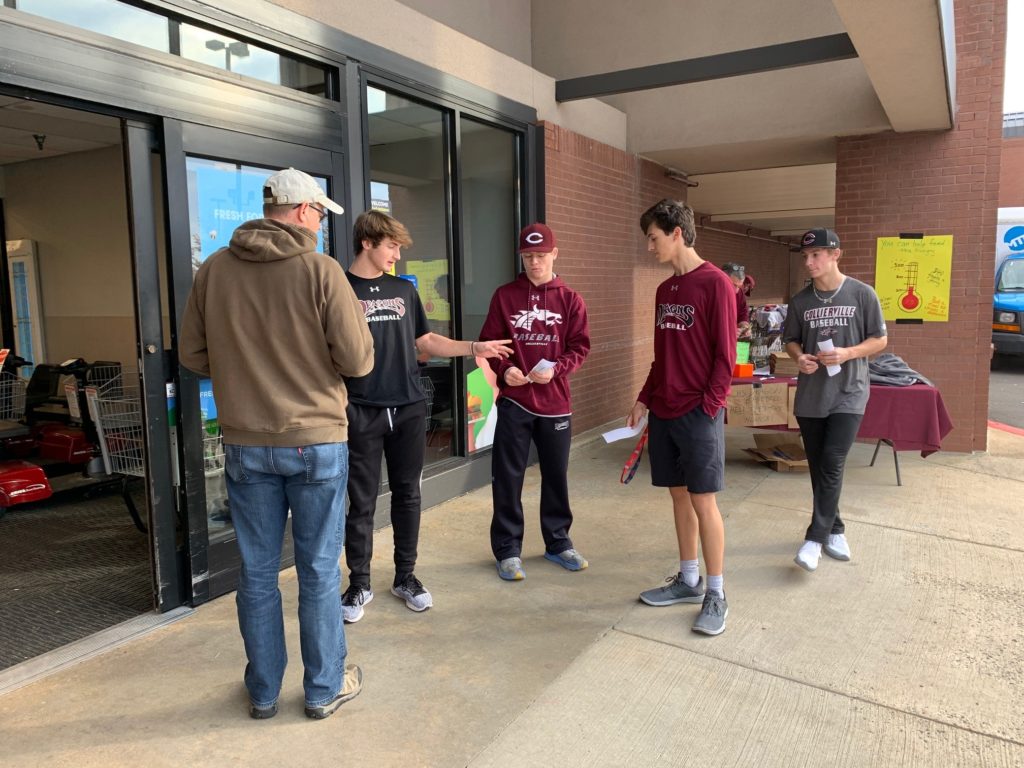 For an investment of about $40 dollars, a Thanksgiving Meal Kit could feed a family of four. Each Meal Kit included stuffing, potatoes, corn, green beans, cranberry sauce, gravy, cornbread  mix and a $25 gift card to purchase a turkey or other perishables as needed. "In reality, that's less than a typical family of four would spend to eat in a local restaurant," comments Lipke. "We challenged our friends, family and neighbors to eat out one less time and consider helping another family instead. We posted to various social media channels to encourage others to join in to build kits on November 16th and 17th."
The players worked the two day event in 7 shifts. Some chose to work multiple shifts at the donation stations located at both entrances of Kroger on Byhalia Rd.
"Each shift included parent volunteers and/or coaches to ensure kits were complete. Ultimately, we were committed to making this the boys' event," says Lipke. The players engaged in conversation while seeking support from the community, and also invited shoppers to fill a kit with a detailed shopping list, listing the Meal Kit items broken down by aisle. "We were also very open to doing the shopping for anyone that would rather donate to the cause. In the end, the boys successfully raised nearly $9,200 dollars in donations [both food and monetary] which helped us fill 230 complete kits, plus some extra loose items," shares Lipke.
My Town Movers sponsored the event, donating a box truck for collecting and transporting the Meal Kits. "With the exception of four Meal Kits that went directly to a local Collierville family, all the food kits were delivered to the Mid-South Food Bank," says Lipke. "We asked that some of the donation make its way back to the 'Ville [they partner with several local programs] and anything left should be distributed to Mid-South families in need for Thanksgiving."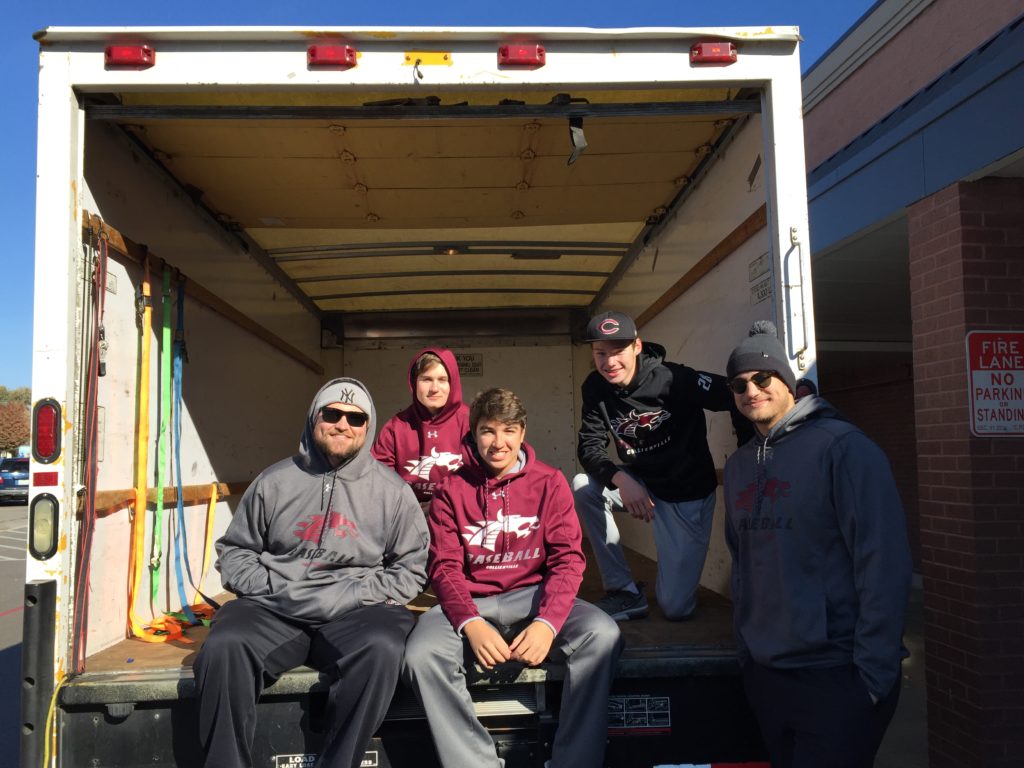 All in all, there were some great lessons learned for everyone involved! According to Lipke, while the ultimate goal was to help the less fortunate, there were other lessons learned that will make a difference for this group of young men, including:
Recognizing and appreciating that we have a lot to be thankful for
Reinforcing that everyone can make a difference and even the small ones matter
You don't have to have much to be kind or to give of yourself – time and talent is just as important
How to craft the right message or elevator speech and looking someone in the eye while delivering it
How to accept rejection (a scary thing for teens) and keep trying, over and over
Celebrate the smallest of wins (as seen when a small child donates his pennies)
Being proud of their accomplishments – they made a significant impact in the lives of many
Story by | Anna Bell