Summertime Streaming
Escape the rigors of the day in a room where audio and video can transport you well beyond its four walls. A media room is more than just a television slapped on the wall with speakers hiding behind furniture. This intentional space is where creativity can shine, from unique decor on the walls to a styled theme that inspires you! This room tells a story. More than that, it is an experience. 
Your home theater slows down time; where family can gather for entertainment or you can simply unplug and binge watch a new sitcom, or catch the latest game. Whichever is calling your name – Collierville knows how to entertain in style. Kick back and chill with us in some of the coolest residential media rooms in the 38017.
Karen Garner and Steve Davitt's Media Room – The Memphis Room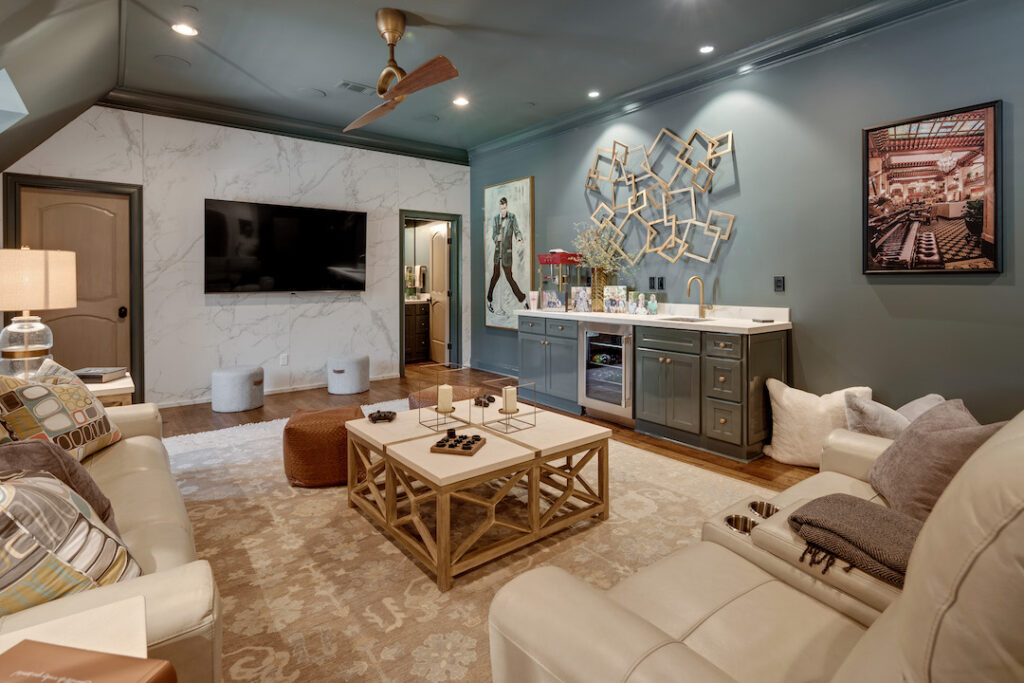 This beautifully designed media room is where style meets purpose, showcasing the family's love for Memphis with themed decor featuring a life-size painting of 'The King' himself. 
"My parents opened Sue's Bakery on Beale street and Elvis came in often to get his Jelly Doughnuts. The Memphis theme starts with the paint color to represent the Memphis blues! Local artwork by Andy Wick hangs on the walls using a multi-layered process of iconic images built in stages to create depth of well-known Memphis settings including the lobby of the Peabody, Beale Street, and the view of Memphis Bridge from the Pyramid. My newest art is a 6 foot painting of Elvis Presley, commissioned by Jesse Nabers Alston," says Karen Garner.
"It is the perfect place for spending time in our reclining movie-theatre seats and watching our favorite movies or exciting Grizzlies games! Whether it's lounging for a good Sunday nap or entertaining guests, we love that this room is so adaptable to our family and guests." – Karen Garner
Classic recliner seating styled by SM Nabers Interiors and walls painted in Benjamin Moore Knoxville Gray set the mood, along with the television Dekton wall by Consentino with Entzo matte finish.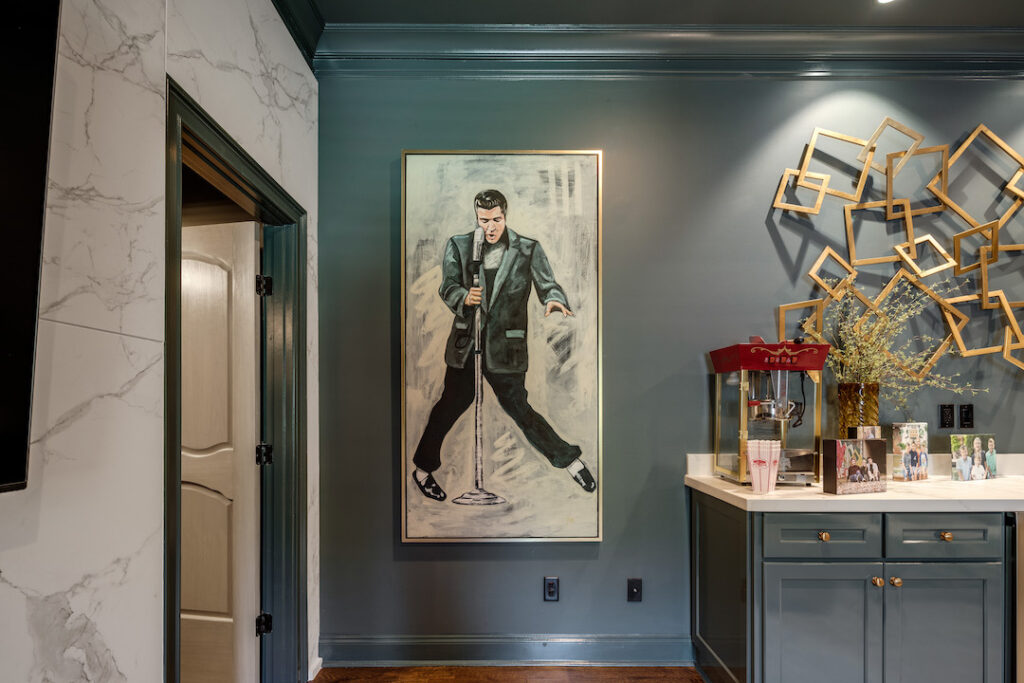 The movie theater popcorn machine, bar sink and beverage fridge provide the perfect set up to enjoy theater snacks while their favorite show is on! Garner emphasized, "we wanted to create a dedicated spot for entertainment in our home with a fun and energetic atmosphere for spending time with our children, grandchildren and friends!" 
Susan and Ken Cloud's Home Theater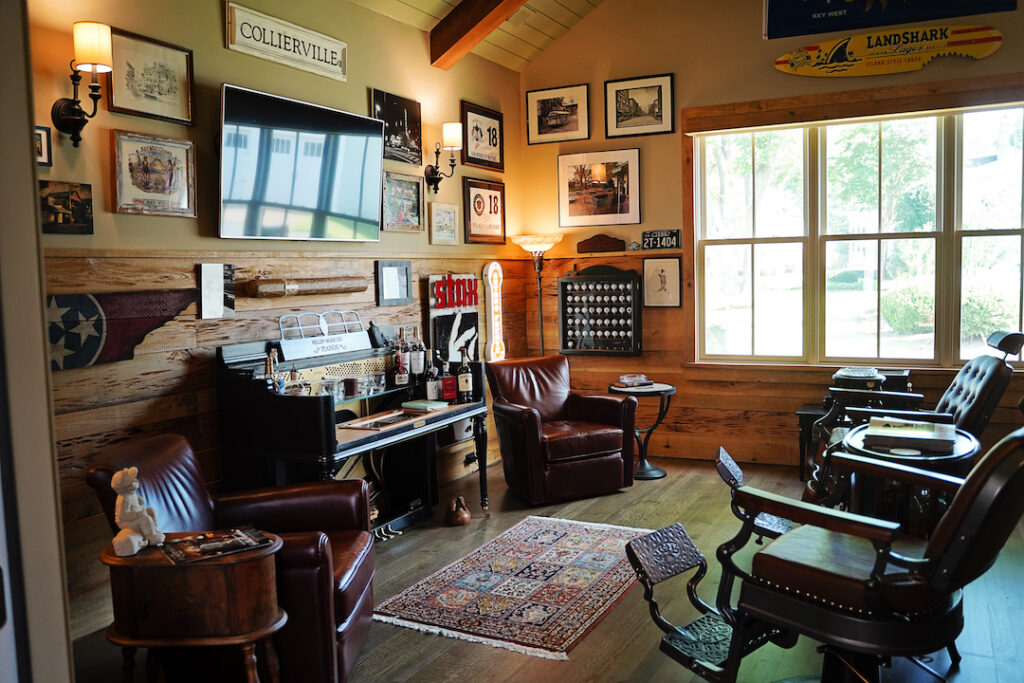 This true home theater is one to knock your socks off! Built to emulate the true movie experience, no expense was spared to make this room tech savvy in every way. 
"Electronic Environments set me up with a 12 foot Anamorphic screen Anthem 740 series receiver, 7.1 Dolby Atmos surround sound with Klipsch THX reference series controlled by ELAN JVC D-ILA projector. It's a great place to watch not just movies, but also sporting events," said Ken Cloud.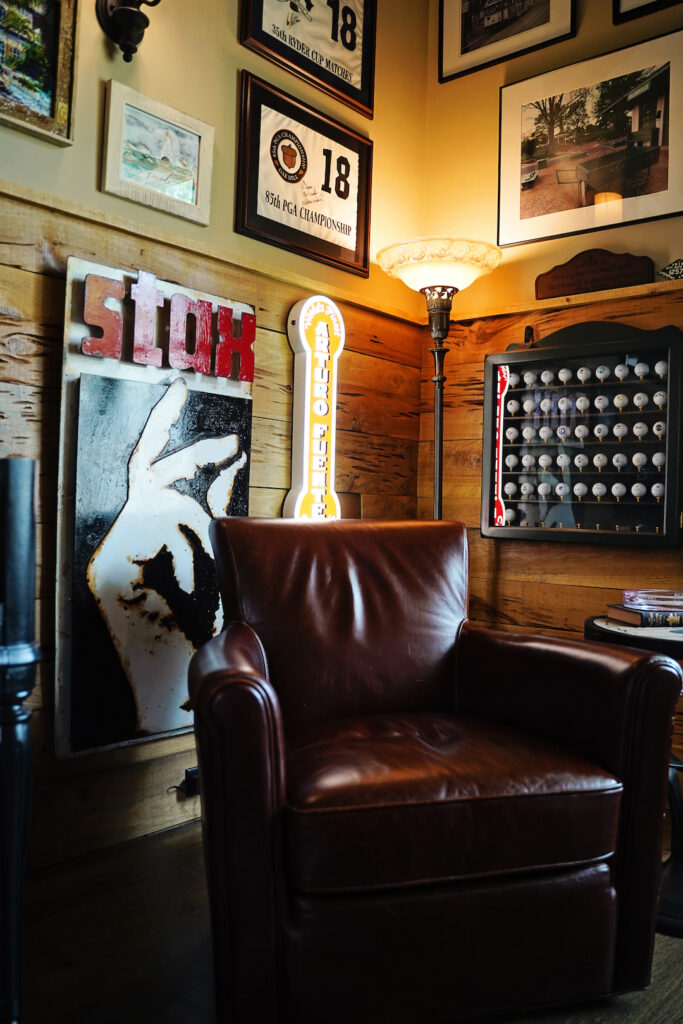 Audio, video and lighting collide in this space setting the perfect ambiance for screen-time entertainment. Stadium seating for eight naturally makes this a perfect option for inviting family and friends over for a weekend showing! 
Cloud shared, "one of the family's favorite things to watch are definitely movies. The sound will rattle your teeth! We have plans to add a popcorn machine, beverage center, and bar section to complete the space."
Terry and Kevin Kelley's Multipurpose Media Room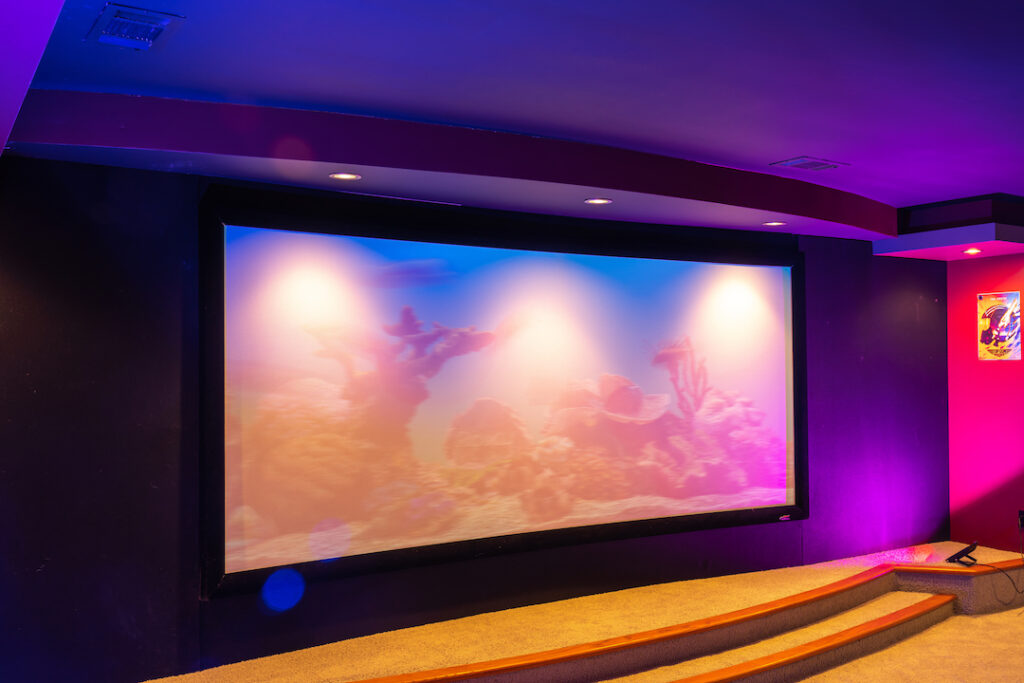 This multipurpose space provides a true social experience serving as both a media room, wine cellar, cigar lounge and more! Home Builder Tommy Young with Tommy Young Construction, and Architect, Ed Yendrek with Custom Home Designs, worked closely together to create an area these homeowners had been dreaming of for years.
"We built our home in 2018 with this room being a must have – wanting something unique and fun, but usable. The themes of wine, travel, music, cigars, and sports are front and center and can be seen from any angle." – Kevin Kelley
"We built our home in 2018 with this room being a must have – wanting something unique and fun, but usable. The themes of wine, travel, music, cigars, and sports are front and center and can be seen from any angle,"  said Kevin Kelley.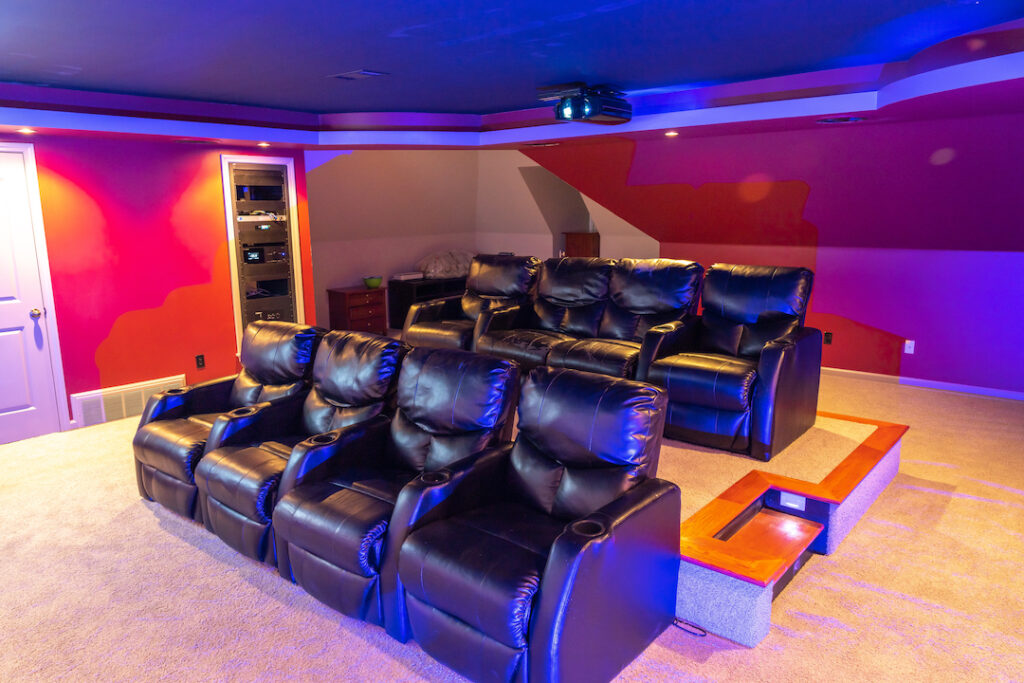 A custom installed stereo system featuring a vintage 1980's Bang and Olufsen turntable was custom installed with 1980's Klipsch Heresy speakers, and the whole house sound was piped into the room. A Kimball 1950s standard piano from Kelley Music Company was converted into a one-of-a-kind wet bar and cigar humidor. The temperature controlled, walk-in wine cellar holds 700+ bottles, completely visible on all sides. This room invites guests to grab a glass, turn up the volume, and kick back to watch the latest show.
"Our favorite thing is the unique items to see that tell a story," shared Kelley, " including two retro-style barber chairs perfect to sit in and enjoy a Grizzlies or Memphis Tigers basketball game, followed by music documentaries."
story | Anna Bell