Soccer Community Growing in Memphis
 USL Coming to Memphis
Downtown Memphis has had many exciting developments recently, and now we're welcoming one of the coolest additions yet — the  United Soccer League (USL) is coming to Memphis! Memphis' addition to the league is not only a huge milestone for the sport of soccer in the South, but it's also a testament to the city's growth and development. The founders, Peter Freund, Craig Unger, and Tim Howard, announced the team coming to Memphis in January 2018, and they have already begun working on the transition of AutoZone Park into USL Memphis' home stadium. USL Memphis will play its inaugural season in the Spring of 2019 and their first game will be at AutoZone Park.
So… Who's Who?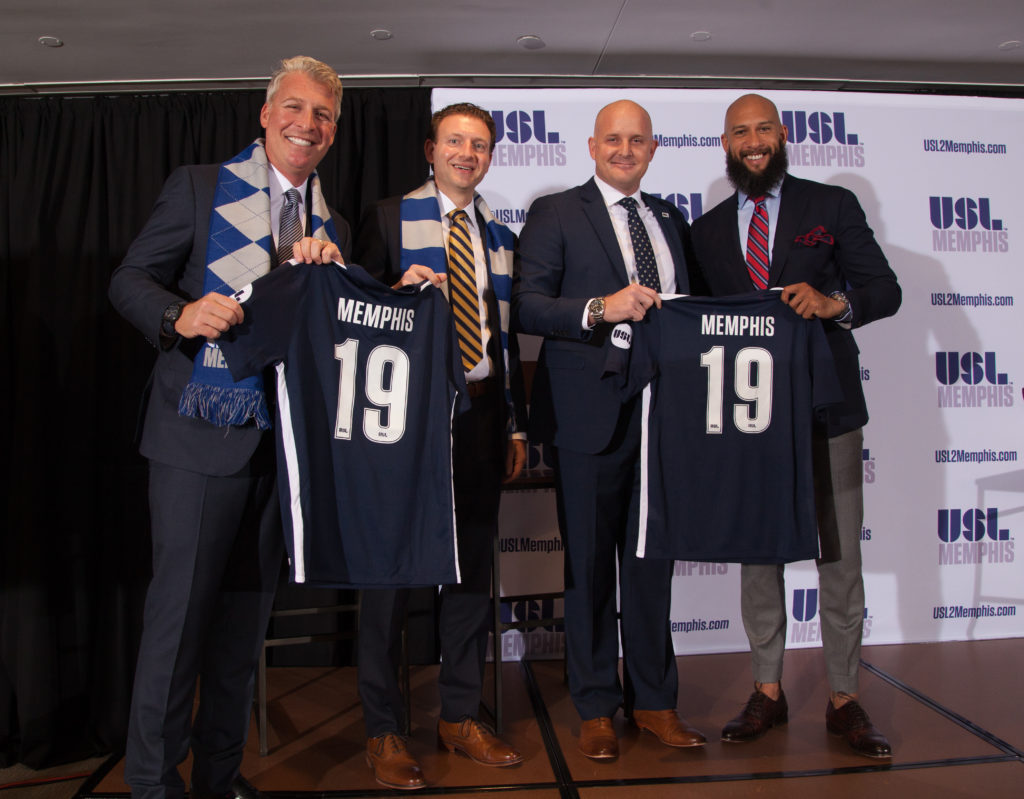 Peter Freund is the Principal Owner of Trinity Sports Holdings, which is the organization in charge of USL Memphis, as well as a few baseball teams such as the New York Yankees and Memphis Redbirds. Freund also serves on the Board of Executives for the Pacific Coast League and New York-Penn League and is the President of the Redbirds Community Fund, an organization aimed at renewing baseball in inner cities. Freund has the experience with professional sports that promises our USL team will run smoothly and the enthusiasm needed for community outreach to help grow USL Memphis and the city's soccer community.
Craig Unger is the President of USL Memphis. Originally from Illinois, Unger moved to Memphis when he became the General Manager of the Redbirds in 2014. In 2016, he became their President and a minority owner. In the short time that Unger has been in Memphis, he has implemented many upgrades and improvements to the stadium and facilities that have brought in big increases in attendance and revenue. With his knowledge of marketing, AutoZone Park, and Memphis, there's no doubt that he'll bring just as much talent and innovation to USL Memphis.
It was announced in March that Andrew Bell will hold the title of the team's Sporting Director. He is already putting together the team roster and will soon be announcing the head coach. Bell spent almost twenty years with the USL club Charleston Battery, where he held positions such as Director of Marketing, Director of Sales, and most recently, President. Under his lead, the team won both the 2010 and 2012 USL Championships. His successes with the Charleston Battery improved both the fans' experience in the stadium as well as the player's facilities. Bell's interest in USL Memphis came as soon as he heard about the team's founding from Freund, a friend that he's gotten to know over years of working together in Charleston. Bell's hire adds a great deal of USL experience to the Front Office, and by looking at what he's done for Charleston, USL Memphis is definitely looking at a promising inaugural season.
Aside from official offices, one of the most exciting aspects of our USL team is that it is going to be advised by one of the most experienced and talented soccer players in the US, who happens to live in Collierville! Tim Howard currently captains the MLS club Colorado Rapids, and he's the goalkeeper for the US Men's National team. Howard has also played for many other notable clubs such as the New York Red Bulls, Manchester United, and Everton FC. Howard originally met Freund at an MLS All-star game in Chicago, where Freund mentioned that he and Unger were fairly certain that USL was coming to Memphis soon. Knowing that Howard lived close to Memphis in his offseason, they considered reaching out to him for advising in their groundwork for USL Memphis, but were wary that Howard may be too busy or uninterested. To their surprise, later that year Howard called Freund and Unger asking about USL Memphis and how he could get involved. The group had instant chemistry and will be a tremendous asset in creating a unique atmosphere for USL Memphis.

A New Look For AutoZone Park
Freund, Unger, and Howard are all very passionate about creating a wholesome and vibrant experience for soccer fans in AutoZone Park. They are carefully outlining every detail of what makes the soccer experience so special and worthwhile. With help from Howard, having played in massive arenas around the world, the group has come up with the ideal layout and atmosphere of what will not only be a soccer player's dream, but will also give fans the ultimate soccer experience every time they visit.
The plans include converting the existing baseball field and outfield into a full scale, standard USL soccer field. They're also implementing technology that will lower the pitcher's mound below ground to keep it safe. Howard explained in a podcast with 901 Soccer that he wants AutoZone to be the most unique and boisterous soccer stadium in the country. His influence in the stadium design has placed the fans as close as possible to the action on the field, with expectations that this stadium will make its mark on American soccer. Unger, also on the 901 Soccer podcast, stated that he wants the stadium to be alive with noise and excitement. He notes that there will be things like fireworks, streamers, music, authentic food, and drinks that fully transform AutoZone into the ideal soccer environment.
Coach Richard Mulrooney, head men's soccer coach at the University of Memphis, has gotten to know Freund and Unger since the announcement of USL Memphis. Coach Mulrooney has played for the US Men's National Team, as well as the MLS clubs San Jose Earthquakes, FC Dallas, and the Houston Dynamo. When asked about the vibe in AutoZone Park, he stated that the atmosphere will be, "Quaint. Fans wanna be near the action. If you look at Grizzlies' games, everyone wants to be right on the sidelines. In AutoZone, the sidelines are going to be right by the first baseline, putting them as close as possible to the game." Coach Mulrooney goes on to praise Freund and Unger for their leadership and commitment: "People notice the little things like bad concessions, no parking, bad bathrooms, all the small details. Fans notice when the owners don't care or aren't putting in any effort, but these guys really are doing it right. And it's going to take some time; they're not trying to rush anything. At the end of the day, the fans will appreciate that."
"It's going to make the visiting team uncomfortable to have fans right up on them, and it'll give Memphis that home field advantage." — Coach Mulrooney, University of Memphis Men's Head Soccer Coach,
What is USL?
The United Soccer League (USL) began as a merger between two national soccer leagues to promote professional soccer in the United States in 2011. In its beginning, the league only had 12 teams but was making promising steps toward success. USL gained Division II status in early 2017 after receiving record investments, high attendance stats, and notable operations excellence. Now the league has expanded to 33 teams with an expected six more coming in 2019. The 33 teams play 34 games over 31 weeks, beginning in late Spring. With overall attendance for USL games up over 33% across the nation, it's easy to see soccer's popularity taking off all across the nation, and now Memphis is putting itself on the map.
"Memphis vs. Everybody"
    Along with USL's national growth, it's obvious that soccer is becoming insanely huge in Memphis and the surrounding area. Almost everywhere you go, you'll see someone wearing their favorite team's soccer jersey, or you'll hear someone talking about how they love playing FIFA. We also have tons of soccer players around town with age groups from the little tots that play at Mike Rose Soccer Complex, the teenagers that play for United Soccer Club, college athletes at the nearby universities, all the way to adult leagues that make up the Greater Memphis Soccer Association.
We can all attest to the passion and loyalty that follows our sports teams in Memphis, so we can only imagine that the same excitement and support will follow our USL team. One of the biggest goals for the owners and advisors is to create a team that strives to give back to the Memphis community as much as possible. Coach Mulrooney explained that "[The players] will be going to schools, raising money, doing appearances, and doing community service work… People look up to you when you're a professional athlete, and just like the Grizzlies, they'll be giving back as much as possible and really want to make a difference in the city and with the youth. They are 100% committed to giving back to the community."
Of course, we all love some friendly competition, which won't be hard to find since there are quite a few USL teams nearby: "There's Nashville, Birmingham, Louisville who have all had teams, and now Memphis is working its way into completing the puzzle. Nashville's going to be a big rival. We don't like them, they don't like us, but in a respectful way. Nashville's a great place, but when they both take the field, I want Memphis to win that game," explained Coach Mulrooney. I think it's safe to say that all Memphis fans feel the same way.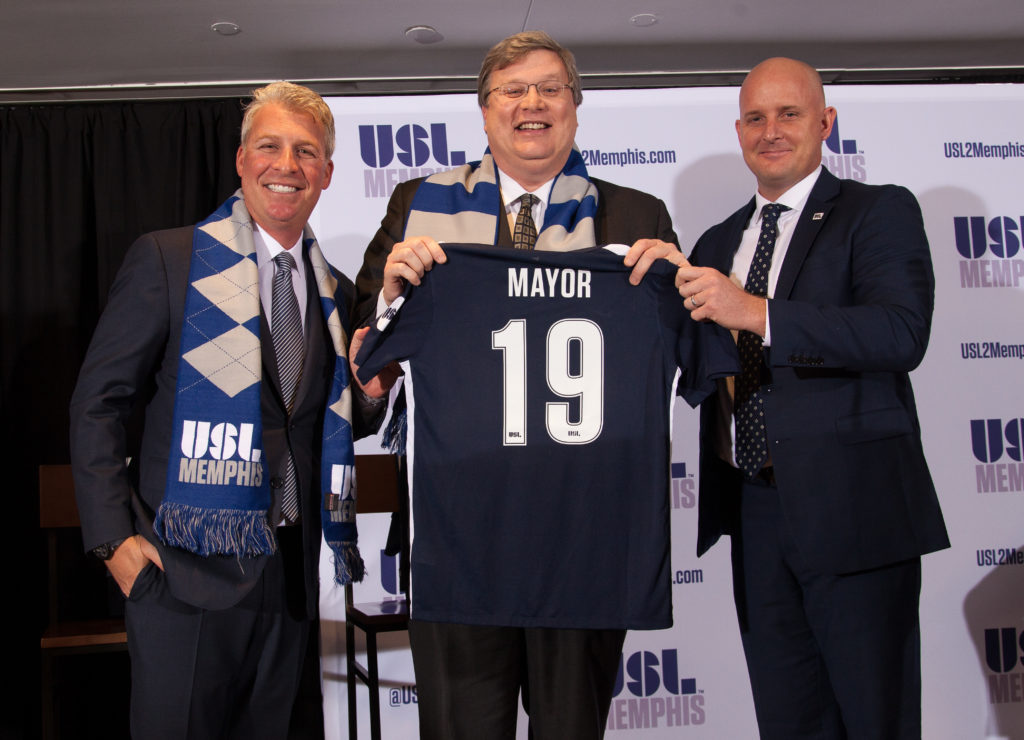 For more information, go to www.usl2memphis.com. You can also follow the team on Facebook, Twitter, and Instagram at USL Memphis.
Season ticket deposits are available on their website and come with a USL Memphis scarf or one of three USL Memphis t-shirts.