Shades of Light: What Stained-Glass Windows Help Us See
Stained-glass windows have been a foundational piece of history since first crafted by English and French artists of 6th century Europe. Some were even delivered to the United States, and Collierville specifically, to highlight church pews with splashes of purple and yellow sunlight.
"[They're] very dear to my heart," said Andrea Dougherty, a parishioner of Incarnation Catholic Church. "Because those images depict pieces from the Bible and the history of Christianity, and that's why they were so important, throughout Europe especially."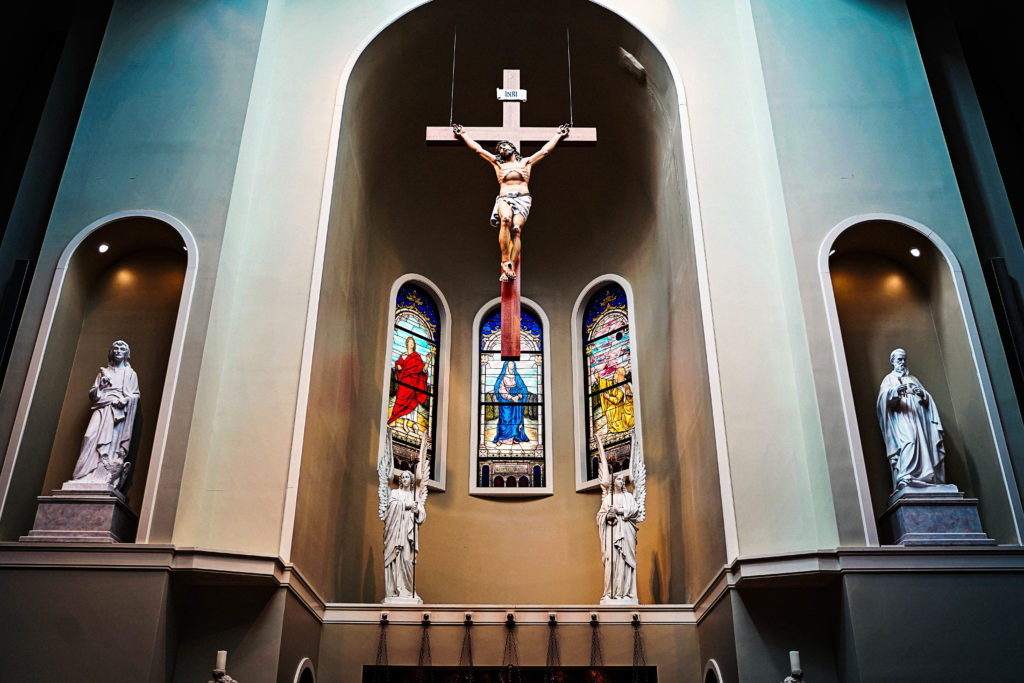 Dougherty explained how Incarnation's windows illustrate the passion of Jesus Christ. One of the windows, she said, depicts how nature revolted at three o'clock on Good Friday, when strange winds and earthquakes are said to have plagued Calvary. Of proud Irish heritage, Dougherty detailed how, in Ireland, priests used stained-glass windows to share stories with their parishioners. During their liturgies, they would point to the windows that laced their chapels, she explained.
In the historic district of Collierville rests the Morton Museum, once the home of the Collierville Christian Church. One morning, at the new church, Lead Pastor Ron Buck spoke of some similarities seen in stained glass. "It's interesting to me that they usually highlight the stories that are familiar," he said. "You could walk into 100 churches, and you're almost always going to see one with the Ten Commandments, and you're almost always going to see one with Jesus and the Lamb, the one that was lost."
Ripe with deep shades of crimson reds and royal blues, the stained-glass windows of the Collierville United Methodist Church [CUMC] share common Christian stories too. They illustrate the risen Christ, and shields of each Apostle are placed around the large, main window in an arched fashion. Blaine Tooley, CUMC's Director of Worship, explained how members of their youth group will often lay on their backs to watch the colors glisten across the sanctuary's ceiling.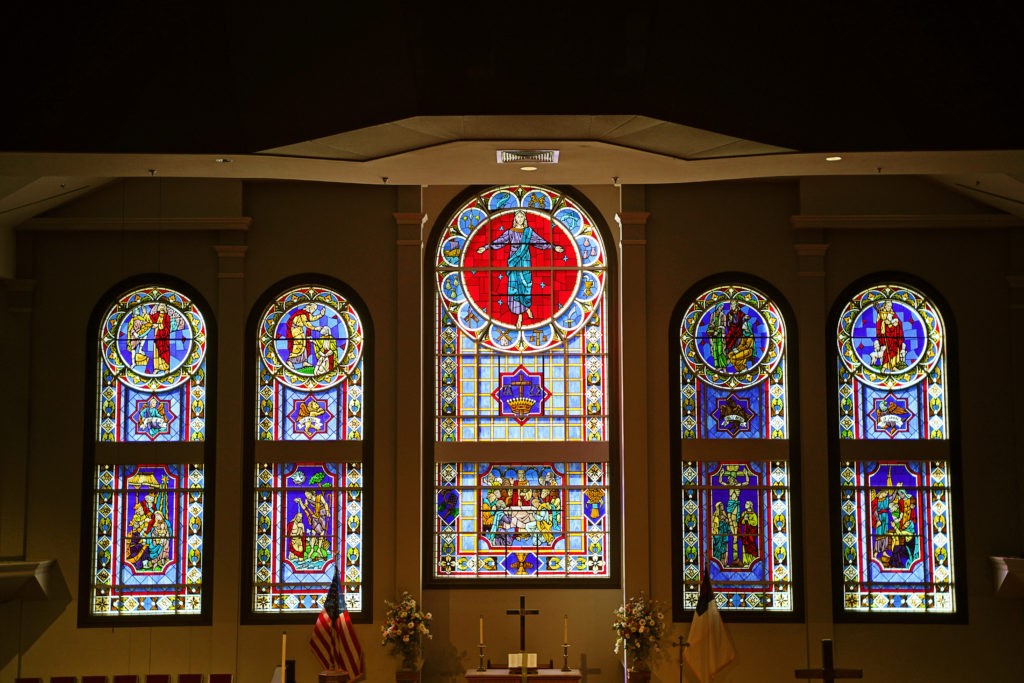 Behind Collierville's Town Square, there is a parking lot at the corner of Walnut Street and North Rowlett. To the east, the Sanctuary on the Square's small, circular and colorful windows are framed by a pair of holly trees. To the north, Saint Andrew's Episcopal Church's windows arch and meet at a rounded point. Hidden here is a quiet story of remembrance.
A longtime parishioner of Saint Andrew's offered a detailed tour of the stained-glass windows. "In 1870," the parishioner began, "Bishop Quintard acquired, at the Lambeth Conference in England, some medallions that were taken out of other church windows which may have been in repair, that were not going to be reused, and he brought them back himself from England. We were building Saint Andrew's Church, and he gave them as a gift."
At Saint Andrew's, there is a short, stocky bell tower not much taller than the building's other roofs. The parishioner shared one story of a young boy who, in the 1960s, always rang the church bell. Although shop-owners may have heard the faint sound of ringing, it is doubtful that they thought of a young boy just a few hundred yards away, perhaps with a glint in his eyes as he awakened the Square each morning.
The young boy was sick, though, and later died of leukemia. No longer able to ring the bell, the Square was less noisy and, for a while, woke without the sound of Saint Andrew's. But soon after his passing, a panel of glass was replaced. Now, as the sun sets each afternoon, it shines through a panel of light that forms a bell.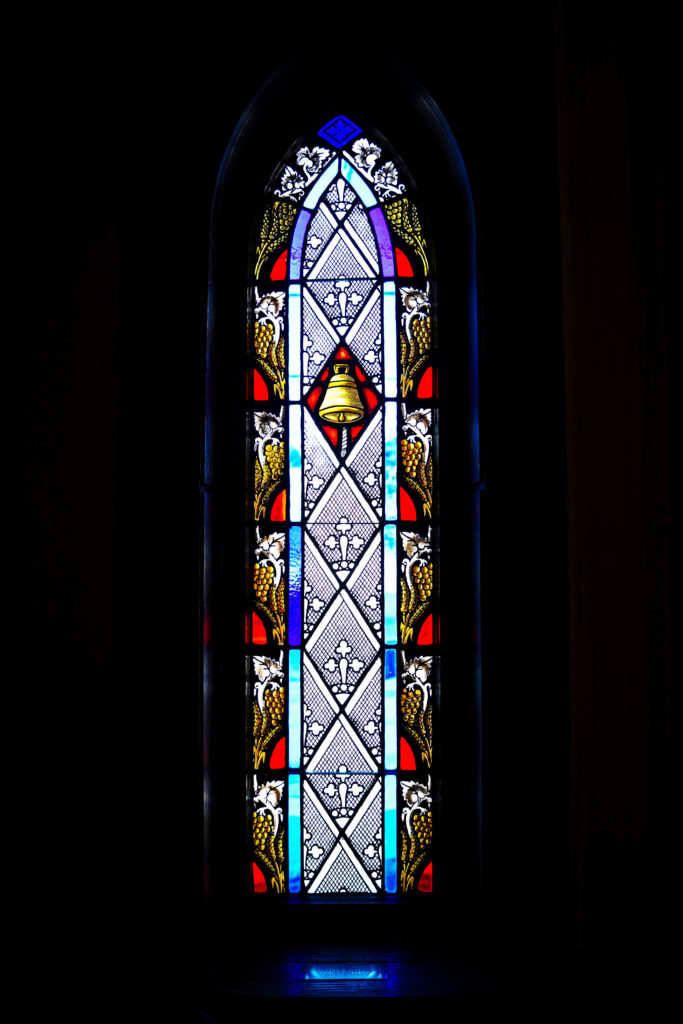 Pointing to the glass, the parishioner said, "In the late '60s, a new panel depicting a bell with a chord was placed in memory of a young boy who came and always was here to ring the bell. He was a young lad who had leukemia, and as long as he was here, he rang the bell."
In Collierville, there may be other stories such as that of the young boy from Saint Andrew's who will always be welcomed home to ring the bell. Stained-glass windows are made of faith, memories and hope, and we can look to them for assurance this holiday season.
story | Nicholas Cotros
photos | Cindy B. Thymius Photography