Second Annual Tournament of Champions Brings In The Crowds
This year marks the second annual Tournament of Champions marching band competition. Hosted at Collierville High School, this tournament is the premier marching competition in the Mid-South area.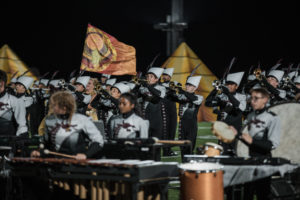 "In 2018, we started hosting this competition because we wanted to offer a high-caliber competition to the Memphis area. We wanted to get judges from a national level to offer feedback to the students and band directors," said Thomas Richardson, Director of Bands at Collierville High School. There was also a need to showcase Collierville High School's new facility, including their brand-new 5000-person stadium. 
On October 5th, eight bands –– Briarcrest Christian School, Northpoint Christian Academy, Horn Lake, Brighton, Germantown, Bartlett, Arlington and Houston High Schools –– competed for the title of Grand Champion. Any high school marching bands are welcome to enter the competition, as long as they register before the August/September deadline. In fact, Richardson hopes that the tournament will soon expand outward, attracting bands from all over the country.  
Most bands use their halftime performances for the competitions, so if you missed the competition itself, there's still plenty of opportunity left in the football season to watch these bands perform! 
Each band was judged for music and visual performance and effect, as well as their percussion section and their color guard performance. The six judges came from all over the country, including the Director of Bands from Arizona State University Stephen Meyer. All judges have backgrounds in music education as well as adjudicating on the national level for Bands of America and Drum Corp International.
This year, Bartlett High School was named Grand Champion, with hundreds of supporters cheering them on. "People filled the stands, it was a wonderful, friendly competition. Everyone just wanted to the bands to perform at the highest level," Richardson said. 
The Pride of Collierville band gave an exhibition performance as the host school. Previously, in a local competition at Arlington High School, the Pride of Collierville won Grand Champion as well as first place for percussion and color guard. On a national stage, the band recently competed at Murray State in Kentucky. They ranked 1st in their class during the semi-final round, and then placed 4th in the overall finals. 
"People who move from out of state are actually moving to Collierville because of our band program," said Richardson. As for the Tournament of Champions, Richardson believes that it is also drawing people to Collierville. He said, "We want a high level of performance and hospitality, so that others want to come to Collierville not just to watch the competition, but to perform in it too." 
Tour Collierville wishes all the local marching bands a fantastic rest of their season! 
Photos | Scott Jackson and Will Porada, courtesy of Donna Nelson
Story by | Regan Hewitt