Library Supports Local Voters
The Burch Library is partnering with The League of Women Voters of Memphis–Shelby County on two upcoming events and inviting the Collierville community to attend. 
On Thursday night, make plans to listen to dynamic speaker, Paula F. Casey, on voting rights. She will tell the story of the 72-year struggle for women to win the right to vote in the United States and how it came down to Tennessee as the last to ratify the 19th Amendment. Light refreshments will be served at the event, courtesy of the League, on October 10th from 6:00 – 8:00PM as Casey enlightens the room on the Tennessee Woman Suffrage Heritage Trail which she co-founded with a vision to "…preserve the history of the women – the original persisters- who fought all those years to have a say in the government" (TN Woman Suffrage Heritage Trail, 2019). Casey will also have her book, The Perfect 36: Tennessee Delivers Woman Suffrage, for sale at the event.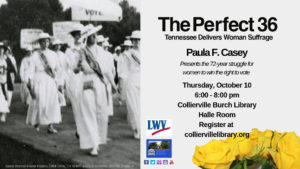 In continuation with the voting theme, The League of Women Voters of Memphis–Shelby County will also be at the Burch Library to assist community members who are eligible and ready to register to vote on Tuesday, October 29th. Stop by the Library Lobby for an opportunity to have your voter registration questions answered. Enjoy the convenience of having someone walk through the registration process with you verses registering alone online. League Vice President, Peg Watkins, will be at the event with informative information to share.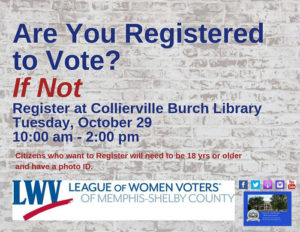 Drop by anytime between 10:00 am – 2:00 pm. Bring a picture ID and get registered! You must be 18 yrs. or older to register. For more information on voter eligibility check out: https://sos.tn.gov/products/elections/register-vote
Story by | Anna Bell