Rockin' Style
Music festival season is upon us! Music and fashion are both passions for us at Janie Rose Boutique. We dress ladies for local concerts, Beale Street Music Festival, and some even come see us for their Coachella pieces. We have always had a love for unique, music-inspired tees that can sell out in a matter of minutes each month. Festival season has become so popular that your outfit is just as important as the band you are going to see. At the end of the day, when the sun goes down and the stage lights come up, we all want to rock out in style!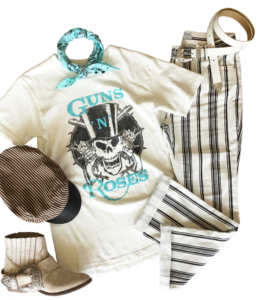 My first concert must-have item is a graphic band tee. We receive about 4 or 5 different tees a month, since we are picky of the bands, quality, and design. We don't do a lot of reordering because we don't want everyone wearing your one-of-a-kind tee! They can be pricey, BUT that's what sets them apart. You want them authentic and worn looking, kind of like you stole it from your grandpa's 1970s closet. Tie them up in a knot, or do some tucking! I am seeing the biggest trend this season with tees as TUCKING 'EM IN!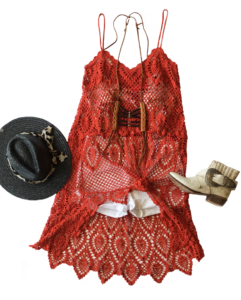 Crochet is everywhere right now, and I'm loving the versatility of this crochet dress. It's definitely giving me Coachella vibes! We threw a bandeau and shorts underneath, but it's also a vacation must. Throw this over your bathing suit, and you have the cutest cover-up.
We added a pop of leopard to the hat because leopard is the print of the year. Don't get stuck in a box and think it's just for fall/winter, leopard is on everything this Spring/Summer.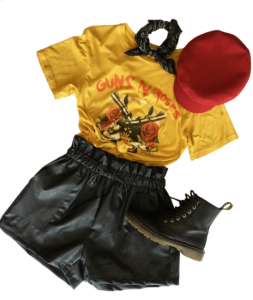 Comfort is always key to a concert, and I was so stoked to see 90s fashion making a comeback! You'll be seeing me roll my Doc Marten boots into Spring/Summer with shorts and dresses. It's the ultimate rocker girl look! We have the "Docs" pictured with the tees, and the Free People Floral Dress. In my opinion, Free People just knows how to do a concert outfit. I love mixing girly outfits with an edgy piece and the Black "Docs" fit that look so well.
Last but not least, spend some money on accessories.
I live by this rule of thumb – you can change the look of any outfit just by updating your accessories.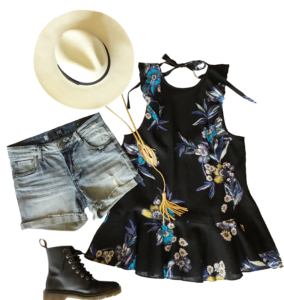 It's a cheap and easy way to switch things up according to the trends. Hats are a staple in my wardrobe. You can take an outfit next level by throwing on a hat. I'm really loving the newsboy style hats right now, and I have been wrapping my wide brim hats with scarves and bandanas to coordinate with the rest of my outfit. Bandanas are also a cheap way to jazz up your rocker tees. I wear them around my neck often, and they cost pennies at any art store.
Sometimes mixing patterns, and throwing on all your cool accessories will make you feel like the coolest rocker chick at any concert!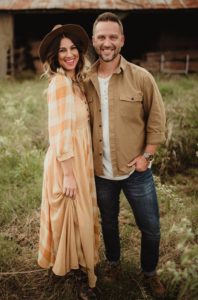 By: Jessica Russell
Co-Owner, Janie Rose Boutique
Janie Rose Boutique opened in 2007 and my husband, Travis Russell, and I became co-owners in 2016. We strive for amazing customer service, quality clothing in small quantities, with our goal being to not over-saturate the area with the same thing!