Progressive Dinner Tour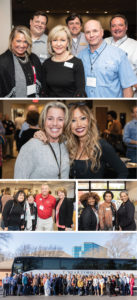 Hosted By: Memphis Area Association of Realtors Affiliate Council
Once a year, a group of realtors join together for an exciting networking event that is 'off the record.' Tour Collierville was given exclusive access to this low profile Progressive Dinner Tour, where more than 75 realtors hopped on a tour bus to learn a thing or two about local hot spots, while also enjoying some good Memphis cuisine. 
"This event is to educate the realtors on Memphis and surrounding areas, so they can provide that information to prospective clients that are looking to relocate in Memphis," says MAAR Professional Development Director, O'Hara Keszler. "The event is put on by our Affiliate Council. MAAR is comprised of about 3,800 members and the majority of those members are Realtor® members, and a small percentage — a little less than 200 — are affiliate members, which are people that support realtors and their businesses. They are a very active group, with a separate board called the Affiliate Council, and their mission is to provide support to realtors through education."
MAAR President, Lee McWaters, expresses his excitement towards the current state in the real estate market saying, "We have seen very healthy appreciation levels in property values, which is a good thing, especially for sellers. We do have low inventory. We have about 3,800 listings in our six counties that we represent, and we represent pretty much the southern border of Tennessee, along with Tipton county right above us. That makes it a supply and demand issue. The demand is high, interest rates are low, and the Fed [Federal Reserve System]  just reported that they're probably going to keep them low for another year. Low interest rates, 4% give or take a half. When I got my first loan in the mid 90s, it was a 9.5% or a 10% interest rate, and that was probably average. So that means there's affordable housing and we are all about quality, affordable housing." 
Events like the Dinner Tour provide an excellent networking opportunity for realtors to discuss these current market trends and more. After enjoying appetizers from Collierville's own, P.O. Press Public House & Provisions, the group jumped on the bus and enjoyed tastings from other restaurants including Napa Cafe, Pontotoc Lounge and Cafe, Grecian Gourmet Taverna, and the Hu Hotel rooftop! 
"We are advocates of Memphis, we sell Memphis, both commercial and residential and we are proud of Memphis, so it couldn't be a better time for us [realtors]," says President McWaters. "It's a booming economy. We're literally spending tens of billions of dollars this year inside Memphis, building it up, and inside towns like Collierville and Germantown as well!" Learn more about the Memphis Area Association of Realtors by visiting: www.maar.org
photos | NLA Projects