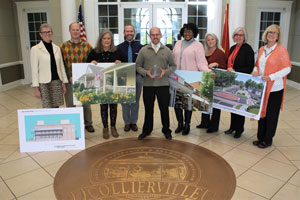 Planning Department Wins Award
The Town of Collierville's Planning Department recently won an "Outstanding Plan Implementation" award! This honor came during the fall conference of the Tennessee Chapter of the American Planning Association in Franklin, Tennessee.  
During the conference, Collierville's Town Planner Jaime Groce gave a presentation about the Town's Downtown Small Area Plan, which was conceived and implemented from 2009-2010. The plan was created after a community visioning exercise nearly ten years ago, where the Town asked Collierville residents about their hopes and visions for the future of Downtown Collierville.  
One of the goals of the plan was to revitalize the Historic Downtown area, by making it both a destination and the heart of a vibrant, living neighborhood. 
The plan's implementation has resulted in seventy new homes, two new commercial buildings, a new satellite campus for the University of Memphis and a streetscape project that is expected to be completed by the end of 2019. 
Groce noted that the award was a confirmation of more than a decade of hard work. "It was in recognition of many, not just the Collierville staff. There are numerous private sector people and firms that have helped implement the plan as well as public projects. The award recognizes the collective work of our community," he said. 
To find out more about the Downtown Collierville Small Area Plan, see the Town of Collierville's website here! 
Pictured above left to right, Nancy Boatwright, Assistant Town Planner, Scott Henninger, Planner, Shari Michael, Administrative Specialist Sr, Kevin Bingham, GIS Manager, Jaime Groce, Town Planner, Don Singleton, Planner, Terri Spears, Procurement Specialist, Celia Rosser, Senior Procurement Specialist, and Diana Dubois, Planner.
 Source: The Town of Collierville