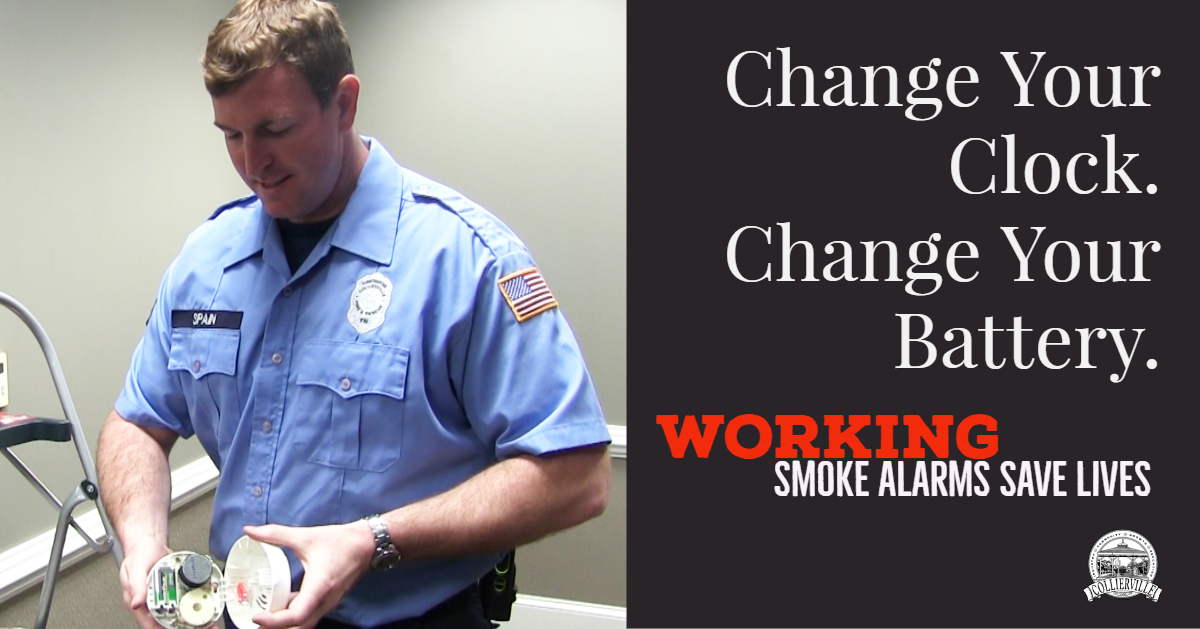 "Fall Back" and Practice Fire Safety
With the change in season also comes time to change the batteries in your smoke alarms! The Collierville Fire Department wants to remind everyone that now is also a good time to practice fire safety.
Did you know Tennessee has one of the highest fire death rates in the country? Help stop this trend by making fire safety a priority in your home. Most fatal home fires occur between 10 PM and 7 AM when family members are asleep.
Add smoke alarm maintenance and home fire drills to your clock-changing routine, because working smoke alarms cut the risk of dying in a home fire by almost half. Here are some smoke alarm maintenance best practices:
The CFD recommends replacing batteries in smoke alarms twice each year, and Daylight Savings Time serves as the perfect reminder.
Smoke alarms should be tested once a month. 
Test a smoke alarm by pushing the test button on the face of the smoke alarm. (If the smoke alarm is difficult to reach, the handle of a broom may be used to press the test button.) 
Replace any smoke alarms that are ten years old or older.
The CFD also recommends practicing a home fire escape plan twice a year. Take advantage of Daylight Savings Time to practice your fire escape plan during the night and during the day. (Remember most home fires occur at night.)
To create a fire escape plan:
Draw a map of your home, including all doors and windows.
Keep doors and windows unblocked.  
Find two ways out of every room.
Choose an outside meeting place (like a tree, light pole or mailbox) in front of your home.
Push the test button to sound the smoke alarm.
Get outside to your meeting place.
Teach children how to escape on their own if possible. Fires can move very fast. You could have less than 2 minutes to get out safely once the smoke alarm sounds. Muscle memory is invaluable; talking about what to do is not as helpful as actually practicing a fire drill. Everyone needs to know what to do and where to go if there is a fire.
For additional fire safety tips in addition to smoke alarm information check the National Fire Protection Association (NFPA) website. There are tips for adults and children. Adopt Daylight Savings Time as an opportunity to both maintain smoke alarms and practice home fire drills!