As we launch out into a New Year, we must ask ourselves an important question: What really matters?
The fact that we live in a fast-paced culture certainly complicates the matter.  Jim Henry observed, "The non-stop pace of life in America certainly keeps our minds and schedules occupied. Like a hypnotist's dangling, shiny object, the constant motion of today's culture tends to dull our senses and rob us of the awareness of what is important around us"  (Keeping Life in Perspective, p. 4).  Jeremiah's words are certainly appropriate and helpful…
Thus says the Lord, "Let not a wise man boast of his wisdom, and let not the mighty man boast of his might, let not a rich man boast of his riches; but let him who boasts boast of this, that he understands and knows Me, that I am the Lord, who exercises kindness, justice, and righteousness on earth; for I delight in these things," declares the Lord (Jeremiah 9:23–24).
Can anything be more important than knowing God?  The Hebrew word for "know" pictures an intimate relationship with the Creator God.  Jesus himself described eternal life like this —
"This is eternal life, that they may know You, the only true God, and Jesus Christ whom you have sent" (John 17:3).
Knowing God is not some kind of emotion. It is not hearing a voice, nor, is it an intellectual pursuit.  So, how can you and I know God?  I love what J.I. Packer wrote on this matter— "Knowing God is a matter of personal involvement of the mind, will, and feeling.  It would not, indeed, be a fully personal relationship otherwise.  To get to know another person, you have to commit yourself to his company and interests, and be ready to identify yourself with his concerns.  Without this, your relationship with him can only be superficial and flavorless" (Knowing God, p. 39).
So knowing God is first a matter of personal involvement.  We must seek the Lord with our whole heart. Secondly, knowing God is a matter of sheer grace. God takes the initiative in revealing Himself to us through His Son, the Lord Jesus Christ. Study about the life, the teachings, and the ministry of Jesus in the four gospels and you will learn a lot about God.  Believe me. The living God can make a huge difference in your life and in the lives of your entire family.
What really matters?  That's the question that must shape our perspective as we enter a new year.  Jeremiah's words—the words of God—beg for our attention.  Let's make this new year our best year ever.  Let's get to know God!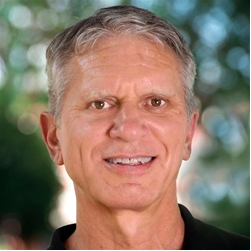 Dr. Chuck Herring is the Senior Pastor for Collierville First Baptist Church located at 830 New Byhalia Road in Collierville. Dr. Herring began his ministry with CFBC in March of 2003 and is originally from Saltillo, Mississippi.