On The Right Path: Collierville Uniquely Positioned for Office Growth
I recently read an article where Ben Owenell, co-managing director of GBT Realty, said of the Brentwood, Tennessee area, "…with very little Class A office currently available in this growing submarket, the site is an opportunity for a company to gain tremendous visibility but also offer its employees a community with a high standard of living, recreational amenities and a quality public school system." Owenell could have easily been talking about Collierville, as our community is uniquely positioned to take full advantage of the post-pandemic office development wave.  
Besides the fact that Collierville sits in Memphis' primary path of growth and affluence, what other advantages can we offer? 
CORPORATE BASE  
The FedEx® World Technology Center (WTC) drives our economy in numerous ways and influences other corporate office users. In previous pieces, I have shared that FedEx® receives over 10,000 non-badged visitors per year and over 700 of their team members actually live in Collierville. With median home values currently at $330,000, that's roughly $230,000,000 of residential property value influenced by FedEx®. FedEx's® stability in our submarket has directly and indirectly motivated others to be part of our community. We now have close to 4,000 corporate headquarters jobs in Town, as JuicePLUS©, Helena Agri-Enterprises®, MCR Safety©, Orgill©, Mueller Industries© and IMC Companies© have all made the strategic decision to be part of one of the most attractive office markets in the region. 
DECISION DRIVERS 
Site selection consultant John Boyd, with The Boyd Company©, coined the key factors in office site selection with the term "TALIO." What does "TALIO" stand for and why is it important?  How does Collierville stack up?
Talent: With close to 60% of our population holding a bachelor's degree, our market is an attractive place for business professionals and technology talent to live or commute. Proximity to the University of Memphis, University of Mississippi, Rhodes College and Christian Brothers University ranks us high on the talent tally.
Access: Having an airport with strong domestic and international flights is a key corporate relocation driver. Our airport continues to upgrade their schedule, which is critical for a serious headquarters relocation and expansion contender. In the meantime, our central location gives us same-day or next-day access to over 40% of the U.S. population.
Lifestyle: One of the key elements to any company's long-term success is their ability to retain talent. The award-winning Collierville School System, our diverse housing market, ready access to healthcare and top-shelf recreational amenities add greatly to our retention score.
Incentives: In the competitive world of economic development, incentives, such as tax abatements, play an elevated role in the overall recruitment process. Through our Industrial Development Board, Collierville offers tax incentives that are fully vetted, analyzed and managed.
Operating Costs: When you compare Tennessee to the other fifty states as it relates to costs and business friendliness, we historically rank in the Top 10. A recent CNBC© study, "America's Top States for Business," places Tennessee at #13 overall.
SUBURBAN SHIFT
The "end of the office forever" is somewhat overstated, in my humble opinion. I think that office space will change to accommodate the next wave of office work as we know it.  People will still work at the office as part of their work rhythm… it just might be nuanced. Collierville is perfectly positioned here, as we have close to 400 acres of developable land available to welcome the new, redesigned and reconfigured office space. Also, as we continue to grow to over 50,000 in population, we are located where the workers live. Commute times and access to the office are to our advantage. Attractive, well-rounded and accessible suburban office markets will continue to be popular. 
I remain bullish that our well-positioned and unique community will continue to be an attractive consideration as organizations work on their long-term facilities plans. Southern Security Federal Credit Union© will soon break ground on their 20,000 square foot facility on Byhalia, and David Halle has aspirations for 32,000 square feet of office space to complement his residential development at Poplar and Bailey Station. You might say, when it comes to office development, Collierville is on the right path.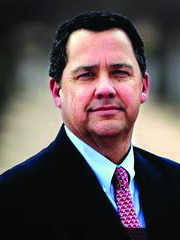 John D. Duncan
Director of Economic Development
500 Poplar View Parkway
Collierville, TN 38017
901-457-2200 General
901-457-2213 Direct
901-457-9325 Cell
www.AccessCollierville.com