Local Pumpkin Patches & Farms 2019
We all love a good pumpkin patch, whether we're about to carve a jack-o-lantern or are just trying to take a cute new profile picture. As the weather cools and the evenings get shorter, here are some Collierville area pumpkin patches to visit! 
Collierville Presbyterian Church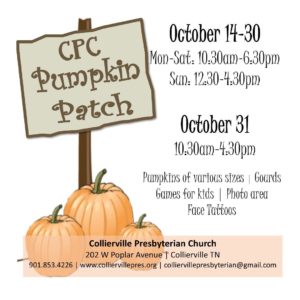 October 14-31 
These pumpkins will arrive, unloaded by church volunteers, on Sunday, October 13th, so they'll be very fresh. These pumpkins will be accompanied by gourds and hay bales. In addition to the patch, the church will offer games for kids, a photo op area and face painting! 
October 1-end of season 
Hidden in Collierville, just off of Shea Road, is Menagerie Farms, a local favorite! They have a pumpkin patch, petting zoo and hayrides! It's a beautiful piece of property, with a large lake and plenty of picturesque barns. There's also a delightful train ride for kids and bonfires at night, which are fun for a large group of friends or family. 
September 28-November 2
There's a lot to see and do at Tom's Farms, just 25 minutes from the heart of Collierville. They have pumpkin patches, an eight-acre corn maze (that's haunted for the last two weeks of October), wagon rides and bonfires! They also offer a plethora of fall decorations, such as corn stalks, gourds and mums. 
September 27-end of season 
With 24 acres of pumpkins and all sorts of fall crops, there's plenty to do at Priddy Farms! You can enjoy hayrides, train rides and pumpkin picking. There's also a petting and feeding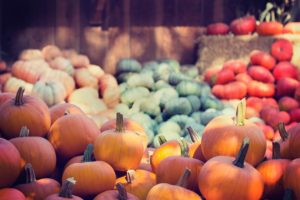 zoo, with 43 different new farm animals! If you're into the spooky side of the season, there's even a haunted (kid-friendly) wood to walk through. 
October 26 
Germantown's Fall Fest offers pumpkin patch activities, farm animals and hay rides, including a hay mountain. Starting at 6pm and 7pm respectively, Fairy Tale Trail and Trail of Terror are ready for your family to have either a magical or spooky night! There's also live music, bounce houses and an incredible concessions stand.
Story by | Regan Hewitt