Collierville Connected to Little Free Libraries
One local group is connecting Collierville neighbors by way of books! You may have noticed in the last year Little Free Libraries popping up around Town and in your neighborhoods. These quaint little structures house between 12-20 books, are waterproof and can stand alone on a post or bottom support. Each library holds children, teen and adult books, – fiction, nonfiction, biography, self-help, religious, etc., – anything that app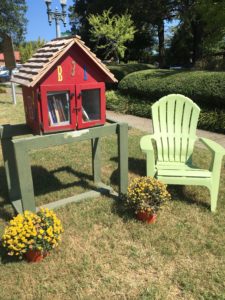 eals to Collierville neighbors. 
"It's a lending Library – 'Take a book and leave a book'," remarks Jane Coward, Collierville Connected Volunteer Team Leader. "We especially try to provide books that are recommended by users, childhood favorites and books that teach and spark conversations."
Currently there are eight Little Free Libraries in Town, provided by Collierville Connected. The first library was placed in March of 2018 at the Sanctuary on the Square and shortly thereafter, the second structure was placed at Crutchfield Office on Center St. The additional locations include Sass It Up on the Square, Mt. Olive, St. Mark on Sycamore, Kerley Center on Poplar, Captain John's on Hwy 72, and St. James on Harris St. For photos and a detailed map, check out: http://www.colliervilleconnected.com/Libraries. 
"The Little Free Library Team of volunteers is part of Collierville Connected," shares Jane. "This visionary team of volunteers secured books and craftsmen to build the libraries and install them on their sites. The books are provided primarily by the Burch Library, member churches and books left every day at our Little Free Libraries. Occasionally books are purchased to ensure a well-rounded inventory, and that's where donations come in handy!"
The Collierville Connected organization was born on July 7, 2016 and has grown to include nine local churches who share the vision – to connect, build and strengthen relationships across the community for the betterment of all. New to the area or know someone wanting to get 'plugged-in'? Collierville Connected offers two great ways to get yourself or other neighbors involved in our community.
NEIGHBORHOOD RESOURCE CENTER, opened in November 2017, is a place where families and individuals can find assistance to rebuild their lives, improve their future and share Christ's love. In other words, they offer help when you need it most. The center has internet connected computers that can be used for job searches, tips on how to build an effective resumé and the very latest job offerings in the area. Collierville Connected offers two Resource Centers:  Sanctuary on the Square Tuesday and Thursday 9AM-11:30AM and St. Mark MB Church Saturday 10AM-12Noon.  http://www.colliervilleconnected.com/Home
PRESCHOOL READINESS SERIES The most recent and current initiative launched on September 21, 2019, and it helps prepare our children for early childhood success in Kindergarten. The Affordable Preschool Committee provides a free four-week Preschool Readiness Program September through November. RSVP here: http://www.colliervilleconnected.com/Preschool 
Whether by way of chatting with neighbors while grabbing your next read, or attending an informative meeting, there are many ways to get informed and get involved in our great Town.
Story | Anna Bell