Hi, I'm Ashley! The PURR-fect Cat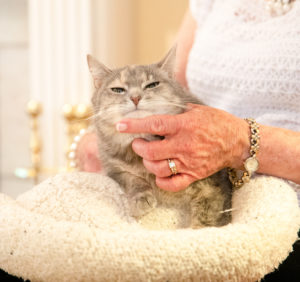 When I arrived at the Collierville Animal Shelter last year with my litter of five one-week-old kittens, we were skin and bones, dehydrated and in really bad shape. Given our special needs, we were immediately placed in a foster home. Those first few days were rough, and sadly, two of my kittens didn't survive. Our wonderful foster mom was determined to save the rest of us, and she did! Thanks to her, my three kittens were adopted, and I'm here today hoping to find my forever home.
I'm a two-year-old female diluted tortoiseshell, and in my foster home I live with a Border Collie and three other cats. I heard my foster mom say that she would love to keep me, but her other cats are unadoptable, and apparently I am something she calls the "perfect" cat. I guess she says that because even though I'm a little shy, I get along well with dogs and cats, I am well socialized, I love belly rubs, chasing a laser pointer, playing with balls and curling up on the corner of my human's bed at night. I'm playful, but never scratch, and I always use the litter box, because, yuck! Why wouldn't you? I also love to look out windows and doors, but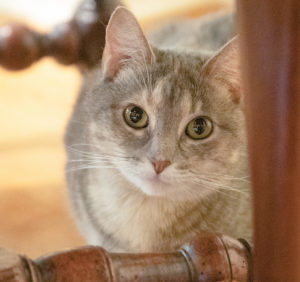 prefer to be an inside girl because the world outside was not kind to me. Oh, and I'm so calm I let my foster mom trim my nails with a regular nail clipper! But I'll admit, even though my foster mom says I'm made of 100% sweetness, I'm not really perfect. I did used to play with cords, but she taught me to stop because apparently those cords cost money. Oh, and I also like to follow humans around and do laundry with them, which for me means showing them how to unfold what they just finished folding. Seriously, that game cracks me up. 
So, let's cut to the chase. Do you have a place in your home for the PURR-FECT cat? If so, please contact the Collierville Animal Shelter and ask about me. And one more thing… fostering saves lives! Without my foster mom, I would have never had a chance at a happy ending. So, if you don't have a permanent spot for a four-legger, please give some thought to opening your heart and home to a foster pet. 
Purrs and Kisses,
Ashley
Julie Weaver. Collierville Animal Services is located at 559 E. South Street, Collierville. Call 901-457-2670 or come by to find your perfect companion!