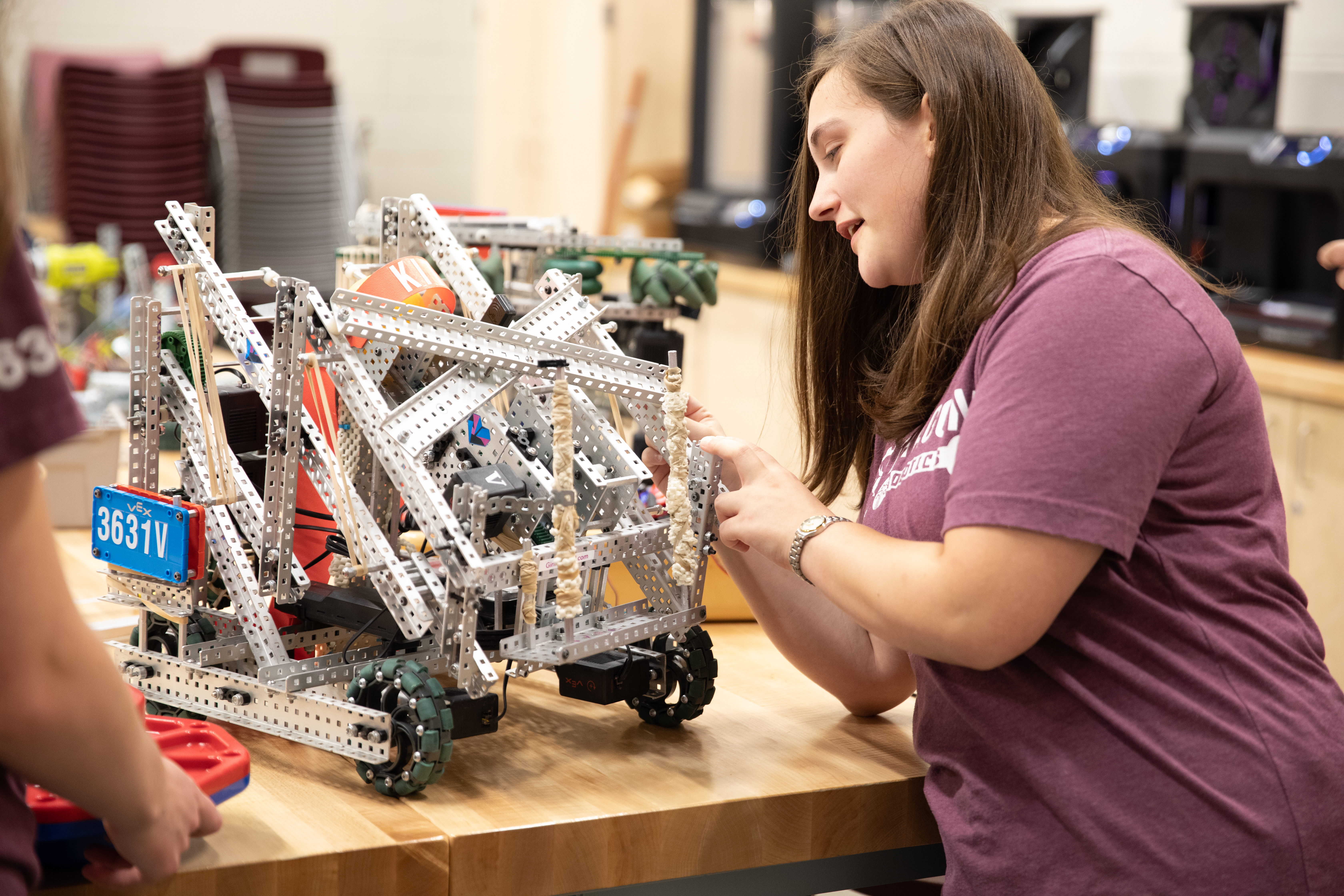 Girl Power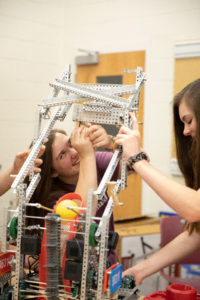 Girls are leveling the STEM playing field at Collierville High School, one robot at a time. There has been an exciting growth spurt of female robotics interest over the last seven years since the first Robotics team was formed at CHS. There are currently two all-girls VEX robotics teams that have been rocking competition after competition. The four girls that make up the 'VEX-ettes' have won the "Inspire" Award, while the group of five girls, the 'VEX-ens', have won the "Excellence" Award and "Design" Awards respectively. The entire VEX groups later traveled to the TN State VEX competition and won the Safety award! 
CHS Robotics Sponsor, Edward Charbonnet, says that teaching Robotics is one of the coolest things he has ever done since becoming a teacher. "I feel like kids learn more about themselves, engineering, and design process while doing robotics, things they could probably use in the real world no matter what field they go into, more than anything I've ever done in my classroom. And to see the girls really get excited and involved, learning their strengths, it's really cool." Girls from all different niches in school are getting involved in robotics according to Charbonnet. "These teenagers come from all different backgrounds. For instance, we had one girl who was on our pom team and went to nationals in Florida while she was also going to competitions with us on the robotics team! It's really awesome and not something you normally think about, someone that does both pom and robotics!" 
It was a similar story on how two students on the all-girls VEX teams joined the robotics club. 
"My brother had been doing robotics when I was younger, and I just thought it was so interesting that I could actually build a functioning thing on my own and drive it and have it do tasks," remembers CHS Sophomore, Taylor Nelson. "I also joined mostly because of my brother," chimes CHS Junior Allison Boers. "He let me drive his robot once and I was like, "Ok, I really like this!" So I did Middle School robotics and then when I got to High School, I joined VEX which was kind of a no-brainer. Well, a little bit of a brainer."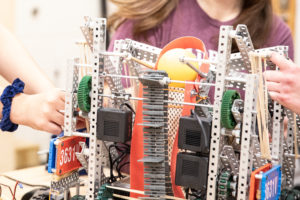 Nelson encouraged Sophomore friend Ella Hobson to join what many say is the 'hardest fun you'll ever have'! "Last year was my first year of robotics," says Hobson. "I have always enjoyed hands on projects and building things, and Taylor was like, 'You should try robotics! It's really cool!' and I was like Ok, I want to try robotics!'. I really like it so far and plan to continue through the rest of High School."
When asked how the girls plan to continue to encourage other female students to join, their answer was simply that the fun in building something speaks for itself! "At the Eighth grade club night, we were at our booth talking to other people and girls coming to the High School telling them how cool it [robotics] is and how they can join. We let them play with the robots and they seemed really excited about it" says Nelson. "We've gotten to a point where the robotics team is very even cut between boys and girls. Compared to my first year, it was not that way at all," says Boers. "My Freshman year I was on the only all girls team of six, so we've grown a lot." 
The girls say the 2019-2020 will be a particularly exciting one full of opportunities to compete, and they look forward to even more female teammates joining the fun!
By: Anna Bell