CEF Teacher Appreciation Luncheon Gives Back
The Collierville Education Foundation (CEF) recently held its annual Teacher Appreciation Luncheon for Collierville Schools teachers in the CHS cafeteria, where a surprise $10,000 donation was made! 
Mayor Stan Joyner gave opening remarks and a special thank you to the teachers saying, "we appreciate all you do for the children in our community." The first luncheon was held in 1988, an ongoing tradition for the last 31 years that celebrates and supports community educators.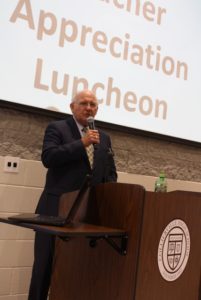 Grants and prizes were given out at the luncheon to excited recipients. 
Kent Ritchey of Landers Ford gave a surprise donation of $10,000 to a random selection, which went to Collierville Middle School. 
Chris Price of Brian Elder Roofing also presented a lucky, random teacher with an all-expense-paid vacation on the Gulf Coast. 
The food, grants, and prizes were donated by numerous local businesses and individuals through CEF, a 501(c)(3) non-profit organization with the mission to "promote academic excellence in the Collierville Schools by generating and distributing grants directly to teachers to further enrich, enhance and expand every child's education."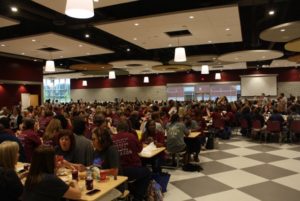 CEF awards an average of $65-75,000 in grant money every year to Collierville educators. Since 1997, CEF has given out more than $1.2 million in grants and one day hopes to award every eligible grant application.
"With a variety of different fundraising events as well as being a recipient grants ourselves, we work to equip the teachers of the Collierville public schools with the tools and materials that are not budgeted by the school system. CEF never wants a teacher to pay out of their own pocket for items we can provide," said CEF President Jeff Elsworth. 
In addition to business and individual sponsorships, fundraisers include the 2019 Classic Car Show hosted by the Collierville Police Department and Landers Ford. The car show will be held Saturday, September 21th, 2019 at Central Church, 2005 E. Winchester Blvd, from 7:30 am – 3:30 pm. Registration may be found here; spectator admission is free.
For more information about the Collierville Education Foundation, and other fundraising events such as the Drive for Education Golf Tournament on September 26th, visit colliervilleeducationfoundation.org.
Photos:
Mayor Joyner sharing opening remarks and a special thank you to the teachers saying, "we appreciate all you do for the children in our community," and (L-R) Kent Ritchey, President of Lander's Ford presenting $10,000 to Anita Swindle, Principal of Collierville Middle School, with Nikki Huffman, Executive Assistant at Lander's Ford, Group shot of the Collierville Schools teachers at lunch in the Collierville high cafeteria.