Open Position!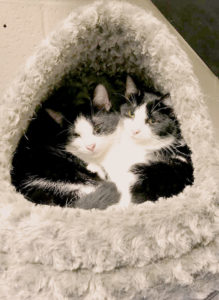 Hi there! We're Jodie and Julie. As current residents of the Collierville Animal Shelter, we're interviewing humans interested in joining our soft, snuggly circle of love.
When we first arrived at the shelter, it was January of 2017. We were four-month-old members of a litter of five kittens. We were adorable and all quickly found our "furever" homes!  Adopted as a bonded pair, we found a home with a lovely lady whose 16-year-old cat had recently passed away. She fell in love with us and everything was so purrfect! But then her personal situation changed and heartbroken, she tearfully returned us to the shelter saying that we were wonderful companions who loved to play, sleep, eat, and snuggle.
Since we grew up in a loving environment, we connect easily with humans and are very bonded with each other. In fact, people say it's hard to tell where one of us begins and the other ends! Being a bonded pair is wonderful because it results in secure, friendly, and loving furbabies! Because we like to play and keep each other company while our humans are busy, we're easy to have in your home.
But let's circle back and get this started by introducing ourselves. I'm Jodie, and the way everyone tells us apart is that my front leg is black. I've been told that I'm a little more curious than Julie and quite the explorer! I like to play with the other cats here at the shelter so much that the volunteers here say I could be a four-legged Walmart greeter! My favorite thing about humans? They give belly rubs! Julie and I are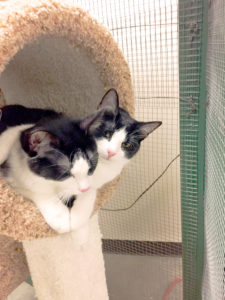 happily social with humans young and old, we are playful, and our love is so big we even get along with dogs! OK Julie, your turn. 
I'm Julie and I am a lot like my brother Jodie but maybe a little more laid back. I love to chill on my cat tree and survey our world, but my favorite thing is to be petted and to snuggle. Jodie and I are now 16-months-old and at that purrfect age  just past the busy kitten stage and settled into the loving companions we were born to be.
So let's cut to the chase. By now you can see that it's best for everyone if we're adopted together. The only qualification for this job is a human looking for a pair of affectionate, gorgeous furbabies! You must be willing to open your heart to love, to purring, and to petting our soft ebony and ivory fur. Do you think this position is a fit for you? If so, applications are currently being accepted at the Collierville Animal Shelter. Psssst….run don't walk. We're waiting here and so excited to meet you!
Julie Weaver.  Collierville Animal Services is located at 559 E. South Street, Collierville.
Call 901-457-2670 or come by to find your perfect companion!