Focusing on Love During Lent
The Holy season of Lent begins this year on Valentine's Day, February 14! On Valentine's Day we make a special effort, buy a nice card, cook a special meal or make a nice reservation, to shower the one we love with extra love. I think it is pretty neat or serendipitous that Lent, the 40 days leading up to Easter, kicks off with Valentine's Day. For the Ultimate Valentine gift began with the creation of the world by God back in the beginning of time!
We all desire to experience love and acceptance in our lives. This is one of the many things we all have in common, I would venture to guess, that revolve around love. We desire to have healthy relationships with others. We desire to have a healthy understanding of ourselves. We desire to have a purpose in life in which we can make a difference in others lives and the world around us.
The Holy season of Lent each year affords us an opportunity to bask in the love of God while at the same time reflecting upon our lives in order to grow and become more of the child of God that God has created us to be.
One way we can do this is by living in these 40 days before Easter as a journey. We start in our lives at point 'A', February 14th. Then through the reading of Scripture, devotions, attending worship, praying, we reflect and grow in God's love more each day.
At the beginning of Lent in the Gospel of Luke, Jesus "set his face" toward the Holy city of Jerusalem. He intentionally began a journey from the outskirts of Israel back toward the center of political and religious power in Israel: Jerusalem. During the course of the 40 days of Lent, we, too, are drawn toward Jerusalem. We are pulled toward her political and religious status, waiting to peek into the story to see exactly what is going to happen when Jesus arrives. Each day we step closer and have more hope that when Jesus arrives, this time MAYBE, the end of the story might be different.
Yet, the only way that reaching Jerusalem will be different for us this year than it was last year, is if we change. That is the challenge of Lent: how do we walk the same road to Jerusalem year after year, hearing the same stories year after year and have a different ending to the story? The ending to the story is going to be the same! But will we allow ourselves to be changed on the road to Jerusalem, so that we hear the story in a more powerful way or are impacted by the story in a different way. This is the challenge of Lent.
If the first ultimate Valentine's Day gift is the creation of the universe by a loving God, then the second is sending God's Son, Jesus! Jesus came as a man, yet divine, to walk on earth with us, feel like we feel, eat like we eat, make friends, work, experience all of life to truly understand us in a deeper way! And not only that, as God's Son and the Messiah, he was willing to love us to the end by giving his life for us on the cross.
Hallelujah! And "Thank you God" that is not the end of the story! Easter morning came and Christ was alive and showering us with love again! Thank goodness that part of the story never changes! I want to hear it again this year and experience God's love in a deeper way. Let's take this journey together and know God's love for each of us more deeply this year!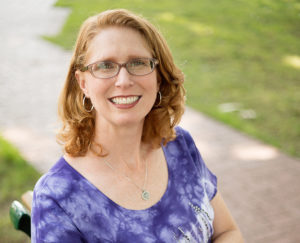 Rev. Deborah C. Suddarth
Executive Pastor
Collierville United Methodist Church