Fur Babies
Best Friends: Stanley & Autumn
Stanley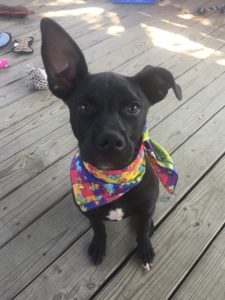 'Tis the season for sharing valentines, so I want to tell you about my best friend here at the Collierville Animal Shelter. Autumn is my next door neighbor and I think she's beautiful! Some people look at us and get the wrong idea and I want to give her a shout out so that people look at us for who we really are.
Because Autumn is so sweet, I have no doubt she was loved by her owners, but love isn't enough when a dog's medical needs aren't addressed. When she arrived at CAS, she was malnourished, had raw skin, and a broken leg that had never been set. But the humans here saw the baby angel in her and they brought it out by giving her special baths and loving on her and it's really paid off. She loves people, all animals, and she's like a big sister to me! Last week she came back from an outing with the humans and told me all about how much she wagged and wiggled up to everyone she met. But what do I love most about Autumn? That in spite of the condition she arrived in, she has one of the happiest and most loving spirits in the shelter! She always looks at life like it's full of joy and possibilities. I love that.
Autumn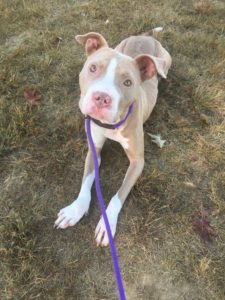 Oh my gosh Stanley, you just brought tears to my eyes. Thank you! Thank you! I love you right back! Now let me return the favor by telling you about the sweet and wonderful nugget that is Stanley. When I arrived at the shelter, Stanley was in the kennel next to me. He's lived at the shelter since he was rescued as a stray puppy, so he knows the ropes and welcomed me as soon as I arrived. As a naturally sweet and, playful boy, he greets everyone with happy anticipation. He loves to play with just the right amount of young energy that's not wild, just fun. He also loves to go on walks, and strolls so beautifully on a leash! I've seen him in the family life room and he just lays down on the dog bed, content to entertain himself with a toy. Social and sweet, you can tell he's grown up loved in the shelter. Sadly, black dogs are often the last to be adopted, so I hope that his wonderful disposition will help sweet Stanley find his forever home soon!
We don't have to be adopted together, we just wanted to take this opportunity to share what we love most about each other. Happy Valentine's Day everyone!
—————————————————————————————————-
"Dogs, for a reason that can only be described as divine, have the ability to forgive, let go of the past, and live each day joyously. It's something the rest of us strive for."
― Jennifer Skiff