First Neighborhood Meeting of 2020 – And You're Invited!
You're invited to take part in the first 2020 Neighborhood Meeting, hosted by Collierville Connected! 
Collierville Connected is a local non-profit organization that offers Neighborhood Resource centers, sponsors the Little Free Libraries around town and recently launched the Preschool Readiness Program to prepare children for success in kindergarten. As Reverend Deborah Suddarth, executive pastor at Collierville United Methodist Church, said, "We're a group of churches working in partnership to connect, build, and strengthen relationships across our community for the betterment of all."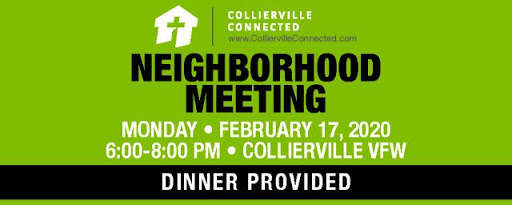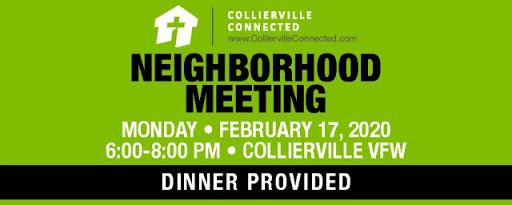 The first Neighborhood Meeting will take place Monday, February 17th (on Collierville 150th Anniversary) from 6-8pm at the VFW Post 5066. Collierville Connected will offer dinner as well as a variety of guest speakers over the course of the evening, as the group discusses the best ways to improve the Collierville community. 
These guest speakers include Louise Claney, the Chief Academic Officer for Collierville Schools, who will give an update on the growth of Collierville Connected's newest Family Resource Center. There will also be a brief presentation on the soon-to-be-proposed senior apartment development near Sycamore Street. If that's not temptation enough, Collierville Connected will also be giving away door prizes! 
What better way to celebrate Collierville's 150th anniversary than by participating in an effort to improve the community and keep it thriving for the next 150 years to come? 
For more information about the first 2020 Neighborhood Meeting, or Collierville Connected, contact Linda Dick (901-488-7879, or LRAE2007@gmail.com) at or Rev. Deborah Suddarth (901-853-8383 or dsuddarth@colliervilleumc.org). 
To learn more about Collierville Connected, visit their website here!