"Celebrate Shelby": The County's 200th Birthday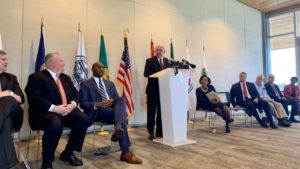 On October 25th, government representatives from all over Shelby County came together to announce the celebration of Shelby County's bicentennial with a "Celebrate Shelby" event held this November.  
The press conference included Shelby County Mayor Lee Harris and Shelby County Commission Chairman Mark Billingsley, as well as the seven municipal mayors who reside in Shelby County: Mayors Jim Strickland (Memphis), Mike Palazzolo (Germantown), Keith McDonald (Bartlett), Stan Joyner (Collierville), Mike Wissman (Arlington) and Mike Cunningham (Lakeland). Mayor Terry Jones, of Millington, was represented by City Manager Ed Haley. 
Town of Collierville's Mayor Stan Joyner said, "The Town of Collierville is honored to be one of the seven great municipalities in Shelby County celebrating our region's rich history and bright future together… We are looking forward to discovering what the new century will bring to our communities." 
"Celebrate Shelby" will be held on November 24th, 2019 at Shelby Farms Park. All of Shelby County's residents will come together for a day-long celebration, all free to the public! The event will center around the theme: "A New Century of Possibilities."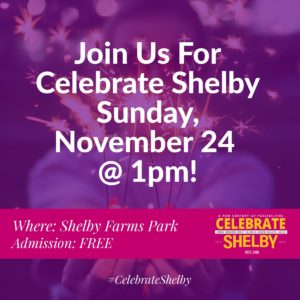 Produced by the Memphis in May International Festival, "Celebrate Shelby" will feature live music, food trucks and cake, family-oriented activities and fireworks! The event will also honor each municipal area, illuminating what they each bring to the diverse Shelby County community, by giving them each a tent which can be set up to reflect the history of their specific city or town. Kids will be able to grab "county passports" which they can take to each municipal tent to receive a stamp and goodies! 
Shelby County Mayor Lee Harris said, "What began as a rural farming center has grown to encompass seven municipalities and serve over 900,000 residents. That is worthy of celebration." Mark Billingsley, Shelby County Commission Chairman added, "We are excited about how far we've come and even more, how far we can go."
Find out more about the upcoming "Celebrate Shelby" event and Shelby County's bicentennial by visiting their website here, or by visiting Memphis in May's website here. 
Sources: The Town of Collierville