Economic Adaptations: What Might Be Next for Businesses & Services
Every single one of us has been touched or changed as we deal with and manage through the COVID-19 crisis.  
 Are we shopping differently? Yes. Are we interacting differently? Yes. Does our work seem to be entering a new chapter or phase? Yes. In the short term, and certainly in the long run, our lives are now forever changed.  
Restaurant & Retail – With extensive "Safer at Home'' and social distancing orders, the ways in which restaurants and retailers deliver their goods and services has shifted. Curbside pick-up, drive-thru windows, take out, and home delivery options have escalated. Will this last and be a larger component of the industry's strategy moving forward?  
Essentially, the e-commerce lifestyle was already ramping up pre-COVID-19. It is expected that the ways in which we shop and dine will continue to change, and probably at a faster rate than expected. In 2019, according to national real estate organization CBRE, e-commerce sales accounted for 15% of retail sales. By 2030, it is expected to be 40%.  
For many smaller retailers, this shift will represent a new revenue stream and a new opportunity. For larger, more sophisticated organizations, elevated e-commerce activities will seriously impact the logistics and distribution world. Think FedEx, UPS, Amazon, Shipt. The same parallel will happen with restaurants: new revenue streams, virtual kitchens, take out strategies, and alerted delivery paths. Brick-and-mortar will still exist, but it will be different moving forward with or without COVID-19.
Office – Technology has changed our lives, including how we work. Before COVID-19, the words, "Let's have a Zoom meeting," were foreign to most. Now it is quickly joining Coke, Kleenex, and "Google It" as the vernacular of the day. Is driving 30 minutes one way, everyday, to an office the most efficient way to work?  Does everyone have to be here, all the time?  
The Brookings Institute claims that almost one-third of the U.S. workforce works from home at some point in their working cycle. Think about the effect this would have on our roadway infrastructure, as well as air pollution. Technology allows us to communicate, place orders, draft contracts, follow up, confirm, educate, and inform. 
I think one of the outcomes of COVID-19, as it relates to the office environment, is that there might be more efficient and equally effective ways to work. Several years ago, the "new" office design and configuration was the open, communal, "cubical world" concept. As it turned out, employees did not favor this trend. It was distracting and inefficient. Office design seems headed back to more traditional and efficient set ups, with COVID-19 accelerating this reality.   
Healthcare – I have often wondered, as I sat in a small doctor's office waiting room, "I wish he would quit coughing…why is she here? How much longer must I hang out with all these 'sick people'? Did they wipe this down?" Our new refocus on sanitation, cleanliness, germs, and the spread of disease will alter how medical services are delivered. Like the office concept, the medical question must be asked, "Do I really need to be here?" 
Telemedicine and telehealth has been a part of healthcare services for years, especially in rural and remote areas. COVID-19 and the heightened concerns about the risk of spreading disease has many healthcare organizations reevaluating how they deliver services. Telemedicine diagnostics should see a ramp up, and in-home healthcare options will continue to rise. 
COVID-19 has altered the ways in which we live, work, and interact. We are thinking, reacting, and executing differently now. We have to. Many of the "new ways" of doing things will stick, many will not. In the end, it is about safety, security, and living our lives to the fullest, doing our best and doing the right thing. I am confident our community will embrace the new normals and continue to thrive.  #150Strong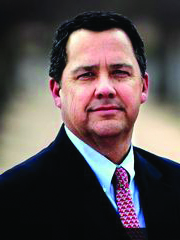 John D. Duncan
Director of Economic Development
500 Poplar View Parkway
Collierville, TN 38017
901-457-2200 General
901-457-2213 Direct
901-457-9325 Cell
www.AccessCollierville.com