Delivering Smiles
Despite having over 50,000 citizens in the Town of Collierville, the community thrives on its small-town charm and friendly neighbors! Whether you were coming to market long ago, or strolling through the exciting construction phases of today, the heart of the community is in the Town Square. Newcomers meet the locals along these sidewalks, shop unique boutiques, and later dine on some of the best food in the area! This feeling of community happens when we gather together in one-of-a-kind places like The Square, and Collierville would not exude such a feeling without citizens like Demetrius Hobson, who is known for delivering your mail with a smile!
Hobson walks around the Town Square giving shop and restaurant owners their mail and a smile every visit, without fail. Even newcomers such as Laura Wiseman, from Main Street Collierville, has noticed his cheery disposition:
"Demetrius always has a great attitude and a smile on his face," said Wiseman. "Being new to working on The Square, it is so nice to have a mailman who always has a kind word or a 'Hey, How are you doing?'. I have also seen him post tips on some of the Collierville pages in order to inform and help out the citizens of Collierville! He is a great asset to our community!"

– Laura Wiseman, Main Street Collierville
Hobson's disposition is infectious and positively impacts people on The Square every day. Candy Craig and her crew at C.J. Lilly & Company enjoy Hobson's visits during their long work days:
"I don't think I have ever seen Demetrius without a smile on his face," said Craig, "He has a kind and giving spirit that is infectious. He is a part of our 'family' and a bright spot in our work day."

– Candy Craig, C.J. Lilly & Co.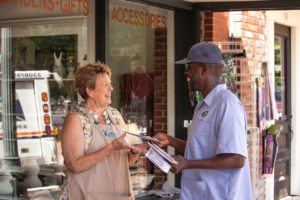 Being visited by Hobson is one of the many perks of working on the Square. Watty Brooks Hall, owner of The Brooks Collection, loves seeing her friend everyday no matter what he is delivering:
"Demetrius is one of the most sincere and engaging people I have ever met," said Hall. "The first time you meet him, you feel like you've been friends with him forever. He always has a smile on his face, which makes it so much easier when he hands you a stack of bills. I am so proud to call him a friend."

– Watty Brooks Hall, The Brooks Collection
Demetrius Hobson has been delivering smiles and mail on The Town Square for more than four years. Hobson has become such an asset to the Collierville Town Square that without him, The Square would have a big hole in the middle of it. Thank you, Demetrius, for always being so kind and friendly to everyone you meet, and for making the Town of Collierville a better place! 
story | AK Lewellen