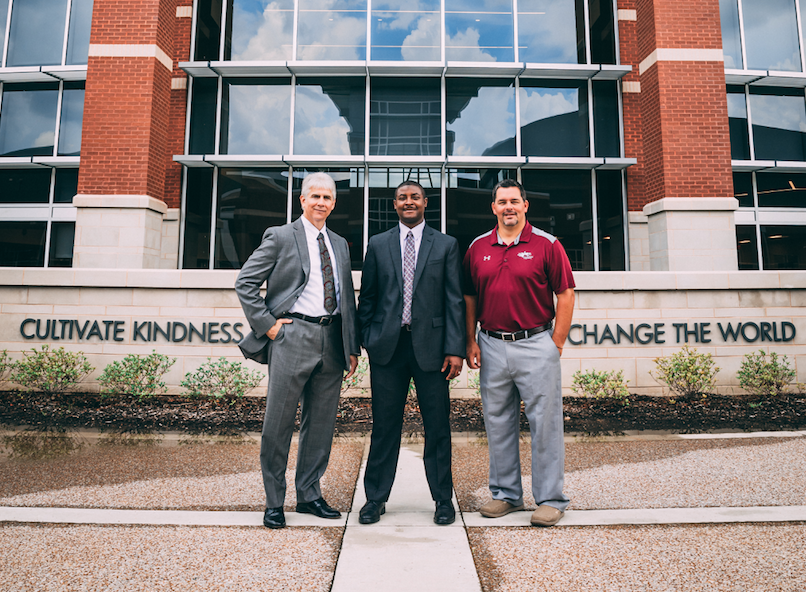 Defining Leaders: Collierville High School
Collierville High School will undergo major faculty transitions in the upcoming school year with several new seats in leadership positions. Arguably three of the most influential seats being filled are the roles of Superintendent, Principal, and Head Football Coach. In the following pages, Tour Collierville is excited to share with you the personal biographies and lives of these individuals that will ultimately impact the direction, morale, and success of the Collierville High School year.
The new Superintendent moves to Town from Bristol, TN bringing expertise in areas that will help the Collierville School System as a whole, shine. His passion towards education can be experienced in his heartfelt letter to you, the Collierville community.
The not entirely new Principal comes from down the street, after spending years with our Collierville adolescents at the Middle School where his connections will no doubt spark enthusiasm in the days ahead.
The new Head Football Coach returns to his alma mater with pride and contagious spirit towards the sports program with plans of boosting school morale in the athletic seasons to come. What's the saying… "Once A Dragon… Always A Dragon!"
Naturally, with change comes anticipation on how things will function with new Collierville leaders stepping forward. After several hours spent with these individuals, hearing their stories and dreams for their allocated positions, Collierville appears to be in fantastic hands with a very bright future ahead. Still feeling anxious? Scroll down and let their words ease your mind!
Dear Collierville Community,

I am honored and privileged to serve as Superintendent of Collierville Schools and to make the community home for my family!

The system is on a great path already. Achievement data and other evidence all point to a community with high expectations for students, teachers, and district leadership. It takes community support to meet and exceed those expectations. One does not have to go far to realize that the support for schools in Collierville is significant. I have personally had conversations with many folks, including parents, business leaders, and others who speak with pride about the quality of education our students receive. That same support is also visibly evident when touring schools and seeing the programming that is available to students.  As just one example, Collierville High School is an amazing facility with academic paths for every student, including core classes, advanced placement courses, and an array of early post-secondary opportunities to prepare students for college and career.

It is my intention to work with all of you, the Board of Education, and district teachers and leaders to continue and build upon the great things that are happening in our schools. With that in mind, I am anxious to listen and learn from you about your aspirations for your children. I want to know the things that you value, and hear your ideas that will advance our mission to prepare students for a life of scholarship, integrity, and service. Nothing will hold us, and more importantly, our children, back if we work together to continually examine, refine, and improve the opportunities we are able to offer students.

I am beyond excited about this coming school year! I cannot wait to get into classrooms to see students and talk to them about their goals for the future. I know that Collierville Schools can prepare them to make those dreams come true.

Please know that my door is always open. I look forward to meeting and speaking with you in person soon.

Sincerely,

Gary Lilly, Superintendent

Collierville Schools
It's no secret that the Collierville school system is paving the way towards a brighter tomorrow for Collierville's youth. Now that Collierville High has the facility some college campuses can only dream of, paired with faculty and materials to make a difference in the lives of the students by the score, new Principal Roger Jones, III has a vision for the school's future and his eyes are set on "each student's tomorrow."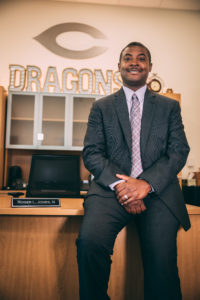 Preparing for his seventeenth year as a Dragon, Jones is invested in the Collierville school system on all fronts. Jones has had close ties to education from the start, coming from a family of educators, and graduating from the University of Memphis with a degree in Education.
After several years of teaching in Collierville Schools, in 2012 Jones became Collierville Middle's Assistant Principal, and two years later he accepted the position as CMS Principal. Jones' infectious energy towards academics and setting up students for success earned him "Principal of the Year" for Collierville Schools in 2018.
 "I got into this profession because I really wanted to help kids; that's all there is to it," says Jones. "I just wanted to be a teacher that fights for students and work alongside other teachers who would be advocates for those students, and challenge those students as well, because it's hugely important to me that we engage students in academic struggle. What I mean by that is school should be hard work. It's not play. Administrators know that we have to prepare kids for their futures. That's key in making sure that we address the needs of all students."
"We have a growing community in Collierville with such a diverse population. Ultimately I want to be known as the Principal who looked to address the needs of all students. I want our school to be known as the school that met the needs of all students. Not a few. Not a handful. All students."

– Principal Roger Jones, III
Jones spent the summer in preparation for the upcoming school year heavily focusing on the district's program, Vision 20-21, exposing students to high level courses and Tennessee's program, Early Postsecondary Opportunities, offering advanced placement courses, college level exams, and dual enrollment opportunities. "For me, I am going to be heavily dedicated to industry certification, dual enrollment, AP placement and CLEP exams. All of those things will give students some type of college credit, or give students some type of certification before they even leave this building! Preparing them for success," says Jones. "We have some really high flyers here at Collierville. We want to open those opportunities up to as many students as possible. But also think about students who do graduate and aren't sure if they want to go to a four year university. What if we can tell that student, while you are here, we can work on an industry certification where you can leave school and go right into the job market. In some cases, students can start their first year of college with Freshman year done, because they have had so many opportunities to get ahead in the high school realm. If a student can possibly explore finishing school with an Associate's degree or go into a four year university with Freshman year taken care of, that is what I am committed to."
While important decisions for the new school year are made behind office desks, strategic plays for the CHS Football program are drawn up in the athletic offices. Collierville High's new Head Football Coach, Joe Rocconi, and his staff worked hard all summer long to develop a game plan that will ultimately take the Dragons 'to the promised land.' 
Earlier in the year as the summer heat started to set in, you could find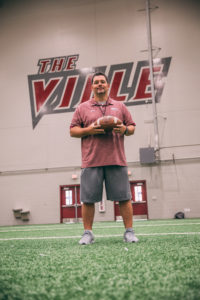 Coach Rocconi immersing himself in the game as old video recordings of previous seasons lit up the television screen. His brand new Dragons shirt, ready for all the blood, sweat, and tears that come with the new job, was an outward symbol of his excitement for this upcoming season. But the energy that surrounds him comes from a deeply-rooted pride. Many hours will go into studying this footage before walking his play books into the new Dragons indoor practice facility and putting the x's and o's to the test – a challenge he is eager to accept. "I believe I have a huge responsibility [as the new Head Coach], but man, I'm like a kid in a candy store right now, to be honest with you!" says Coach Rocconi. "I'm just so fired up!" 
"It is the first sport, you're coming off of summer, and even though the kids won't say it, they're fired up to be back, and for the Friday night lights! In the South, football is a pretty big deal, especially here at Collierville. I think it [a win] can start the year off right for everybody, even the kids that are not playing!"

– Coach Joe Rocconi
Rocconi will start his seventeenth season as a Head Coach, returning to his alma mater. Even though he returns to a new campus and knock-out facility, this 1995 Collierville graduate still carries the same Dragon pride he did when he was wearing his Collierville jersey. Those adolescent years were influential to Rocconi, both playing and learning under Collierville great, Coach Paul Cox. "I still remember a lot still from when I was a Dragon," says Rocconi. "When I was in High School, Coach Paul Cox was my Head Coach and to me, he was a legend. I remember thinking what a great man; what a large impact this one person has on a bunch of kids. It didn't sink in until later that I wanted to be a coach and that I would get those same opportunities. But when I did become a coach, I did think it would be pretty special to come back to where I went to high school. So I have thought about it [coaching at CHS]. It's pretty special to be able to impact kids lives like my coach did, Coach Cox, and other coaches, like John Humphries. He was one of my coaches as well. Two special men, among many, that did so much, for so many young men. No doubt, I want to carry on their legacy and add to it by putting my spin on it. Taking the program to new heights that they have not seen, that is my goal!" 
It's time to show your Dragon Spirit and Coach Rocconi wants to see you in the stands this football season! "Shut down your businesses, come out and support us! Shut down this Town because we need everybody there on a Friday night to get involved! We need you there to get behind these guys. Let's make it a true family and community deal! Go Dragons!"
Story  | Anna Bell
Photos  | Michael Stires