Collierville has a new Garage
The spirit of garage rock lives on in every group of musicians that has ever jammed together and dreamed of sharing their music to an audience of screaming fans singing their songs. While that spirit may be alive and well, we've found that for many upcoming Collierville musicians, being in a garage band has little to do with a basement or a garage.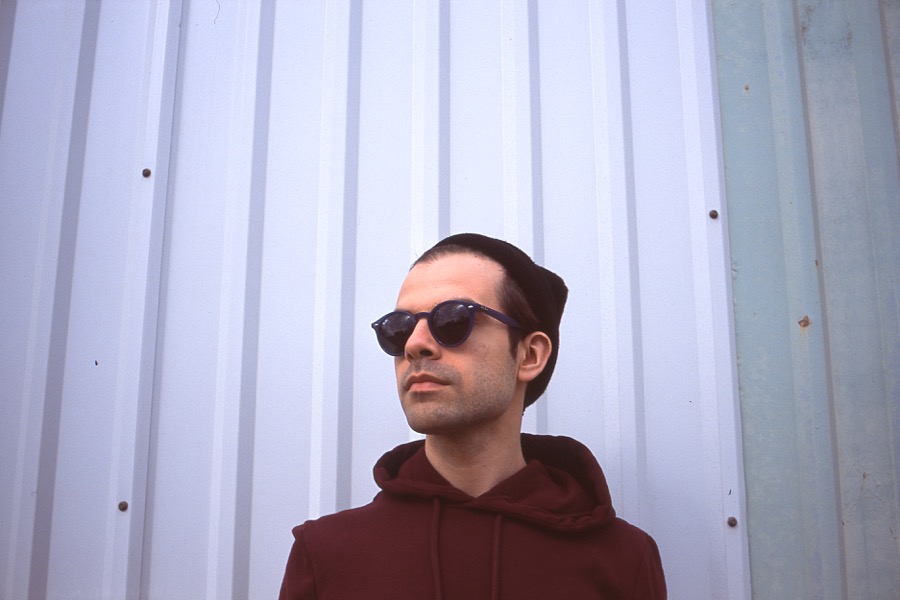 Collierville native, Joseph Barrios (pictured above) found several like-minded friends while in high school – guys he is still friends with today – and started a garage band eight years ago that taught him a lot about song writing, music production and the power of music. "Music has a way of forging really strong relationships between people," said Barrios. "We were all terrible at sports and we didn't have any other commitments besides getting together and making music… it was very much our identity as we were growing up. We were the music kids, so to speak." The band's first show was at Square Beans on the Square. "We played a lot of shows there. It was a safe place for high school kids to hang out, play music and express themselves… I feel very fortunate to have had that experience early on in Collierville." The journey to getting a band out of the garage isn't the same for everyone according to Barrios, "Kids are in their garages playing shows and writing songs, building this grass roots thing with their friends. Five friends come to your practice and then ten friends end up coming to your show, and there is this organic growth to a music scene and it seems like it changes for every generation."
Today's generation appears to be on a slightly different, more formal, journey than Barrios. One of the primary influences of this shift is the entrance of School of Rock in Germantown. Franchise owner, Kenneth Hall, offers a variety of programs for his on average 250 students, starting at age four through their adult program. School of Rock is making a difference in our community by giving teens the opportunity to play live music in front of large audiences, gaining real-life experiences.
Hall emphasizes not age, but skill level is what gets kids into their performance bands. "Countless kids have come in here and they don't even look you in the eye," said Hall, "and parents say things like 'things aren't going really well at school, but he shows these signs of liking music so we thought we'd just try this out.' And when you see that young kid come into this environment and develop his confidence and skill enough to take the stage and step up to a mic with a guitar in his hand, when he would barely even look at you 6 months ago, I mean, you know you changed that kid's life." Eleven elite students were selected to be in this years School of Rock "House Band" (picture below) – playing in both their regular performance program shows and separate weekend gigs at events like Germantown Stampede, Arlington in April and Collierville Fair on the Square.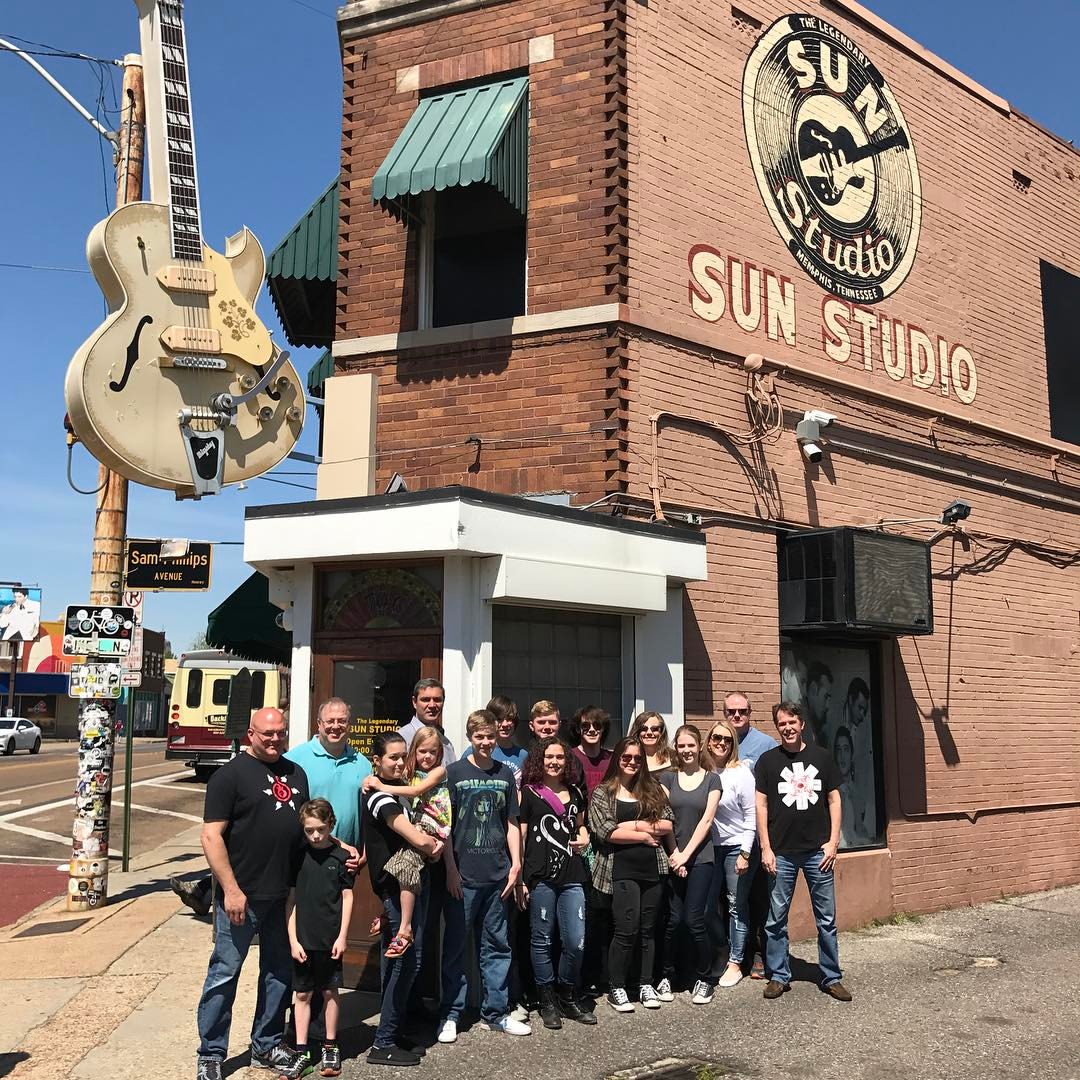 House Band Director, Jeff Burch, considers his students fortunate to have access to all that School of Rock provides its students – something that he and his friends growing up could only wish for – and anticipates the school being around to help catapult kids into the music scene for the long haul. "There is this real sense of community here by the time the kids get to me in the House Band. At that point I'm teaching them real world, professional skills," said Burch. "Most of them [students] are already in other bands and we have some that have gone on and gotten scholarships, and obviously their parents are very appreciative of their time at School of Rock." Although Hall and Burch are constantly preparing and booking the House Band for their next big show, Burch says it's up to his students to decide their own musical fate. "It's about them finding their own answers to that question – about what it [music] means to them. And they have all the instructors, the upper classmen and all the graduates of the program to look at and help them answer that question. I don't guide them into a career in music, but I do encourage them to work hard. Work hard and let's celebrate when the work is done." With already 15 booked gigs throughout the summer, there will be a lot of work and traveling for the House Band to cities like St. Louis, Chicago and Milwaukee for experiences of a lifetime, including playing at Summerfest, recognized as the world's largest music festival, in July.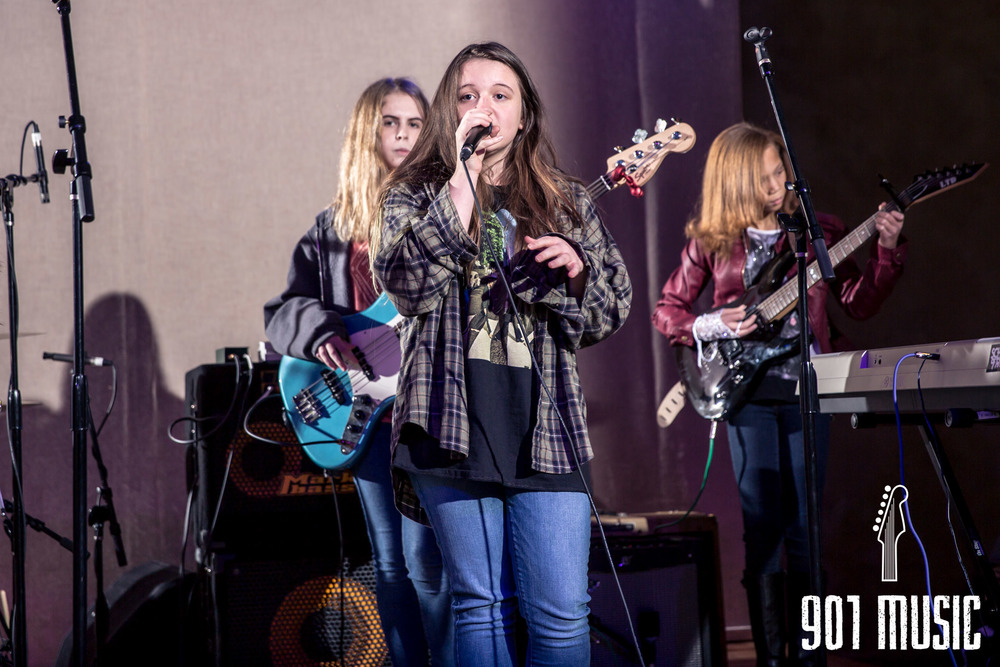 House Band member, Nicole Alexander (pictured above), sang for the first time in front of an audience when she was around ten years old with her dad's band. Music has always felt 'natural' to her, but forming friendships after moving to town did not. "We moved here, and I was bad at making friends. I started [School of Rock] around three years ago and now all my close friends are School of Rock kids," said Alexander. "There is this really tight bond because of our common interest in music." Alexander credits the instructors for helping kids achieve their goals, "Instructors go past the student / teacher relationship into more like family. They are doing all they can to really make you a better musician," said Alexander. "Everyone at the school wants you to be better and push your limits. You play with them [students] and learn to work with people and see your work come full circle when it's time for your next show."
Another shift in the way kids now experience music is the modern-day worship service at churches. Of course the church has always been a major musical influence on kids, especially in the South. However, it's not until recently that church bands are performing contemporary music for Sunday morning service. And with more than 60 churches in our area, there is a real need for musicians not just on Saturday nights but for Sunday mornings too. It's not uncommon for School of Rock to get a call from a local church needing a player for Sunday morning worship and Burch is teaching his students not to miss any opportunities. "Part of being a musician is you have to learn to wear many hats," said Burch. "You may be playing on Beale Street Saturday night and you may be the band director on Sunday morning. You go where you're needed."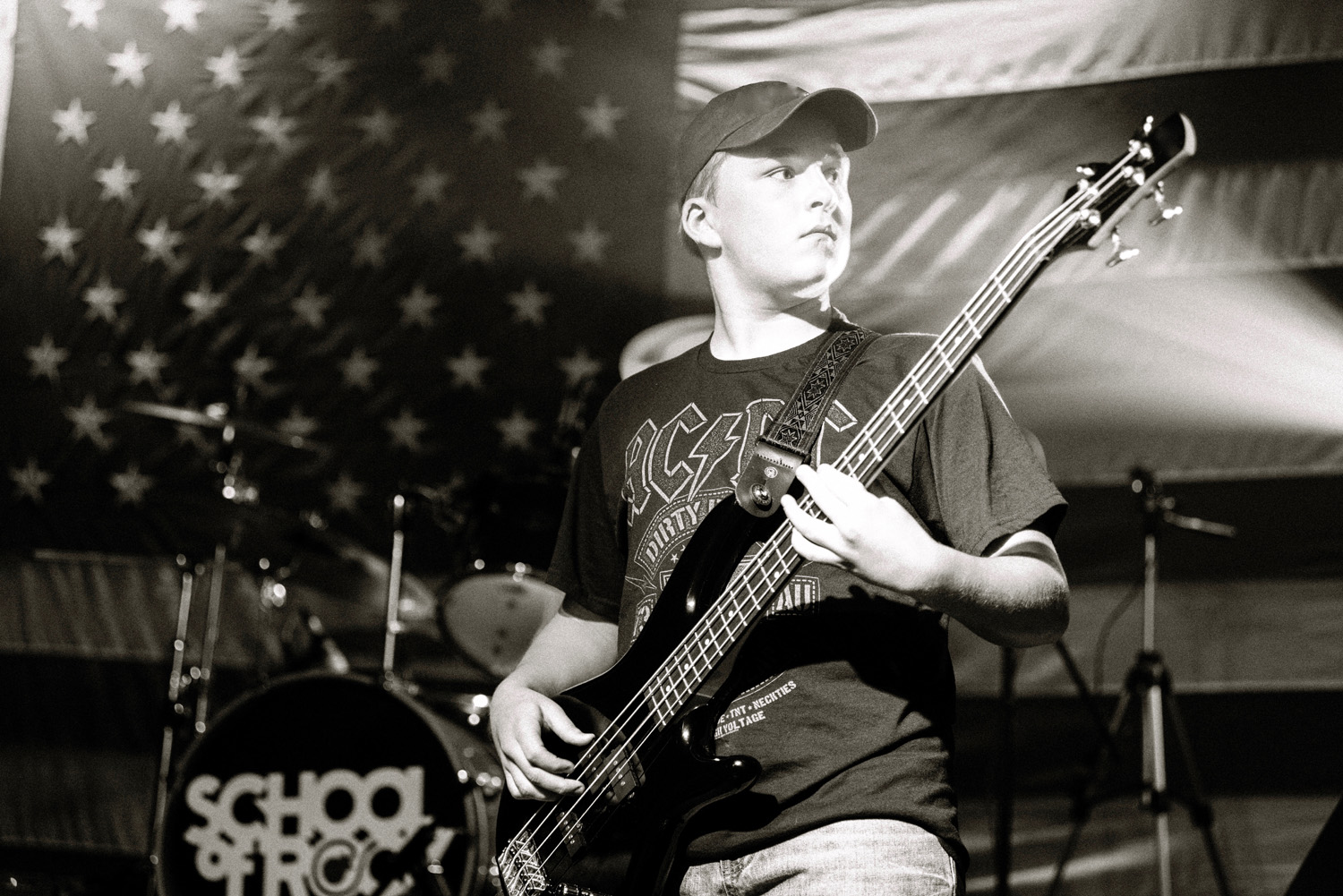 House Band member, Zachary Perry (pictured above), finds himself in a very similar situation. He first picked up a bass guitar at one of the school's summer camps four years ago. With his nervous summer camp days long behind him, Perry now plays with a local blues band, on top of his commitments with School of Rock, and for the past year has played bass every Sunday for his church. "Playing in church has been a big part of helping me learn and grow as a musician," said Perry. "I had to play for our maestro, John Angotti," who is also a professional musical artist, writer and composer, "before I could join the music group. He has another style of teaching that has helped me grow… he gets me to come up with my own way of writing music. He encourages me to be creative and is just a really great influence."
With formal institutions playing an active role in rock music in Collierville, are the days of the true garage band over? There's no doubt that kids are being offered more resources, like the opportunity to play for live audiences and professional instruction, that may not have been easily available to previous generations. Still, we must wonder if something is being lost from the organic nature of the garage band.
Venue aside, perhaps what really matters is just that we find music. Barrios may have said it best, "Find other people who are interested in the same things you are interested in and go create art. Go make music. Go express yourself, because your life is going to be so much richer if you do."
By Anna Bell