Collierville Arts Council's First Art Sale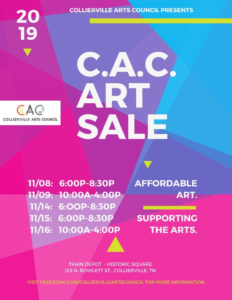 The Collierville Arts Council [CAC] is launching a new project for the holidays. The CAC will sell artwork at the Town's historic Train Depot starting Friday, November 8th. But this isn't a sale with art of all sizes and media; the CAC has decided to take a more targeted approach.
"We decided to limit the painting size to 5" x 7" or 6" x 6" because a miniature sized painting needs less time to produce and therefore is more affordable for the buyer," said CAC member and artist Wei Emmert. "We also wanted a unified look for the pieces, so [we] limited the media to oil and requested that the artists use stretched canvases."  Emmert said the price for each piece will be unified as well – a flat fee of $65.00.  
"Since the price, size and media are the same, we hope people will only focus on the art when they purchase," added Emmert.
The eight local artists who will be participating in the sale are Samantha Sherry, Libby Anderson, Denise Rose, Wei Emmert, Barbara Hicks, Jacque Sligh, Phyllis Boger and WenJuan Huang.
Emmert said the CAC conceived the idea for the sale to provide art as an affordable gift idea for the holidays, and as a move in activating the local art scene. She said that when compared with other major cities, the Memphis area art market isn't very active. She hopes that by providing art in an accessible place (the Train Depot in the Square) at an accessible price ($65), shoppers will recognize the opportunity to purchase a very unique gift for a friend or family member.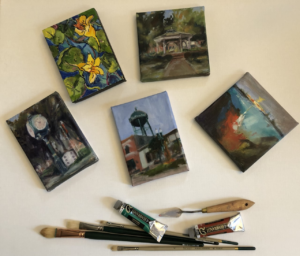 CAC Executive Director, Terry Dean encourages everyone to participate in this exciting event! "Join us at the depot for a unique original art sale," shares Dean. "Our paintings are done in oils by local artists of scenes throughout the Mid-South. It's a great way to support the arts and get a unique gift for people on your list. All images are the same size and a portion of the proceeds support the Collierville Arts Council!"
The CAC Art Sale will be open for business on the following dates and times: Thursday and Friday, 11/14 and 11/15 from 6:00-8:30 pm, and Saturday, 11/16 from 10:00 am-4:00pm. 
Story by | Anna Bell