Christmas in Collierville Schedule of Events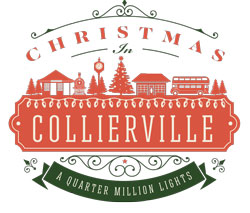 In case you missed it, over the weekend The Town of Collierville released the upcoming schedule of events for Christmas in Collierville! 
From November 11-30, drop your letters to Santa off in a special mailbox located outside the Depot Visitors Center on the Town Square! Letters deposited by midnight on December 1st will receive a response from Santa, postmarked from, of course, the North Pole! Just make sure to include your return address, and if you're sending multiple letters from the same household, they can be included in the same envelope. 
On November 26, kick-off Christmas in Collierville with the annual Christmas tree lighting at the Town Square! Starting at 5:30pm, the Board of Mayor and Aldermen will be giving out hot chocolate, and at 7pm, Santa and Mrs. Claus will arrive to light the tree! 
Each Saturday from November 30 to December 21, Santa will be on the Square to take Christmas pictures with the kids! There will also be free carriage rides around the Square from 10am-4pm, and a Double Decker bus shuttle between the Square and Carriage Crossing. Each Saturday will also include different forms of entertainment, everything from favorite local bands to Opera Memphis carolers to Collierville schools' choirs. 
On Friday December 6, Collierville's 43rd Annual Christmas Parade will run down Byhalia from White Road to West Collierville Middle School. The parade will start at 7pm, and St. Patrick Presbyterian Church will offer parking and food trucks for pre-and-post-parade festivities! 
On Thursday December 12, the delightful favorite A Christmas Story will be shown on the Town Square! It starts at 6:30pm and hot chocolate will be served inside the Depot Visitors Center.  
On December 9-11 and 16-18, the Town will offer Double Decker Bus Holiday Home Lights Tours. Tickets are given out through a random lottery, so register for your tickets online between November 18-24. If you win, tickets will be mailed to you on December 2nd! 
There are also tons of other holiday events, although these are not sponsored by the Town. Since you'll already be coming by the Historic Town Square to partake in Christmas in Collierville, make sure to check out these other events happening on and near the Square! 
From November 8-January 18, The Bible Museum on the Square will present their annual Away in 100 Managers, with more than 100 nativity scenes representing 45 countries. These nativites have been selected from a private collection. Beginning on November 29, on Fridays and Saturdays from 5:30-7:30pm, the museum will also host Nativity Nights on the Square, which will feature live music, refreshments and kids' activities! See here for more details. 
From December 7-15, see a holiday favorite, "Miracle on 34th Street," performed at the Harrell Theatre. Visit Collierville Arts Council's website for showtimes and tickets!  
On Saturday December 14, the Collierville Contemporary Club will host their annual Holiday Home Tour and Gift Gazebo at the Morton Museum. There is a free shuttle service available, and the home tours are not recommended for children under 12. Visit their website to purchase tickets! 
Tour Collierville wishes you all the best during the holiday season and hopes you enjoy Christmas in Collierville!