Collierville Arts Council Wins Ostrander
On August 25th 2019, the 36th annual Ostrander Awards were held at the Orpheum Theatre. 
From the outset, these awards have been meant to honor the best of Memphis theatre, from acting to directing to backstage contributions. The awards span over the collegiate, community and professional theatre communities here in Memphis. 
Initially called the Memphis Theatre Awards, they were renamed in 2001 in honor of James Ostrander, who had been a popular figure in the Memphis theatre community since the 1970s and was fighting cancer at the time. Unfortunately, he lost his six-year battle with cancer in 2002. 
The awards and the Collierville Arts Council (CAC) were actually founded in the same year, 1984, although CAC would not open Harrell Theatre until 1987. Terry Dean, Executive Director of the CAC, explained that although CAC productions have been nominated for and won Ostrander Awards previously, it has been about 10 years since their last nomination.
The Collierville Arts Council was nominated for: 
Best Hair/Wig/Makeup for Drama –– Buddy Hart & Rence Phillips, Steel Magnolias
Best Props Design for Drama –– Betty Dilley, Steel Magnolias  
Best Leading Actor in a Musical –– Ryan Gilliam, The Producers 
Best Featured Performer in a Musical –– Daniel Kopera, Jesus Christ Superstar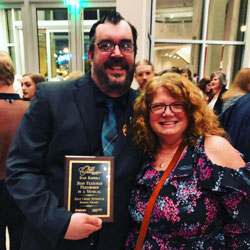 CAC walked away with a coveted prize when Daniel Kopera won "Best Featured Performer" for his performance in CAC's production of Jesus Christ Superstar. Kopera has previously acted in and worked behind the stage for many CAC shows at the Harrell Theatre, including The Producers. 
You can enjoy CAC's award-winning shows later this month, when Matilda The Musical begins it run on September 13th. See here for more details: http://www.harrelltheatre.org/
Story by | Regan Hewitt