Christmas on the High-Seas
The days are getting shorter and the weather is getting cooler; school is back in full swing, which means Christmas is just around the corner!
We are seeing more and more families that are spread throughout the country, who come together for the holidays by traveling. A recent survey was taken, asking adults and children alike, "Do you remember everything you received for Christmas?" The answer was always no, but you would probably remember that Christmas when everyone went on a trip together and made memories worth talking about for years to come.
Bringing your family together for the holidays by taking a trip makes Christmas easy! No cooking or cleaning, no decorating a tree, no figuring out where everyone is going to sleep, and everyone gets to have their own space! Not only that, but you really only have three big decisions to make: destination, date, and cruise line. Plus, a cruise can accommodate the entire family, both young and old, near and far.  
Once you're on board the ship, family members can be as active or relaxed as they wish, stay together, or go off independently. Plus, your parents or in-laws can easily get one-on-one time with their grandchildren without a hassle.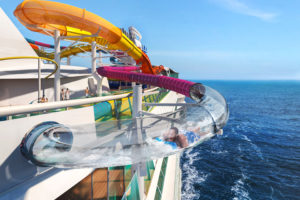 Royal Caribbean loves the Christmas holiday, which you'll see reflected in everything they do. The entire ship is decked out in red and green décor, and your winter wonderland is complete with a merry tree-lighting ceremony right on the dock and an arrival parade with Santa himself. Families with kids will love the many crafts and activities throughout their journey to keep the little ones happy! Children can even send letters straight to the North Pole! For the teenagers, there is a special holiday themed Adventure youth program. Of course, no December is complete without an Ugly Sweater Christmas Party — they'll have one of those too! Feel right at home with the merriment of the season during your Christmas cruise.
"Royal Caribbean loves the Christmas holiday, which you'll see reflected in everything they do." 
One of the best things about Christmas on a cruise ship is the variety of tropical destinations you can set sail to. Have you heard about Royal Caribbean's new waterpark? It's called "Perfect Day to Cococay," and is a private island located in the Bahamas. It's the first of its kind, and offers guests both adventure and relaxation! On Cococay, adrenaline-loving travelers will be most excited to hit up Thrill Waterpark, which offers 13 waterslides & the largest wave pool in the Caribbean. The crown jewel of the park is Daredevil's Peak, the tallest waterslide in the Caribbean, which is a whopping 135 feet. Best of all, guests from Royal Caribbean are the only ones that are allowed to enter the park, which means a fun day with shorter lines. 
For a different type of thrill, the island has a 1,600 foot-long-zip-line course that crisscrosses the island. Cruisers can choose between a dry landing or a wet one in the water. 
For the aerial fans, the new Up, Up and Away helium balloon ride will take cruisers 450 feet into the air for spectacular views of the island, ship and azure waters of the Bahamas.
Looking for something a bit quieter? They've got that too! You can head over to a different beach area where there are Caribbean-style bars, lounges with umbrellas and more! It's called Chill Island. Highly anticipated is this December's opening of the adjacent Coco Beach Club with overwater cabanas, a 2,600-square–foot infinity pool with water lounges, a club and deck area, and beachside cabanas and day beds. 
We couldn't think of a better place to spend some time, when at home it's cold and dreary!
Christmas is a special time for families, friends and loved ones to come together. It also affords a rare opportunity to freeze such social gatherings in time by building long-lasting memories that will be talked about for years to come. Start a new tradition this year, and focus on the joy of the season in paradise and creating a Christmas that everyone will remember forever! For more information on our specials, give Travel Leaders a call. 
Now is the perfect time to start planning your Christmas vacation! 
By: Barbara May, Owner of Travel Leaders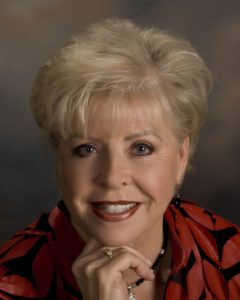 Memphis: 901.377.6600
Collierville: 901.853.6200