Back to Brick: Home Tour Presented By Designer Wholesale
The Konrads have been living in their Collierville home for 28 years, but once they decided it would be the perfect place to retire, Jana Konrad knew it was time to redo her kitchen. "It's a great neighborhood," remarks Konrad. "We raised our kids here, [and] we've got great neighbors, so that was a reason to redo the home the way we wanted to, and not to sell." 
A surprise water leak that required the floors to be replaced gave her the perfect opportunity to get started two years earlier than she had originally planned. "I wanted hardwood floors," Konrad said, "but they told me, to do that, they'd have to pull out the [kitchen] cabinets." For her, it was an easy decision to make. "It was time," she laughed. 
Her old kitchen was overwhelmingly brown, with oak cabinets and a copper backsplash that were stylish when the house was built 32 years ago; however, it was not Konrad's style. "I had carried around a picture of the brick [backsplash] for about four years. I knew what I wanted, but I just wanted to make sure I didn't make a mistake," she said.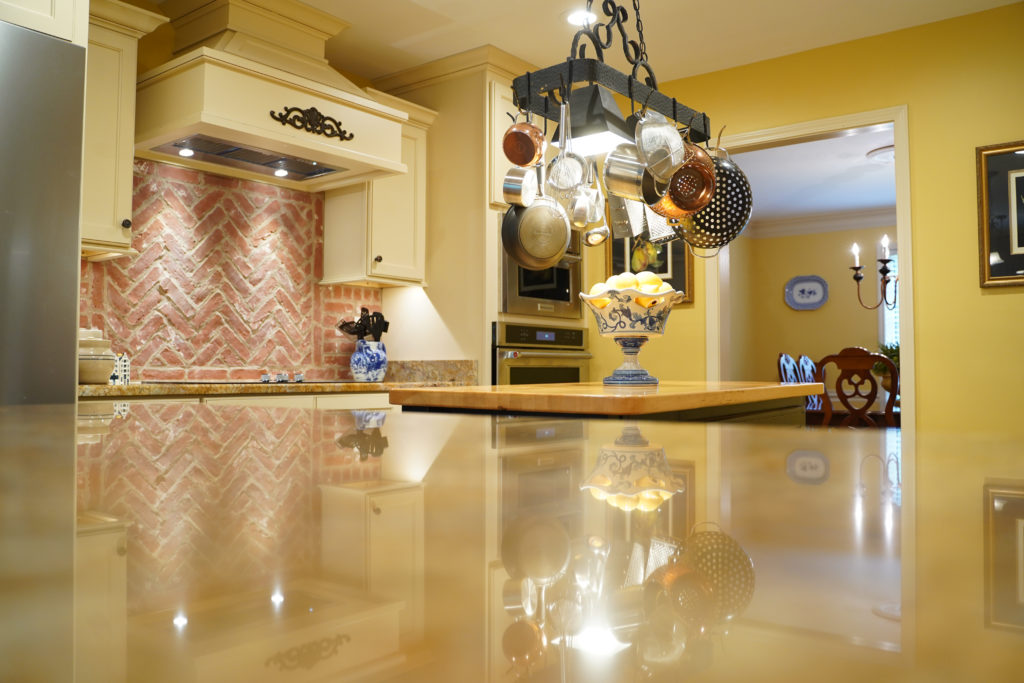 Konrad had heard plenty of praise for Designer Wholesale, so she went to them for her renovation plans. "I also liked that they were local," she said. They helped her find off-white cabinets that matched the home's trim, one of the more challenging aspects of the renovation. They also built a coffee bar in a previously unoccupied section of the kitchen, installed one large kitchen drawer into a space previously occupied by two smaller ones (an element that Konrad was initially hesitant about, but now loves), and installed a beadboard chair rail around the kitchen table. 
Designer Wholesale even helped her find the perfect shade of brick to match the granite countertops, which replaced the kitchen's original tile countertops 15 years ago. "They took the granite off, stored it and then brought it back. I love the granite and wanted to keep it, and Steven [at Designer Wholesale's showroom] thought the red-ish brick would look great with it, and I agreed," she said. 
Steven was also the one who suggested the herringbone pattern of brick above the cooktop, which Konrad admits is one of her favorite parts of her new kitchen, since it acts like a piece of art without making the wall look overcrowded. "After they did the brickwork [in the kitchen], I said, 'Can you do herringbone on the laundry room floor?' That was a good choice," she laughed. 
The lighting, floorplan, pot rack and custom-built kitchen island are all original parts of the kitchen, but Konrad's new style makes them look completely natural and cohesive with the newer elements. Mixed metals throughout the kitchen pull the design together – from the new stainless steel appliances, to the bronze automatic-touch faucet, to the black metal pulls and the decoration on the stove hood, a personal touch that Konrad wanted to include.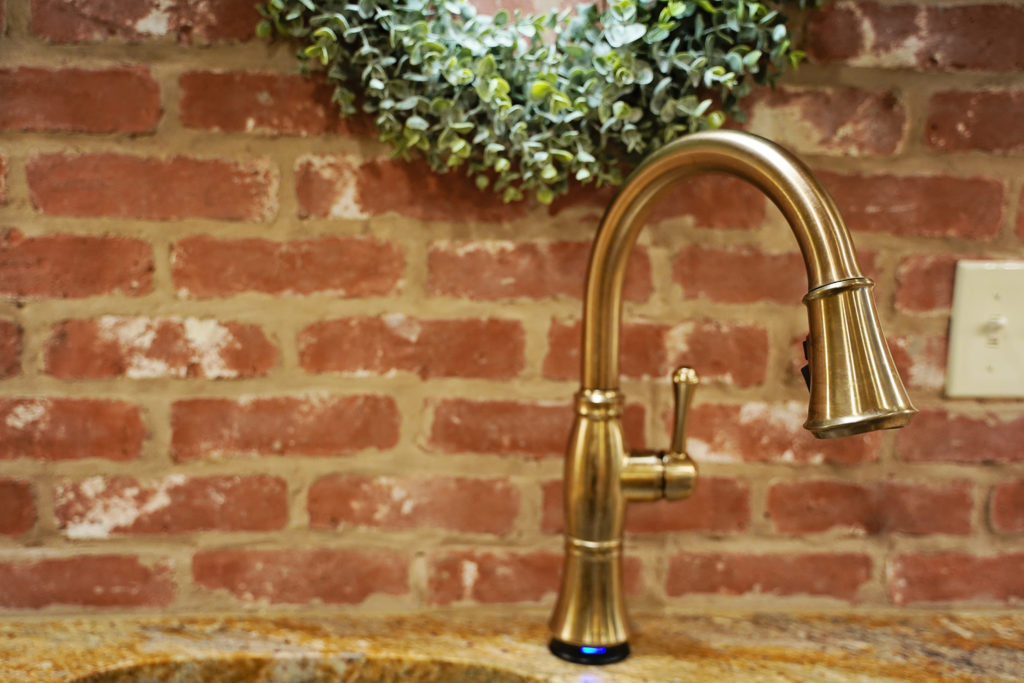 The kitchen is now bright, welcoming and has as much warmth as its owners. "To me, I think this is a Country French kitchen," Konrad said. "I knew where I was going and I got to keep a lot of pieces, but Designer Wholesale really guided me." This renovation – along with the new gorgeous wood floors – makes this home the perfect place for the Konrads to retire, and the new kitchen will allow for many more memories in the years to come.
story | REGAN HEWITT
photos | CINDY B. THYMIUS