At The Crossroads of Tradition & Innovation
As you may remember, Collierville celebrated our 150th  birthday with the "Shine A Light" initiative in 2020. As we have grown from 7,800 citizens in 1980 to over 52,000 today, strategic development has not only occurred within our borders but all around us. Through all of this, we have maintained an unique sense of independence, as evidenced by our own school system and Town-managed water and sewer systems. Additionally, our thoughtful assets give a sense that Collierville is much bigger than it actually is. Many of the cities we benchmark and often compete against, such as Franklin, TN, Carmel, IN and Marietta, GA, are much larger when compared to Collierville. Collierville continues to successfully manage growth and assets, while maintaining a sense of tradition that uniquely positions us as a dynamic community.
Collierville Schools 
The Collierville school system is not only rated one of the best in the state, but is also academically competitive with some of the best districts in the region. Our new $93,000,000 Collierville High School is the largest public high school in the State of Tennessee and, arguably, the most sophisticated. The Town's commitment to this life-changing asset speaks volumes about our communities' priorities. Our school system fuels residential growth, attracts corporate headquarters and differentiates our Town as a truly innovative community. I would be hard-pressed to find a similar asset in another community with 52,000 residents — it just doesn't exist! 
Interestingly enough, the recent Women's National Invitational Basketball Tournament (WNIT) picked the 3,500-seat My Town Movers Arena at Collierville High School to host their semifinal and championship games. Collierville was picked over Charlotte's Bojangles Coliseum (9,600 seats), Ft. Worth's Wilkerson-Greines Center (5,000) and Rockford's UW Health Sports Factory (3,700). 
Corporate Expansion & Relocation 
To give more perspective, Elkhart, IN, Florissant, MO and Galveston, TX are all towns with about 52,000 residents. However, these communities do not have the assets we have, and I would again be challenged to find a community of a similar size with the corporate headquarters dynamics that Collierville enjoys. Our corporate partners in FedEx World Technology Center, Helena Agri-Enterprises, MCR Safety, JuicePLUS, Orgill, Mueller Industries and soon-to-arrive IMC account for close to 4,000 corporate headquarters jobs in approximately 1,700,000 square feet of office space. 
They are here for a variety of reasons, including the fact that Collierville is an excellent location to relocate to as well as recruit and retain from. Our residential, retail and restaurant markets all benefit from this dynamic. What's going on with Collierville's corporate headquarters expansion and relocation surge, by scale, is the exact same thing that is happening in Atlanta, GA and Austin, TX. We have the infrastructure, amenities and assets that allow us to compete in the hyper-competitive world of office expansion and relocation. 
Our highly-organized and thoughtfully-planned Town of 52,000 is unbelievably dynamic, competitive and strategic, all while maintaining a strong sense of small-town community. From the FedEx World Technology Center to the award-winning historic Collierville Town Square, from Collierville High School to H.W. Cox Park, we truly are at the crossroads of tradition and innovation.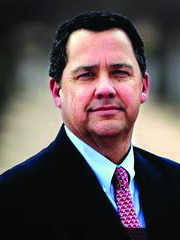 John D. Duncan
Director of Economic Development
500 Poplar View Parkway
Collierville, TN 38017
901-457-2200 General
901-457-2213 Direct
901-457-9325 Cell
www.AccessCollierville.com
photo | RED BARDES