One Kitty. Two Kitty. White Kitty. New Kitty.
I like it here. I like it a lot. 
Someone had me as their pet, but then they forgot.
My name is Riley and I like to cuddle. 
When humans pet me, I melt into a puddle.
When I arrived at the shelter, I had much to learn. 
Then, they discovered something about me. 
Now my story takes a turn.
The humans here noticed that sometimes I miss when I jump. 
Strange for most kitties, even those that are plump.
They took me to the vet who made us aware. 
I have cerebellar hypoplasia, which gave me a scare! 
But it's not a big deal, I'm just like other cats. 
So if you paused here to worry, waste no time with that! 
Sometimes I wobble when I walk or I play. 
The humans say "it makes me cuter," and that makes my day.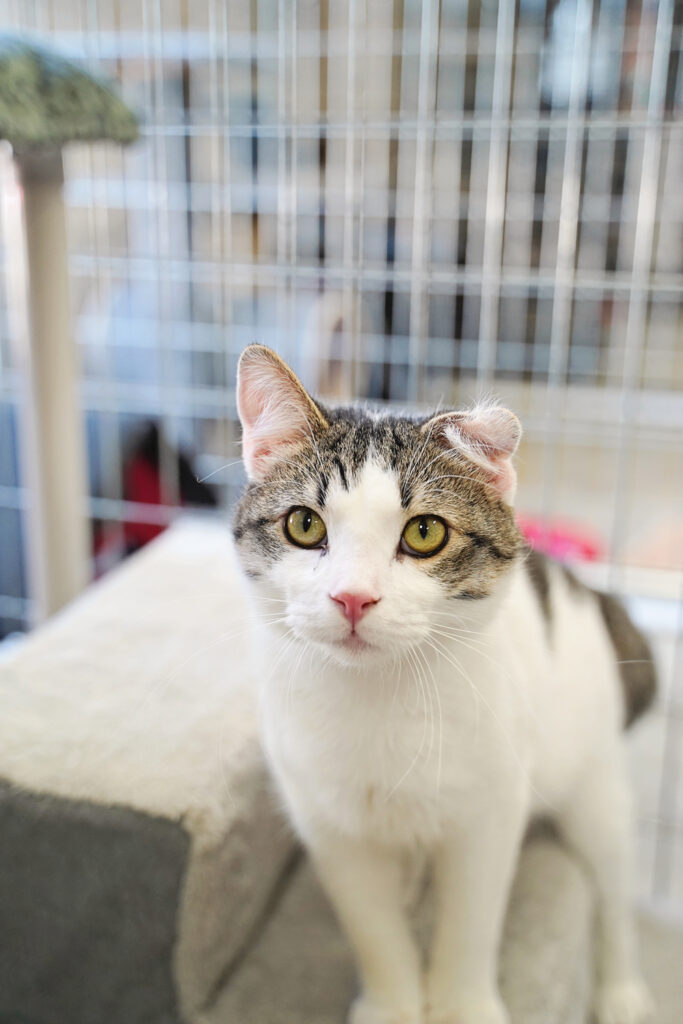 My condition isn't contagious, but it is forever. 
But not a concern, I'm used to it, I'm clever. 
One more thing I need to confide. 
My condition requires that I MUST LIVE INSIDE. 
I'm only one-year-old, so I'm playful and fun.
I like to chase pipe cleaners; I bat them and run. 
I'm healthy and ready for my forever home; 
searching for someone to call my very own.
Could you be my human, my forever, my love? 
I feel confident you are. We will fit like a glove! 
Please come by the shelter and meet me, please do. 
Because forever will be awesome if it's me and it's you.
Xoxo,
Riley
Written by Julie Weaver. For more information on  this pet, contact Collierville Animal Services, located at 603 E. South Street, Collierville. Call 901-457-2670 or come by to find your perfect companion!