Aren't We Industrious?: Collierville's Industrial Partners Are Impressive
I will use a bit of literary license with the word industrious, as we explore the rapidly-emerging and impressive industrial market in Collierville. It seems that our citizens are often more interested in the next burger joint or pizza parlor — which is very important, mind you — versus the development of our industrial partners, typically located in the southeast quadrant of our community. However, put on your steel toe shoes, hard hat, goggles and ear plugs, and let's take a walk. 
In 1967, Collierville had approximately 3,500 residents. Can you imagine? That was the year that Carrier Corporation©, now one of the largest air-conditioning unit manufacturers in the world, began their investment in Collierville. Today, they have a 900,000 square foot manufacturing facility on Byhalia, employing anywhere from 1200 to 1800 workers, which was a 2011 Industry Week magazine "Best Plants in America" award winner. With an annual payroll approaching $70,000,000, this producer of the Carrier and Bryant-brand HVAC units continues to thrive.  
Canada-based CCL Industries© is one of the largest label printers in the world. With 154 manufacturing facilities worldwide, CCL produces printed labels for the healthcare, consumer products and industrial markets — for example, the labels on your energy drink, the information labeling system attached to a pharmaceutical product or the label of your favorite weed-killer. It's high-end, high-tech and environmentally-friendly printing, and Collierville is blessed to have two CCL Label facilities, both located just north of Shelby Drive. With close to 200,000 square feet of production space and room to grow, CCL currently employs over 300 skilled machine operators, press technicians, warehousemen and customer service personnel.  
IPS® Corporation currently has two manufacturing plants in Collierville, both located off of US 72, just north of SR-385. Occupying 215,000 square feet of manufacturing and assembly space, IPS® employs around 130 people, who are tasked with producing supply boxes, plumbing products, valves, waste and overflow products, drains, access panels and even more — all for the IPS® Plumbing Products Division. You learn something new every day, right? IPS® is a market leader, and we are proud that they have fully invested in our community.
Time and space here does not allow me to touch on American-Marsh Pumps©,  Floratine®, FedEx® Packaging, ChemStation® and Tuscan Iron Entries©, as they are all also valuable industrial partners. With over 300 acres of developable industrial land available and close proximity to the airport, Mississippi River, Norfolk Southern© Intermodal rail yard, FedEx® Ground Hub, the Memphis Regional Megasite and game-changing highway systems, our future as a strategic industrial location is super bright!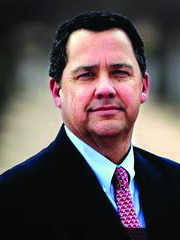 John D. Duncan
Director of Economic Development
500 Poplar View Parkway
Collierville, TN 38017
901-457-2200 General
901-457-2213 Direct
901-457-9325 Cell
www.AccessCollierville.com