A Thankful Heart
It felt like purgatory. It was late August, and I found myself in a negative pressure room with the door always closed and no natural light. I was here because when my doctor saw the CT scan of my lungs, he gave me the dreaded words, "You need to go to the hospital." So here I sat, in the loneliest place I have ever been. After twelve days with COVID-19, I was not improving. I had pneumonia and because my oxygen levels were dropping, I was, for the first time in my life,  experiencing an extended hospital stay. 
After being sick for several weeks, you begin to wonder if you will ever feel good again. Not being able to taste food, you wonder if food will ever taste good again. Alone and depressed, my only contact with the outside world was my iPad® and phone. Yes, it was like a descent into Dante's hell. 
Then a couple of things happened, and I began to see shafts of the uncreated light and caught a glimmer of hope. On my third day in the hospital, I had canned peaches for breakfast. For the first time in over three weeks, I tasted food — a canned peach — and it was the best thing I've ever tasted. Then I tasted the cold omelet and it was not so good, but I could taste it! I will tell you this: if you haven't tasted food in three weeks, hospital food might be delicious. After that I ate — no, devoured — every meal like a starving man. 
After five days in the hospital, my oxygen level began to rise and with it, hope. I could tell I was better because a simple trip to the restroom didn't leave me breathless and panting for air. Another couple of days and I was home. I have never been more thankful! I told my wife that I only wanted two things. The first was to shower and brush my teeth with my sonic toothbrush. (I hadn't showered the whole time because of monitors and IV lines.) I brushed my teeth until my toothbrush ran out of batteries and showered until we were out of hot water. The second thing I wanted, since I could finally taste again, was something aged in a barrel. 
I write all this to say: it is hard to live with a thankful heart. We live in an age of entitlement, where our first-world problems rob us of joy and gratitude to such a degree that we end up living on the verge of hostility. As we enter into a festival season that begins with Thanksgiving Day and then moves into the season of Christmas joy, culminating in the best news of God becoming incarnate, this is a good time to think about cultivating the habit of thankfulness. 
I say habit because thankfulness is an intentional way of seeing, is it not? I learned this afresh during and after my bout with COVID-19. I learned to slow down and really see and experience the grace and wonder of life in the mundane. Life where canned peaches are a vision of glory – an indicator that I live indebted to a generous God who dispenses his gifts freely, whether I see them or not. May God give us eyes to see during this Advent season and thus live with expectation and gratitude!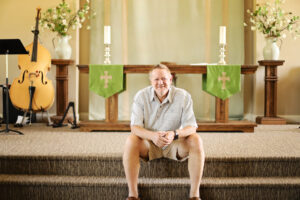 Rev. Jim Holland 
Senior Pastor 
St. Patrick Presbyterian Church