2017 Year in Review
Time sure flies! Post-eggnog, it's easy to speed forward and cleanse your system from all the holiday indulgence, but before you start drinking your freshly juiced carrots, take the much needed time you've been promising yourself all year for meditation and contemplation over 2017. Nothing will better inform and shape how you approach the new year than a good, honest 'Year End Reflection'.
TourCollierville took that moment of quiet reflection over the bounty of 2017. It was a good year – full of exciting new ventures, but we most enjoyed sharing stories with all of you that we hope have touched you in some small way. We thought highlighting some of our favorite national events from 2017 might jog your memory of other wonderful events that happened in last 365 days, before we hit the ground running into the new year!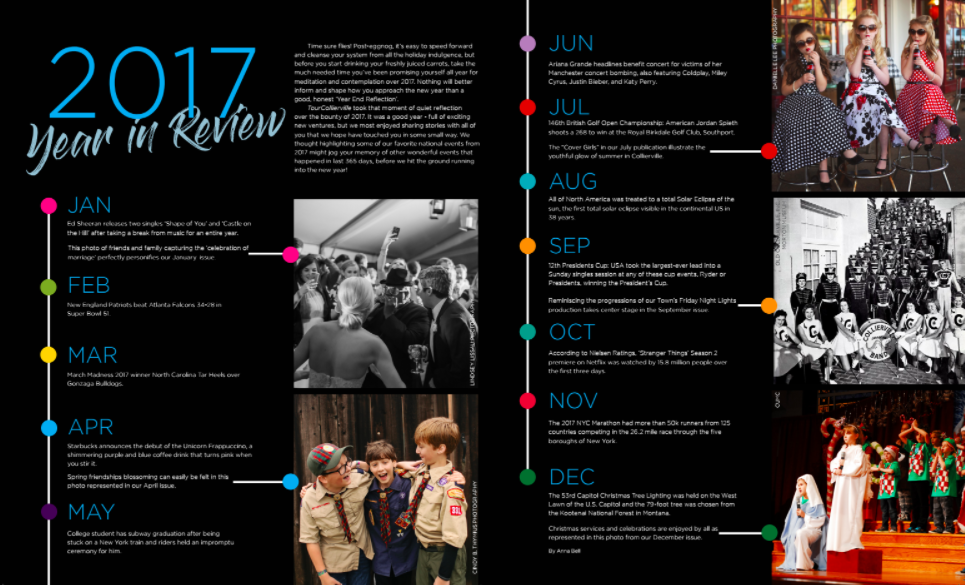 January – Ed Sheeran released two singles 'Shape of You' and 'Castle on the Hill' after taking a break from music for an entire year
February – New England Patriots beat Atlanta Falcons 34-28 in Super Bowl 51
March – March Madness 2017 winner North Carolina Tar Heels over Gonzaga Bulldogs
April – Starbucks announces the debut of the Unicorn Frappuccino, a shimmering purple and blue coffee drink that turns pink when you stir it
May – College student has subway graduation after being stuck on a New York train and riders held an impromptu ceremony for him
June – Ariana Grande headlines benefit concert for victims of her Manchester concert bombing, also featuring Coldplay, Miley Cyrus, Justin Bieber, and Katy Perry
July – 146th British Golf Open Championship: American Jordan Spieth shoots a 268 to win at the Royal Birkdale Golf Club, Southport
August – All of North America was treated to a total Solar Eclipse of the sun, the first total solar eclipse visible in the continental US in 38 years
September – 12th Presidents Cup: USA took the largest-ever lead into a Sunday singles session at any of these cup events, Ryder or Presidents winning President's Cup
October – According to Nielsen's ratings, Stranger Things Season 2's premiere on Netflix was watched by 15.8 million people over the first three days
November – The 2017 NYC Marathon had more than 50k runners from 125 countries competing in the 26.2 mile race through the five boroughs of New York
December – The 53rd Capitol Christmas Tree Lighting was held on the West Lawn of the U.S. Capitol and the 79-foot tree was chosen from the Kootenai National Forest in Montana
TourCollierville 2017 Favorite Photos
This photo of friends and family capturing the 'celebration of marriage' perfectly personifies our January issue.
Spring friendships blossoming can easily be felt in this photo represented in our April issue.
The "Cover Girls" in our July publication illustrate the youthful glow of summer in Collierville.
Reminiscing the progressions of our Town's Friday Night Lights production takes center stage in the September issue.
Christmas services and celebrations are enjoyed by all as represented in this photo from our December issue.