175 Years of Faith: Collierville Presbyterian Church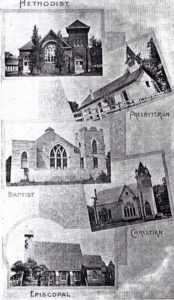 Collierville's longest standing church celebrates 175 years of giving faithfully to the Collierville community. Twenty-five years prior to the formation of the city of Collierville, a small group of 21 men and women of faith established what is now known as Collierville Presbyterian Church [CPC] on October 12th, 1844. 
Recalling the Beginnings
Originally called Salem Church, the first building was located just two miles south of Collierville at Byhalia and Holmes Rd. The congregation attended services at this location from 1844 until 1886, when the decision to move to Walnut Street was made. It was on November 14th,1886 that the name changed to the Presbyterian Church of Collierville. For 79 years, CPC continued to grow and engage with the community at this location. Between 1957 and 1958, the first preschool in Collierville started in the church, lasting nearly 60 years. Today CPC is located in the historic district of Town, on the corner of Poplar and Peterson Lake Road. The congregation broke ground on June 20th, 1963 at its present site and held its first service on February 14th, 1965.
Years of Growth & Change
Membership has grown over the years from the initial assembly of 21 to 100 members today. When Rev. Mark Wright came to pastor the church in 2016, he initially met with the leadership of the church to understand and develop CPC's mission statement. "One of the first things I did [when joining CPC] was meet with the elders of the church to develop the current mission and vision statements to better represent who we felt God was calling us to be," shares Rev. Wright. "Our mission statement is 'Walking humbly with God… together' and our vision statement is 'Deep Faith. Deep Relationship. Meaningful Service.' We're a small church with limited resources, but we have a good building and a good location to offer in partnership with the community. Coming back to our mission, we want to serve others as a group of folks without facades."
'Meaningful service' is happening within the walls of the church today in a number of ways, including the offering of space and support for addiction support group meetings, Girl and Boy Scout Troop gatherings, as well as partnerships with the Collierville Literacy Council. 
Celebrating 175 Years of Faith
As part of the milestone celebration, on October 26th, 2019, CPC opened its doors to the community with a fun-filled event, and the dreary weather did not rain on the parade! A food truck, games and bounce house provided food and fun for all! Thirty-eight middle school students from Collierville Middle and West Collierville brought stringed instruments to perform, and a local Christian band also provided entertainment.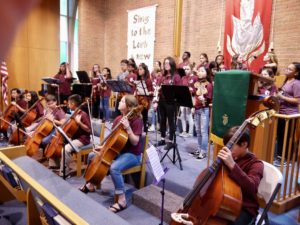 Mayor Stan Joyner made a proclamation on behalf of the event declaring, "October 26th, 2019 to be 'Collierville Presbyterian Church Day of Celebration' and encouraged citizens to commemorate Collierville Presbyterian Church as a valued component of the Collierville community". Board of Aldermen, Maureen Fraser, Development Director, Jay Cravens, and Public Information Officer, Jennifer Casey, also attended the event. 
On Sunday, October 27th, 2019 CPC held their "175th Worship Service" where Rev. Wright preached about '24-and-We'; that our spiritual chromosome of faith can bring about fellowship between all Christ followers. "One of the texts we looked at speaks about 'being surrounded by so great a cloud of witnesses' and it seems like particularly in today's church, faith is thought to be a very individualistic thing, but that's an innovation of the church in recent years. That has not been the position of the church throughout most of the church's history. The church has always been, really from the beginning, a community of faith." In remembrance of the faith passed down, members were asked to bring family bibles to worship service. Mid-nineteenth century hymns were also sung including 'Come Thy Fount of Every Blessing' and 'How Firm a Foundation' among others. Present at the service was member Suzanne Dunn, who shared with the congregation the longest historical memory. From the earliest records in the church can be found her relative, Sam J. Dunn, who was an elected deacon in 1867.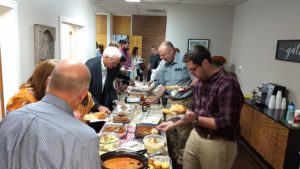 After the Sunday service, a banquet was held in the fellowship hall where a pot of Brunswick stew had been cooking since 5AM that morning. Three men stirred the meal that would have been appropriate at the time of the church's founding. "There's a lot of vegetables and it also contains chicken, beef and ground beef.  It's very thick! The men were stirring with this huge paddle, and when it's done, it's so thick that you can leave the paddle standing up in the stew!" remarks Linda Stamps, CPC Office Administrator.
What a time for celebration and reflection on this 175th anniversary for Collierville Presbyterian Church! Learn more about the church and its history by visiting: https://www.colliervillepres.org/
Story by | Anna Bell