Upholding the Brand
At a recent baby shower for my daughter, one of the young guests shared with me that he attended a rival high school and was a member of the marching band. In preparation for their annual clash with the Dragons, his band would rehearse the theme song from "Green Acres" as a way to jab at Collierville, whom they perceived as this "little old country school." This wasn't that long ago for him.
Collierville, with the largest and most sophisticated high school in Tennessee… that Collierville? Collierville, with more National Merit Finalists when compared to any school in the region… that Collierville? Collierville, with its award-winning STEM and VoTech programs… that Collierville? Collierville, with ACT scores comparable to just about every private school in the region… that Collierville? You get my point, I hope, as I found his story amusing and certainly outdated. The Town spends quite a bit of brain power and manpower molding and crafting the brand that is Collierville. It is incumbent upon us to continue to promote the uniqueness of the brand and to educate others of the dynamics of that brand. 
You remember all the buzz about Amazon HQII back in 2017? Amazon was planning to expand out of their Seattle, WA, HQ, creating a new, 500,000-square-foot HQII, which would eventually accommodate 50,000 employees, a $5B economic development behemoth. Every economic development organization in the country dropped everything to focus on this gargantuan opportunity, including Collierville. Our motivation was a bit different, I think, when compared to most. I read with great interest some of the comments from the "power brokers" in Memphis who said, and I paraphrase, "Memphis will not land HQII, but if it did, the ONLY logical location would be somewhere downtown." Really? 
First of all, Collierville already had the closest thing to HQII in our community in the FedEx World Technology Center; no one else was even close. As you know, FedEx WTC is 1.2 million square feet of office space housing 2,500 high-tech employees. A mini HQII, if you will. Second, Amazon HQII required a 100-acre site with infrastructure (utilities & roads). Collierville was in a position to submit not only one prime site that met Amazon's needs, but two! Once again, regionally, no one else could touch that. Realistically, from a macro-perspective, I knew the Memphis market would be somewhat reaching to land Amazon, but this project gave me an opportunity to promote our community assets to a wider audience. Mission accomplished!
I've heard it all when it comes to what Collierville is and what Collierville can do, and typically, the descriptions are inaccurate. So, promote and educate. After we landed the $21mm Orgill headquarters, with 380 jobs, I was told by a consultant it was a "once-in-a-lifetime" win for Collierville. That was early 2016. Since then, CCL Label has made a $25mm investment in our Town… Mueller Industries a $15mm investment… and most recently, IMC Companies invested $25mm. $65,000,000 in capital investments in our Town, with over 400 jobs since we were advised we were done. I have lost count of how many times I have heard, "I had no idea all of this was in Collierville" or "Collierville is first class." Yes!!
We will continue to passionately and vigorously promote and educate, as the audience is far and wide and the competition is fierce. But at the end of the day, we control the messaging, we control the narrative, and the brand is as strong as it's ever been.
 #ColliervilleStrong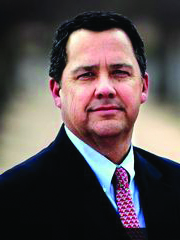 John D. Duncan, Director of Economic Development
500 Poplar View Parkway Collierville, TN 38017
901-457-2200 General | 901-457-2213 Direct | 901-457-9325 Cell
www.AccessCollierville.com