Together We Can
During this time when a number of us are still observing stay-at-home/work-from-home guidelines, many of us find ourselves giving our home a makeover. Sometimes the makeover is driven by a need to rearrange one room to create a workspace. Maybe we now have some additional time to start an outdoor painting project we've always wanted to do, or check-off lingering items on our "honey-do" lists. In other instances, the transformation is driven by the fact that the old design just doesn't meet our current needs. Whatever the reason may be, homes in our community are experiencing transformations. Some of those renovations are wanted, while others are needed.
Transformation of our spaces could take quite a bit of work, time and money. We search for new ideas, sketch out possibilities and make trips to home improvement, hardware and DIY craft stores. In some instances, we call friends or family to lend a hand. As is the case with major renovations, we often find things we weren't expecting: wiring that needs to be replaced, framing that no longer works and plumbing that has to be moved. These unexpected findings were there all along. It just took stripping away the outer shell to see what was on the inside.
Ultimately, when the work is finished, we end up with something we are proud of; something beautiful we can share with others. Depending on the scope of the project, the end result can even increase the value of your home. That's the thing about home transformations – they bring value to everyone in proximity to the house. After all the work that was required, we understand that in the end… everything was worth it.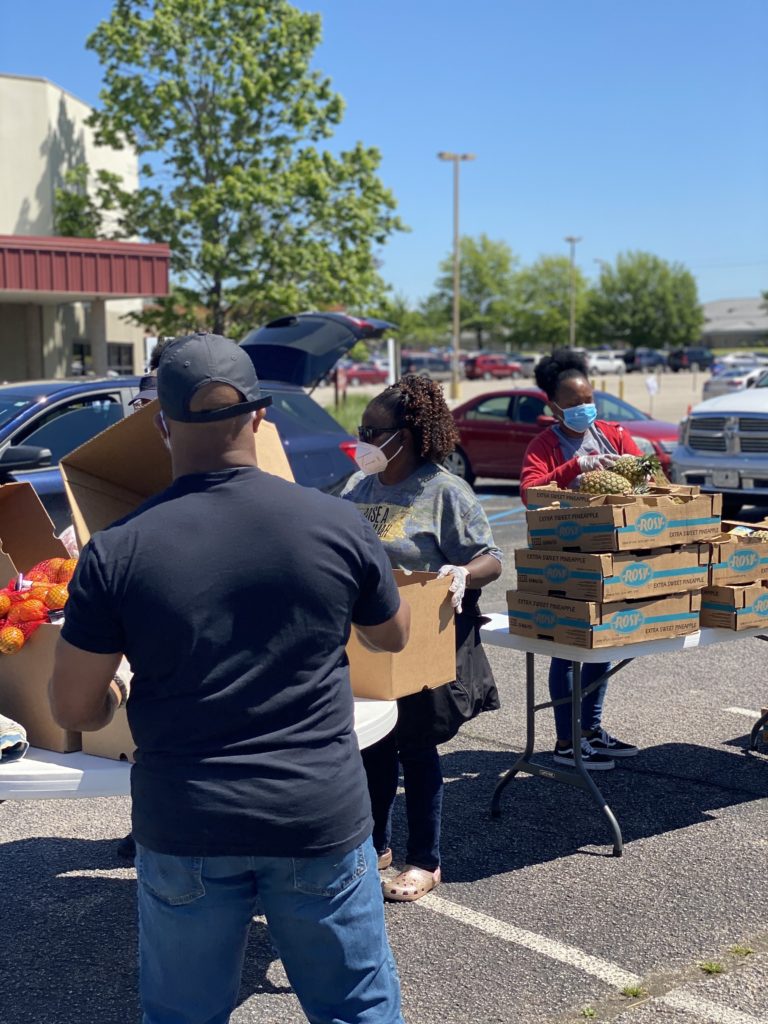 In the midst of a pandemic and heightened racial tensions, we now find ourselves in a moment where our country could use a bit of a renovation. With God as our source, we will get there. And if we want to produce lasting, transformational change, we need to have honest conversations about race and class in America, among other things. We need to have tough conversations about how racism has infected and affected every system we engage with on a daily basis. Education. Healthcare. Employment. Housing. Food security. The prison-industrial complex.
Beyond conversation, we need transformation. But this transformation will not happen overnight, because the problems did not develop overnight. It will be a marathon, not a sprint.
"Christians are encouraged to change, and 'keep on being transformed' by the renewing of our minds." – Shamichael Hallman
Inward Change
The catalyst for change, I believe, must start within each of us. One of the most familiar passages in the Bible that mentions transformation is Romans 12:1-2. In those verses, Christians are encouraged to change, and "keep on being transformed" by the renewing of our minds. This happens, in part, by centering our attitudes, thoughts, feelings and actions on Christ. As we become more like Christ, we gain the ability to see the world as Christ sees it, all of it, including the various injustices in our world.
The New Direction Christian Church (NDCC) family would like to encourage you to think through physical and spiritual transformations during this moment. Our world is facing a myriad of complex issues and challenges, and perhaps what we most need in order to meet those challenges is a spiritual transformation that begins in our homes, and results in the sort of systemic changes that will create a world in which everyone is loved and valued. A world that rejects individualism and embraces community. A world that unites instead of divides. A world that places the teachings of Jesus at the center of everything we do. A world that speaks truth to power, flips over tables at injustices and dismantles systems of oppression. 
I'm encouraged to know that many churches and houses of faith are working to create a more just and equitable world. I'm honored to be part of NDCC, a church located right here in Collierville that is working to advance these ideas. If you'd like to connect, partner or have difficult discussions with us, I'd encourage you to reach out to our senior pastor, Dr. Stacy L. Spencer at info@n2newdirection.org. You can also visit us online at n2newdirection.org.
Together, we can. Together, we must. Transformation is necessary.
Shamichael Hallman
Collierville Campus Pastor
NDCC