The Wing Guru Announces 2020 Expansion into Collierville
Former Memphis Tigers basketball player, Billy Richmond, currently owns and operates The Wing Guru, which has two locations: one on Mt. Moriah Road in Memphis and one on Stage Road in Barlett.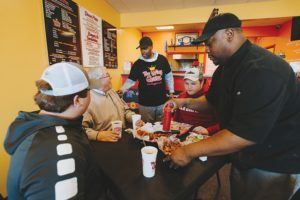 However, based on social media polls of his customers, Richmond decided it was time for an expansion. "We let our customers tell us where they wanted us to open more restaurants," Richmond told The Commercial Appeal, who broke the story earlier today. In November, a new Wing Guru will open in Southaven, and by the end of 2020, there will be Hernando and Collierville locations as well. These locations will open with the help of partners. As Richmond said, "The goal is to partner with individuals who would like to have their own Wing Guru in their town." 
Richmond has been in the restaurant business –– and specifically the chicken wing business –– since he was a kid. His father owned Don Don's Hot Wings, where Richmond began working at the age of nine. He knows that the product matters, which is why The Wing Guru only uses fresh, cut in-house chicken and gluten-free frying oil, and that a good experience keeps people coming back, which is why customer service has been a huge priority while opening the new locations. 
Now, Richmond is a successful restaurateur himself, winning awards for his hot wings within months of opening the first Wing Guru location in 2016. The Wing Guru was named #6 Hot Wing Restaurant in the nation, and the wings won The Orange Park Statewide Hot Wing Festival Grand Championship in Florida.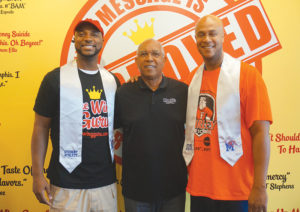 In 2017, Richmond made The Wing Guru the official chicken partner of his alma mater, The University of Memphis. In 2018, The Wing Guru opened up a location inside the FedEx Forum, becoming an official partner of The Memphis Grizzlies. When this partnership happened, The Wing Guru developed a new fan favorite sauce: the "Triple J," an homage to Memphis Grizzlies player Jaren Jackson, Jr. "We start with Honey Gold, then add our house guru seasoning and our 901 seasoning," said Richmond. 
The Wing Guru is known for its signature flavor –– Honey Suicide –– and Richmond boasts that it won't be found anywhere else. The sauce won "Most Creative" at the Santa Anita Hot Wing Cook-Off. However, they offer twenty-one types of sauces: the scale starts off easy with "Dry Season" before quickly escalating to "Memphis Dry Heat" and even further on up to just, "Suicide." A fan favorite is the new "Triple J," an homage to Memphis Grizzlies player, Jaren Jackson, Jr. 
While their menu does fixate on chicken wings, they also offer fish dinner plates, chicken sandwiches, burgers and their delicious seasoned fries. They even offer a VIP experience, a $50 sign-up for Wing Guru rewards, which includes daily specials, a bottle of special seasoning and discounts on catering orders.  
Collierville definitely can't wait for their new Wing Guru location to open!
Story by | Regan Hewitt
Source: The Commercial Appeal
Photos: I Love Memphis Blog, Memphis Daily News