We thought the perfect accompaniment to this year's Bridal issue would be a celebration of the longest standing marriage in Collierville. We did our research and believe 72 years of marriage takes the cake! Enjoy their love story, and newlyweds, go grab a pen… you'll want to take notes!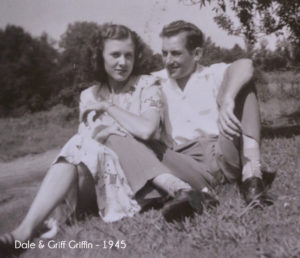 Dale (91) and Griff (92) Griffin of Collierville met for the first time in 1944 at an all-day singing dinner on the grounds of a Baptist Church in Tula, Mississippi. Griff was sixteen at the time and had gone to the revival-style event because Dale's uncle was a singer and taught singing school at different communities. "It was a community event," says Griff, "and it was the very first time I ever saw her," he remembers. Dale says with a laugh, "Was I barefoot?" remembering the event being outside on the lawn. Before everyone headed home, Griff gathered the courage to ask for Dale's address, "because she was good lookin' and I wanted to see her again!"
"We just didn't have nothing. We didn't do it in a certain church. We didn't spend $5,000 dollars on it. And it lasted 72 years, so I guess that's pretty good! "

-Griff Griffin
Fast forward to 1945 and Griff proposed. The engagement lasted six months because Griff says, "we were both in high school and had to wait until we could get out of school to get married." Dale's older brother and sister-in-law traveled with the couple to Pontotoc to get married. "Things were a lot different then than they are now. We went to a Presbyterian preacher's house to get married," says Griff. "We had our own pastor where we went to church, but we just couldn't get him in time," says Dale. Dale's sister-in-law knew of the preacher in Pontotoc, so the four took off in the car to tie the knot! "We just didn't have a bunch of family [at weddings] back then," says Griff. "You just got someone to go along with you." The two couldn't remember for certain, but thought Griff got Dale a corsage for their big day, May 16th, 1946.  Griff got quiet for a minute as the memories were coming back to him and says, "We just didn't have nothing. We didn't do it in a certain church. We didn't spend $5,000 dollars on it. And it lasted 72 years, so I guess that's pretty good!"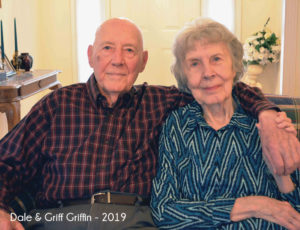 A short time after getting married the couple went on their honeymoon. "A guy who lived in Tula had a little garage there and got married before I did, but was in the service," says Griff. "When he got out, they never had been on a honeymoon. He found out I was getting married and he said, 'I tell you what we're going to do' – and at the time, I didn't have a car – and he says, 'we'll just go to New Orleans!' He had an old car that he worked on all the time. So we took off to New Orleans together, and we probably never would have made it down there and back had he not been a mechanic!" Dale remembers having a good time, saying, "Neither one of us had ever been much of nowhere and it was a big deal for us!"
The couple now has 2 children, 3 grandchildren, and 4 great-grandchildren and have called Collierville home since 1995. When asked the secret to a long and happy marriage, the answer came down to commitment. "I didn't think I'd live this long honestly," says Griff. "But when we got married, there wasn't divorce. But she's not a spendthrift. She did a lot of sewing and doing for the kids when they were growing up," he remembers. "And he was always there when I needed him," says Dale.
By: Anna Bell