The Citizens of Tomorrow
Are you raising your children today to be good citizens  of tomorrow?
We, as parents, always worry about our children, wanting them to grow into happy, successful, and caring adults. We make sure they eat the right foods and have the best educational opportunities, but sometimes we forget that we're their first teacher and role model. Are we consciously raising our children to become good citizens as adults? The best way to do this is to make sure we're focusing on core values every day: good manners, helping others and giving back to our communities. 
Here are some ways that your whole family can participate in giving back. When your little ones see you as their role model, working to help those in need, they will be more inclined to understand the importance of giving back. As parents, we work all day, and the work continues when we come home to do household chores, prepare dinner and help with homework. When our children see that we take the time to give back a little, despite our busy schedules, they will see giving back as something good rather than a chore. Talk with your children about how lucky they are to have toys and not having to worry about food, clothing and shelter. Discuss different reasons why people become less fortunate and why it's important to help them. Consider the following ideas for giving back, helping your children become good citizens in the process: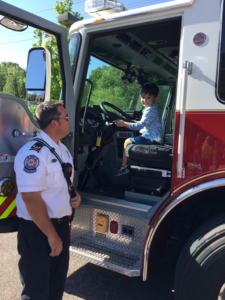 Volunteer at a soup kitchen, local park or community fundraiser.  
Help elderly neighbors do things, such as carrying their groceries, walking their dog or offering them your company. 
Plant a tree in your local neighborhood to give back to the earth. 
Clean up garbage found in your neighborhood and parks. 
Collect winter clothing for those forced to live without shelter instead of raising funds for them. 
Donate toys so less fortunate children have something to open during the holidays. Better yet, go through toys every year with your children and identify which toys they would like to donate to those without. Drop the gently used toys off at Goodwill, Salvation Army or the charity of your choice before the holidays (when your children receive new toys).
Write letters to men and women overseas, especially to those without families back home. Or sponsor an orphan. Children of all ages can help write letters, pick out gifts and draw photos to share with others.
Spend time at a local animal shelter to give back to the pets without a home.
For more information on why The Goddard School, located in Collierville, is the place for fun, hands-on learning, please contact Cathy Jo Mattson at 901-861-0108.