Are We Teaching Our Children to Give Back?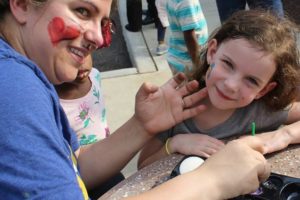 Commitment to family and community is characteristic of Goddard Schools.  We make a difference in our communities by participating in the annual St. Jude Trike-a-thon, LeBonheur Children's Hospital Child Art Auction, Mid-South Food Bank, One Warm Coat, Toys for Tots and other charitable outreach programs.  The children in our school learn about the importance of helping others and the significance of giving and being a part of their communities.  
To build a foundation of good citizenship with your children, foster the essential skills of friendship, compassion, cooperation and kindness. Lead by example and teach your children the significance of helping others. Although there may be some limitations, children of almost every age can give back by participating in their communities every day:
Teach children to love and respect nature – plants, animals and even insects. It's okay to catch crickets, butterflies and tadpoles as long as they are set free after a reasonable observation time.
Respect the property of others. Be a good role model and remember to clean up after the family dog in your neighbor's yard.
Protect the planet and encourage your children to recycle.
Identify a cause that you and your family are passionate about and look for ways to get involved, volunteer or give back locally.
The Collierville Library can be a great resource for community information. Ask the librarian if they have a list of community events and service organizations that are child friendly and in need of volunteers.
Look for ways to give back to your community that can empower your children.  Let them learn to create change in their own lives and the lives of others.
By: Cathy Jo Mattson, on-site owner, The Goddard School of Collierville
The Goddard School located in Collierville offers a year-round child-focused FLEX Learning program for children from six weeks to six-years-old. For more information on why The Goddard School of Collierville is the place for fun and learning, contact us at 901-861-0108.