SPRING HOME BEAUTIFUL AWARD
PRESENTED BY: COLLIERVILLE TOWN BEAUTIFUL COMMISSION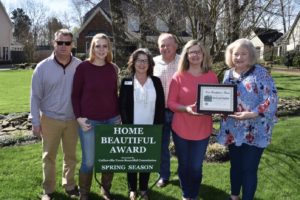 The Collierville Town Beautiful Commission has chosen a special home to honor for each spring, summer, and fall season since 2016. While each season has its own particular characteristics that make a home and yard stand out, it is a particularly challenging job here in Collierville, as there are so many beautiful homes and yards!  Many of our homeowners take great pride in not only upkeep and maintenance, but in creating a showcase to make their community proud. 
The Commission members are on the lookout year round for the perfect home that embodies the spirit of the season in a very pleasing, eye-catching way. This year's Spring Home Beautiful award goes to Steven and Linda Fredrickson on West White Rd., who moved into their Collierville home 25 years ago. 
There are so many beautiful homes and gardens across Collierville," remarks the Fredricksons. "As we look back on how our personal property has evolved over the past 25 years, we have many memories of our children & grandchildren playing games, hunting Easter eggs & floating paper boats in the creek. We feel like our landscaped yard has come together to create a harmony and balance that we will enjoy for a very long time.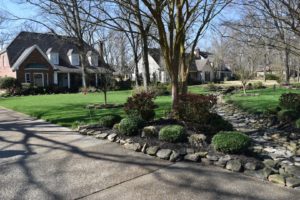 "This particular winner for Spring 2019 was an obvious choice," says Cindy Kessler, Chairperson for the Commission. The entire front lawn is fescue, meaning that it is gloriously green when most yards are still winter brown. The homeowners have created beautiful beds and handled drainage issues with an inventive dry creek bed—all lined with field stone and trimmed in mondo grass. Mr. Frederickson explained that they had done all the work themselves, which should maybe earn them EXTRA points!
A special congratulations to the Fredicksons for doing their part to keep Collierville beautiful! Submit your home (or a neighbor's) for the Summer Home Beautiful Award by visiting the Collierville In Bloom Facebook page!
photos | Cindy Kessler