A Joyful Noise
Many variables go into making a worship service happen. I am the worship pastor at The Orchard Church, and part of my job is to not only plan the worship set of songs each week for our services, but to create an atmosphere that invites people to see and engage with Jesus. When preparing and organizing for the week, I reflect on seven core values, two of which really shaped me as a worship leader.
"Lead From Love" 
This core value is all about glorifying God, framing how one leads worship. Glorifying God is the ultimate, absolute, and all-pervasive reason for who we are and everything we do. It's not about us, but about helping others to see God. We believe that entertainers lead for love and acceptance, and worship leaders lead from love and acceptance. Entertainers perform for people and worship leaders lead people. We don't aim to entertain; we desire to lead the congregation to Christ for the glory of God from His love and acceptance.
"Climb the Hill"
The gospel is central to worship. Louie Giglio, pastor of Passion City Church, says it like this, "Without the cross there is no song to sing." Christ climbed the hill to Calvary to die for the sins of the whole world. We must never forget the gospel in our worship. When I look at the set list and service flow each week I am constantly asking the question, "Where is our remembrance of the gospel in our song set this week?" 
My prayer as a worship pastor is that when the worship team and I lead from love and climb the hill in our worship services, it will create an atmosphere for people to experience God through music. It is truly indescribable to see others catching a glimpse of the triune God in His holiness, His goodness, and His grace. People express their experience with God in different ways, some lift their hands, some close their eyes, some focus intently, and some sing at the top of their lungs. I love getting to see the different expressions of worship, knowing people are powerfully experiencing and recognizing an aspect of God, which is changing their lives in that moment. What a privilege it is for my job to be to help design these indescribable moments each week, when the people of God meet together to delight in singing praises to our God.
Everything within me wants to pay tribute to Him. Whenever the poor and humble hear of His greatness, they will celebrate too! Come and lift up the Eternal with me; let's praise His name together!  – Psalm 34:3-4, VOICE Translation
Author and music director, Bob Kaufin, says it like this, "The Savior has rescued us that we might sing the song of the redeemed. May we sing it well. May we sing it constantly. May we sing it passionately. May we sing it for His glory and the advancing of His gospel until the time comes when our songs will never end."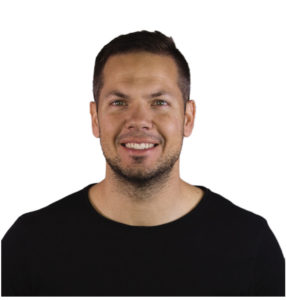 By: Adam Fisher,
Worship Pastor
The Orchard Church