Shop Small For Thanksgiving
If you're not normally the designated Thanksgiving chef but COVID-19 has forced you to rework your holiday plans, don't panic! There are plenty of local businesses where you can pick up a turkey or ham, sides, desserts and so much more, so that your smaller-than-usual holiday can flow just as smoothly as last year's. Here's just some of the Collierville restaurants and businesses willing to help you out with your holiday meals: 
Captain John's BBQ
Captain John's is offering a turkey or a spiral ham for your holiday meals! Order by November 17th for pick-up your main course on either November 24th or November 25th. You can call 901-853-8004 or 901-647-0055 to order! 
Simply Done Catering 
Simply Done has all the appetizers, sides and desserts you need to complete your Thanksgiving meal! You can order by commenting on this Facebook post, selecting your items and including an approximate time for pick-up. Orders must be placed by November 22nd at 8pm, and pick-up is available on November 25th from 10am-5:30pm. You will also be able to find some of their sides and casseroles at Bazaar's on the Collierville Town Square. 
The Silver Caboose 
As always, The Silver Caboose will have plenty of classic pies and Southern sides available at their market in the week leading up to Thanksgiving. The market is open from 9am-3pm but check their Facebook pages for any updates or changes. 
Thomas Meat and Seafood Market and Catering
Interested in an ethically raised turkey? Thomas Meat and Seafood have you covered. Their turkeys are from Ashley's Farm in New Jersey and they drive up there each year to retrieve them, so they're as fresh as can be. They are offering an entire Holiday Dinner deal, where you can order a turkey or ham, sides, desserts and more! You can call or text 901-286-0311 to order.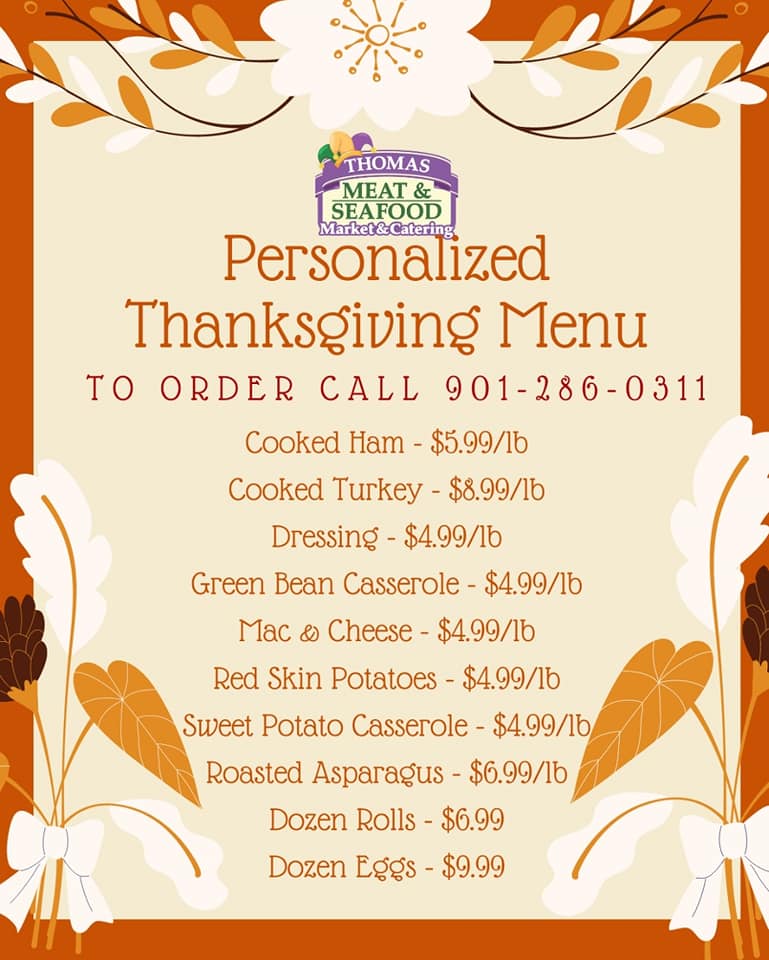 Zopita's On The Square
Already known for their casseroles and take-home-meals, Zopita's will have some special dishes to help you celebrate Thanksgiving! They're offering breakfast casseroles (so you don't have to worry about getting up too early), Italian spinach, stuffed turkey breasts and more. Visit their Facebook page for more information or call 901-457-7526 to order!