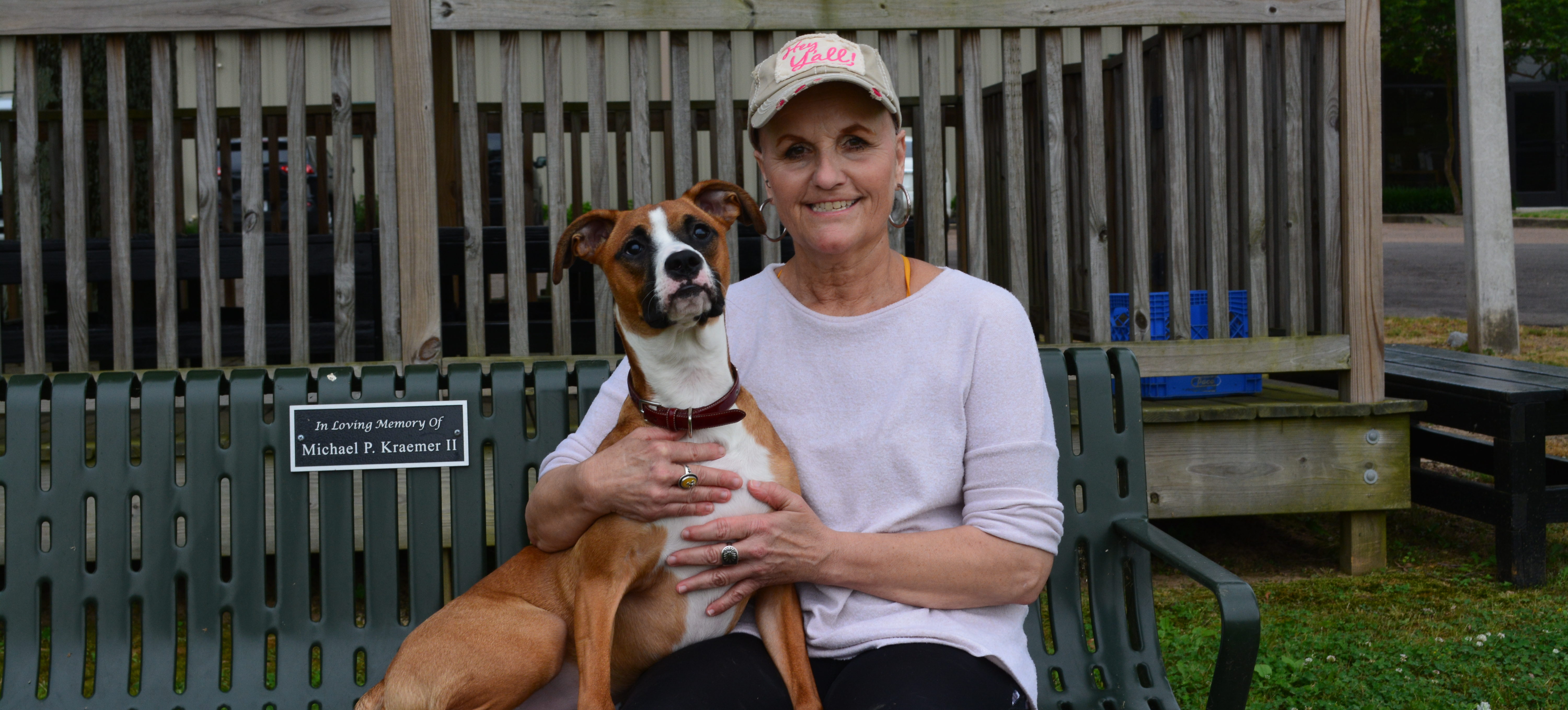 Saving Grace
I still remember the first day I saw you, Grace. I was working at the shelter when another employee walked toward me with you in her arms. You had just been surrendered and I could see you were about four-weeks-old; a beautiful boxer puppy, so tiny, and in pain. Your foot was badly injured, and when you looked at me, our eyes locked. Yours cried out 'please help me.' I thought to myself: I am not ready to take on a puppy in addition to the rest of my menagerie, but there's something about this puppy. Everyone at the shelter was concerned that we might have to amputate your injured foot, but we wanted to do the best by you. After the strong connection I felt with you, I knew I had to step up as your medical foster mom.  
I'm so grateful you did! And you were the one to name me Grace.
Yes! Something about you told me to name you Grace, and in hindsight, I think your name was inspired because soon after that, I was diagnosed with breast cancer. I was scared I wouldn't feel up to caring for all your puppy needs and getting you to your foot treatments, but I loved you so much that I decided to continue fostering you.  Soon after that, it became clear that it wasn't me saving you Grace, you were saving me. You literally slept on top of me and wouldn't leave my side after my surgery and chemo. You would put your sweet face so gently up to mine and press your cold puppy nose to my mouth as if to give me a kiss and let me know everything was going to be OK. I knew then that God had brought you into my life.
Sandy, I knew on the first day that you would be the one to save me. And after your surgery and chemo, I knew I needed to stay by your side to help you see that there was still hope and happiness in your life, just like you did for me after each one of my leg wraps and laser treatments. Thanks to you, the doctors saved my leg, and now at ten-months-old, I can walk, play, and even run on it!
Grace, just holding you would relax me and give me strength. You could tell when I had my good days and my bad days.  Even after all my experience at the shelter, you showed me the intuition that's innate in animals and the healing power they can provide in recovery. You hurt for me, you were always there to comfort me, and I am happy to share that you will remain a permanent member of our family. I can't imagine life without you now!
Mom, I am always there for you, and I want you to know everything will be OK!   
Thank you Grace! I want people going through an illness or cancer to know that having a companion like Grace can ease your pain and provide comfort. Just holding them, stroking their fur and having them lick your face can give you strength, even on the days you think you can't make it. Please give some thought to the beautiful truth that sometimes saving a rescue animal can actually result in them saving you.


XOXO,
Sandy & Grace